Newspaper Licensing Agency
Copying and reusing print and digital news content, from UK national newspapers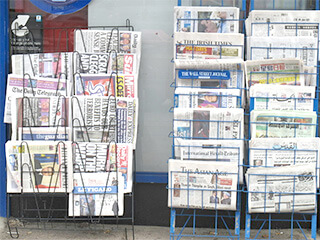 Photo © David Hawgood (CC-By-SA/2.0)
The Copyright Licensing Agency (CLA) is the exclusive provider of UK education licences for NLA media access.
The licence covers us for the copying and reusing of print and digital news content, from UK national newspapers plus 5 regional titles.
The licence allows us to:
make photocopies of an article or report (including pictures relevant to the articles)

this can be up to 250 copies of any one article
photocopies should include the notice 'NLA licensed copy. No further copies may be made except under licence'

make digital copies of an article or report by scanning
email copies to students and staff
project an article onto a screen, eg, in a presentation
The licence also allows our Corporate Communications team in External Relations to publish news articles, including headlines, text extracts and PDFs to our website and social media.
For further information visit the Newspaper Licensing Agency web site or the CLA website.