Digimap
For using maps in Teaching and Learning
Digimap is a collection of EDINA (University of Edinburgh) services that deliver maps and map data of Great Britain to students and staff at HE institutions within the UK. Data is available either to download to use with appropriate application software such as GIS or CAD.
It can be accessed via the library's Databases A-Z or by the Digimap link.
Some of the collections we currently subscribe to are listed below:
| | Digimap Ordnance Survey Collection – view, annotate and print current Ordnance Survey maps and data with complete coverage of Great Britain. |
| --- | --- |
| | Digimap Historic Collection – explore past landscapes and visualise change through time with Historic Ordnance Survey Maps. View, annotate and print scanned maps of Great Britain dating back to 1840. |
| | Digimap Aerial Collection –provides high resolution (25cm) vertical aerial imagery data of Great Britain from Getmapping Plc. |
The first time you access Digimap you will need to complete a registration form. You will be able to use Digimap two working days after registering.
Using Digimap
Once you have logged in, there is a wealth of information and guidance on using Digimap to be found in the Resource Centre.
There is also a Digimap YouTube channel with videos on how to use Digimap – see right for an example: 'Digimap Roam – an introduction'.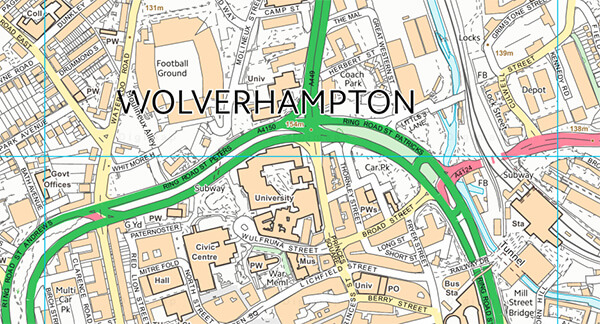 Acknowledgement
Image taken from Street View of the University of Wolverhampton City Campus in Digimap Roam
(used under the End User Licence Agreement 2017-18 'Limited Administrative Use' section which allows use 'to promote or advertise the Digimap Service')