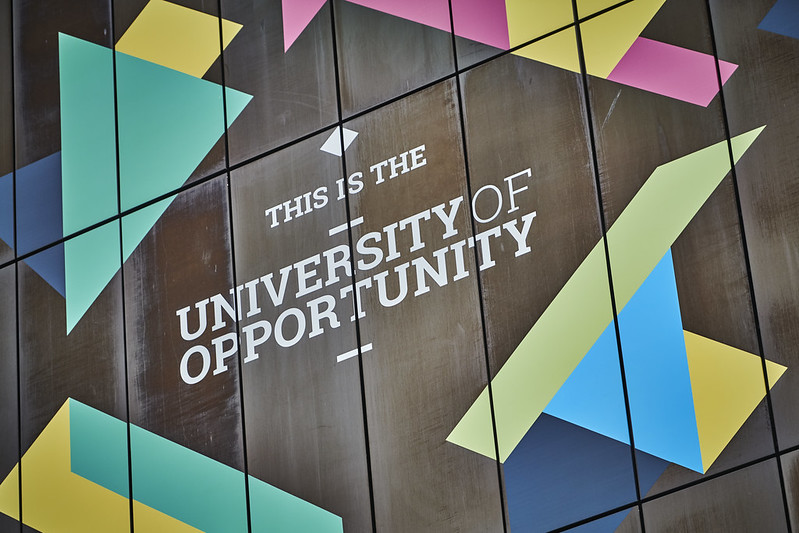 Benefits of Working for the University of Wolverhampton.
We recognise that our employees play a vital role in our success. We therefore provide employees with a strong level of support, a welcoming work environment, and an excellent package of benefits - benefits we hope staff will take advantage of.
We believe employees should be recognised for their hard work and contribution to the University's growth and success and offer an attractive range of competitive benefits to all staff.
Not only do we offer competitive rates of pay, our incremental pay structure is fair and transparent and is designed to reflect the development of your skills and knowledge as you progress in your role
We operate an incremental grade structure for the majority of our staff. This means you will be eligible to receive an annual increment (subject to satisfactory performance) until you reach the maximum salary for your grade. We are also proud to be an accredited living wage employer.
Additionally, we have an annual cost of living increase payable with effect from 1 August.
The minimum annual leave entitlement starts at 38 days inclusive of the 8 standard UK bank holiday and rises depending on staff group and length of service.
In addition to bank holidays, extra concessionary days are also provided each year (a minimum of four) for the extended University closure around some UK public holidays.
Part time workers are afforded the same paid holiday on a pro-rata basis as a full time worker. In the University this includes bank holiday and concessionary days.
Leave Entitlement - Academic Staff
We are committed to supporting our employees in achieving a good balance between their home and work life. We therefore support job share and flexible working hours where applicable.
We are open to discussions around agile working practices and working from home.
We operate a number of family friendly policies to support our employees in achieving a work-life balance. Our policies for childcare, maternity, paternity and adoption leave and pay, all support our employees and are all aligned with statutory eligibility.
Academic staff leave entitlement. Including Maternity, Paternity, Adoption and Parental Leave
Leave Entitlement - Academic Staff
Professional Services (Support Staff) Leave entitlement. Including Maternity, Paternity, Adoption and Parental Leave
Leave Entitlement - Support Staff
The University supports the Government provided Tax-Free Childcare (TFC) scheme. You can get financial assistance if you use 'approved childcare'.
WLV Uni Benefits platform
We have partnered with an external organisation to offer staff great range of discounts on: travel booking, high street vouchers, cinema tickets, day out leisure activities and your day to day spending. In addition we offer tax-free savings on bicycles and accessories through our cycle to work scheme.
University staff can benefit from discounts with a variety of companies via our discount scheme. Discounts include:
Apple discounts
Holiday discounts
Cashback on specific retailers
Cinema and Sky Store discounts
Spree Cashback Card
Spree is a prepaid VISA card that earns you cashback automatically when you spend at partner retailers, online and in store. These include M&S, Sainsbury's, ASDA, Boots, Nike.
eVouchers
Get instant discounts online and in-store with eVouchers. Retailers such as IKEA, Argos, Tesco, John Lewis
Cycle to Work Scheme
In partnership with Sodexo, the University provides a Cycle to Work scheme for its employees. The majority of University employees will be able to sign up to the scheme in order to obtain bicycles and safety equipment, saving income tax & national insurance.
Other discounts available are:
FREE Professional Will Drafting Service for all employees
EE Perk. As an employee of the University of Wolverhampton, you can take advantage of a fantastic discount on your EE mobile personal contract.
VDU Eyecare Voucher and Specsavers Premium Club Discount.
Discount on sports membership and facilities, such as South Staffs Corporate Membership and Telford Aspirations Corporate Membership.
Vice-Chancellors Awards for Staff Excellence
The invaluable contribution of each and every member of staff across our institution makes our 'University of Opportunity' such an exciting and vibrant community for our students.
The Staff Awards process includes all categories of staff, both academic and professional services, who have made an exceptional contribution to the student experience in its widest sense over the past 12 months. Whether your role is student-facing or otherwise, your involvement is equally as valuable.
We offer a generous pension scheme.
Depending on the job you're appointed to, you will be automatically enrolled into the most appropriate pension option for you. Either a professional services scheme, Teachers Pension Scheme (TPS), or remain in the Universities Superannuation Scheme (USS) if you are a current member.
We are committed to enhancing the health and well-being of our staff. We have a wide range of support mechanisms available
Employee Assistance Programme (EAP)
The UoW's EAP provider is CiC. CiC provides a free confidential telephone advice line.
The service is completely confidential and is available to all staff members (including visiting Lecturers and casual staff) and their immediate family members. The counselling service gives you the opportunity to talk confidentially to a professionally trained person who is outside your immediate situation. This enables you to discuss any problem(s) you may have with someone who is trained to listen.
Mental Health Support Service
The University of Wolverhampton has partnered with Remploy and the Department of Work and Pensions to offer a mental health support service to all staff, free of charge.
The service is fully confidential and offers expert advice and support for nine months
Togetherall, online support for your mental health
Everyone at the University of Wolverhampton can access free online mental health support with Togetherall, any time, any day.
Free eyesight testing
Free eyesight tests are available to employees of the University that are users of Display Screen Equipment (DSE). These tests are available once every 2 years.
Specsavers are the university appointed opticians. You may only receive a funded eye-test at Specsavers, which is the University's appointed opticians.
If the results of your test show that you require glasses solely and specifically for computer use, then you will be able to claim a contribution towards these from your Faculty/department as well.
Additional health benefits
We offer all employees the following benefits:
Vouchers for Flu inoculation.
On-site gyms and sports facilities
Fitness classes and groups
Access to an Occupational Health team, where applicable
A key part of our employee benefits package is providing you with the opportunities and support you need to develop and progress, to support your current role and your future career development.
We offer a wide range of organisational development opportunities to help you achieve your full potential through continuous learning and improvement opportunities
Here are just some of our development programmes:
Advance Higher Educations leadership development initiative for women.
The University has endorsed the "Workforce development Strategy" which outlines the need to enhance and develop the capability and capacity of our people; working within a change management culture to enable them to work efficiently and effectively to deliver the Universities strategic goals. As a major employer in Wolverhampton, the University recognises its responsibility to the community and seeks to support individuals wishing to develop new skills as part of an Apprenticeship.
This programme is designed to help leaders at the university to grow in their roles and help us achieve our strategic goals. Using discussion based training it will allow delegates to explore their own leadership and reflect on their practice whilst gaining knowledge from those around them
The university operates a free inter-site bus service to help staff travel between campuses where necessary
We have car parking available at all the University campuses. (Fees may apply)
The university has installed electric car charging points at each of the main campus bases, so you don't have to fork out for a power top up! Charging is currently for free and spaces are reserved for electric cars only.
We also operate a Cycle to Work scheme.
Staff networks here at the University are run by staff for staff, bringing together a range of people from across all faculties, departments and services, allowing them to unite within a group in which they can identify with, to share information and support
Whilst staff networks perform various functions that include providing the opportunity of social interaction, peer support and personal development, we also believe that it is at the heart of the development of University Policies and Working Practices.
We recognise the value that self-organised groups have in creating the right environment, respecting the diversity of staff and enabling them to gain maximum benefit and enjoyment from their involvement in the life of the University.
Global Majority Staff Network
All Black, Asian and Minority Ethnic staff members of the university are welcome to participate in the Global Majority Staff Network Group.
The Global Majority Network at the University of Wolverhampton has been established for all staff employed by the University that identify themselves as Black, Asian and Minority Ethnic regardless of grade, job type or contract length. The network is guided in its action by the Terms of Reference that have been agreed by members previously and are updated on a regular basis.
Flexibility in our approach is key to ensure that all staff who wish to be actively involved have an opportunity to do so. This includes those colleagues who work shift patterns and colleagues based at different campuses of the University. For this purpose meetings are held both at Walsall and City campus and at different times during the day.
Our aim as a group is to celebrate and increase awareness about ethnic and cultural diversity at the University of Wolverhampton and allow for a forward progression on the equality agenda by supporting the formulation and implementation of equality and diversity policies, in relation to race (including ethnic and national origin), religion and belief.
LGBT
The LGBT group is a formal mechanism for enabling lesbian, gay, bisexual and transgender employees to come together to share information and support
The University of Wolverhampton LGBT Staff Network is open to university staff of all identities and has been promoting an inclusive campus environment at Wolverhampton for over a decade. The role of the LGBT Staff Network has also expanded from organising social activities to steering institutional policy change and community engagement with wider LGBT communities and other universities.
The core activities of the LGBT Staff Network include providing support, information and advice on LGBT issues or related queries to all staff
Disabled Staff network
The network purpose is to promote improved working conditions for disabled staff at the University to share good practice in recruiting and supporting disabled staff and to act as an engagement and consultation forum.
Women's Staff Network
The Women's Staff Network works with the University to ensure that it addresses the unique challenges that women face within higher education, and more broadly tackles gender inequalities through projects such as Athena SWAN.
Trade Unions
The University of Wolverhampton recognises both Unison and UCU as representatives for staff, including consultation and negotiation on staffing issues.