Back
Back
How to Become a Journalist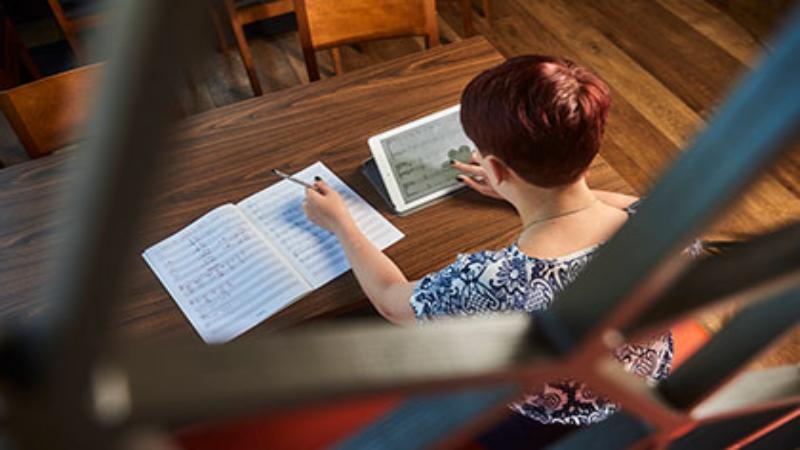 Journalism is an incredibly exciting career choice for those interested in bringing stories to life, covering breaking news and events, or writing for different print outlets.
Within the UK, there is a range of options for aspiring journalists, from traditional print media to multimedia journalism. This article from the University of Wolverhampton provides a comprehensive guide on how to become a journalist in the UK, covering entry requirements, qualifications, specialisms and more. It explores the various roles within journalism and the skills needed to succeed.
What we'll cover
What does a journalist do?

Skills and qualities of a journalist

What can I expect from a career in journalism?

The different journalism specialisms

What qualifications do I need to become a journalist?

Journalism work experience

Journalism career opportunities

Other careers that benefit from a journalism degree

Conclusion
What does a journalist do?
Journalism is a highly respected profession that involves uncovering news stories and reporting them accurately to the public via various forms of media. Forms of media can include print, radio, television and online platforms. Although most journalists specialise in a particular field, the majority of professionals who have chosen this career path tend to have experience working in many different types of media.
A journalist's main duty is to find out facts about topics that are current and relevant to their audience. They must be able to research information thoroughly using reliable sources, contact people for interviews, and attend meetings and events relevant to their beat or topic area. Additionally, journalists must develop an understanding of legal issues related to freedom of speech and respect for privacy rights when reporting on sensitive matters, and most importantly, they must be able to write compelling stories that capture the attention of readers or viewers while remaining unbiased in their presentation of facts.
In today's digital world, most journalists have knowledge of multimedia platforms and are able to produce content for digital and non-digital outlets. This type of journalism, known as multimedia journalism, requires journalists to be fluent across various types of technology and social media tools. Further qualifications may include courses focused on specific topics such as data analysis or investigative reporting techniques.
Why is multimedia journalism important?
Multimedia journalism is an integral part of news and reporting in the ever-evolving digital age. It enables journalists to give a comprehensive account of events, and provide visual context to their stories. In this way, multimedia journalism can inform people quickly and precisely, and is generally preferred by consumers due to its user-friendly presentation of facts and statistics.
In addition to providing greater detail than traditional text-based articles, multimedia journalism can also reach larger audiences by incorporating audio and video elements such as podcasts or short documentaries. Through these forms of media, journalists are able to capture more than words can convey, including emotions, actions and scenes that would be difficult to communicate through written content alone. This form of reporting adds a layer of depth that could potentially be otherwise missed through traditional reporting.
Multimedia journalism also allows for swift dissemination of information across various platforms due to its wide range of formats available for different types of media sharing sites.
Skills and qualities of a journalist
A good journalist is generally someone who presents themselves professionally, with respect, and reports accurately with integrity. Being a successful journalist is not always easy, and there are plenty of skills and qualities that contribute towards thriving in this field.
Skills and qualities involved with journalism include:
strong research and writing capabilities

an eye for detail and thoroughness

the ability to absorb information quickly and think critically

remaining impartial to any situation

knowing how to use technology efficiently

good communication skills

a solid understanding of legal regulations regarding journalism

good organisational and time management skills

confidence in networking across multiple industries
What can I expect from a career in journalism?
A career in journalism can be both exciting and rewarding. It provides opportunities to tell stories, investigate issues, and communicate information to a wide variety of audiences. Journalists have the potential to bring about change in society by informing the public and challenging existing power structures.
Journalists are responsible for researching, interviewing, writing, and editing stories covering a range of topics including politics, crime, arts and culture, sports, international news events and social trends. Through storytelling, they take complex topics such as climate change or immigration reform and make them accessible to their readers. This requires finding reliable sources that can provide accurate information on the subject at hand.
Journalism is an ever-changing profession, where professionals need to stay up-to-date with current events as well as industry trends in order to remain competitive within their field.
The different journalism specialisms
Journalism is an ever-evolving form of media, with new specialisms emerging constantly. It is important to be aware of the various types of journalism in order to understand the range of communication and information being shared.
Generally, journalism can be broken down into three main specialisations:
1. Print
Print journalists typically report on current affairs and events, as well as research and investigate potential stories for publication. The goal is often to inform readers on matters of public importance or interest in an objective manner. To achieve this aim, print journalists must employ a variety of research methods including interviews with witnesses or experts in relevant fields. Print journalists also seek out primary sources such as documents or records which can provide valuable insight into a given story or topic.
2. Broadcast
Broadcast journalism is a field of media production that focuses on the dissemination of news and other timely information through television, radio, and other electronic outlets. Broadcast journalism involves reporters gathering newsworthy content, researching for supporting evidence, interviewing sources, editing videos or sound clips using specialised software, writing scripts for reports or segments, covering live events in the field, reporting from remote locations utilising technology such as satellites or cell phone cameras and disseminating content via digital platforms.
3. Online
Online journalism has evolved rapidly over recent years, in line with advances in social media and production of online content. It has changed the way news is reported and broadcasted, and involves mass production of digital content such as text, audio, video and images. Online journalists use multimedia platforms to create stories that are accessible to online readers, and it contrasts to traditional broadcast or print journalism due to the fact it is more flexible. Journalists can provide stories without time constraints or space limitations, and fill their content with endless choices of multimedia elements such as videos and interactive graphics. They also rely heavily on reporting through social media platforms.
Although these are the three main specialisations, many journalists also specialise in one particular sub-genre of journalism.
Some of these roles include:
fashion journalists

music journalists

sports journalists

investigative journalists

science journalists
What qualifications do I need to become a journalist?
In order to become a journalist, it is generally necessary to have a degree in journalism, media studies or related subjects such as law, politics or international relations. It is also possible to gain entry with relevant work experience, a college course, an apprenticeship or even working towards the role.
Journalism is an incredibly competitive field, and it can be favoured by employers to have a degree in journalism, as it is a comprehensive way of obtaining a good level of knowledge of all the skills required for working as a journalist.
Can I become a journalist without a university degree?
Although most positions within this field require applicants to have obtained an undergraduate or postgraduate qualification, it is not impossible to become a journalist without obtaining any formal qualifications.
For those with the ambition and drive to pursue journalism, they will find that there are other routes available which do not involve attending university. For example, some media organisations accept applications from those who have completed relevant work experience and/or internships. Additionally, there are support networks and grants available from various media outlets which can help aspiring journalists gain access into the industry without having to hold a degree certificate.
Journalism work experience
Whilst having an educational background and qualifications are important, employers have seen an increase of interest from potential candidates who also possess relevant work experience. In order for candidates to demonstrate their abilities, employers must see evidence that they are able to apply their theoretical knowledge into practice. Journalism is a field where you are required to practise many practical skills, not just those gained through education, and by pursuing work experience in various fields of journalism, you are preparing yourself for your career ahead.
Work experience can be obtained through internships or freelance roles, allowing applicants to gain vital insights into what life as a journalist involves. They also provide opportunities for individuals to make key contacts within the industry and develop their knowledge further by shadowing established professionals.
Journalism career opportunities
The versatility of a journalism degree provides many career opportunities in the many specialisms of journalism.
Research from Prospects shows that 77.1% of journalism graduates are in full-time employment, with 28% of them working as media professionals 15 months after graduation.
Here are some of the popular roles available upon completion of a journalism degree:
Magazine editor

Editorial assistant

Feature writer

Web content manager

Freelance journalist

Broadcast journalist
Magazine editor
A magazine editor plays a vital role in the production of printed publications. They are responsible for all aspects of content production, from concept development to laying out the final product. These individuals oversee the creation and review of articles, photographs, artwork and other visuals before they are published in magazines or other periodicals.
Editorial assistant
An editorial assistant is a key role in the publishing industry, playing an important part in creating and distributing content. Their primary responsibility is to work with authors, editors, and publishers to ensure that manuscripts adhere to the guidelines of the publication. To do this, they must understand common editing principles, possess strong organisational skills, and possess a good command of grammar.
Feature writer
A feature writer is a type of journalist who specialises in creating written content for publications, often focusing on current topics or news events. Feature writers are usually employed by newspapers, magazines, and various other print media outlets. They work with editors to research and create compelling stories that will engage readers.
Broadcast journalist
A broadcast journalist is an individual who reports news and other information on radio or television. They are responsible for researching and gathering facts related to a story, as well as interviewing relevant sources, writing scripts, producing segments, and presenting the news in an engaging manner.
Other careers that benefit from a journalism degree
There are a number of careers that can benefit from a journalism degree, due to the abundance of interesting and useful multimedia skills gained whilst studying.
Some of these roles include:
digital marketer

digital copywriter

public relations officer
Digital marketer
A digital marketer is a professional who specialises in the promotion of products, services and brands by utilising various forms of digital media. Digital marketing encompasses a range of activities which include search engine optimisation (SEO), content marketing, email campaigns, website design, social media management and more.
Digital copywriter
A digital copywriter plays an important role in the modern marketing process. This type of writer specialises in creating content that is designed to capture the attention of readers and promote a brand, product, or service. Digital copywriters are responsible for creating content across multiple digital platforms such as websites, blogs, emails, and social media accounts.
Public relations officer
Public relations (PR) officers play a key role in many organisations, from education and government to corporate and non-profit sectors. They are responsible for building relationships with the public by managing an organisation's image in the eyes of its stakeholders. PR officers typically use various tools, such as media outlets, communications campaigns and events to communicate the organisation's messages to targeted audiences.
A final reflection on studying to become a journalist
The journey to becoming a journalist can be long, but it is worth it in the end due to how exciting this career path is. Through dedication, perseverance and a passion for storytelling, aspiring journalists can become successful members of the field. Aspiring journalists must be prepared for the challenges that lie ahead and have faith that their hard work and effort will pay off. In order to become a successful journalist, one must have an unwavering commitment to doing what is right and necessary for the public's best interest, and always take opportunities as they come. By studying for a degree in journalism or a related field, pursuing relevant work experience and showing your determination to positively contribute to the industry, you are taking the relevant steps to becoming a successful journalist.