What is Open Access?
Open access refers to the provision of free, immediate, online access to research, which is also free of most copyright and licensing restrictions.
For those who wish to explore the concept, a good introduction is provided by Peter Suber.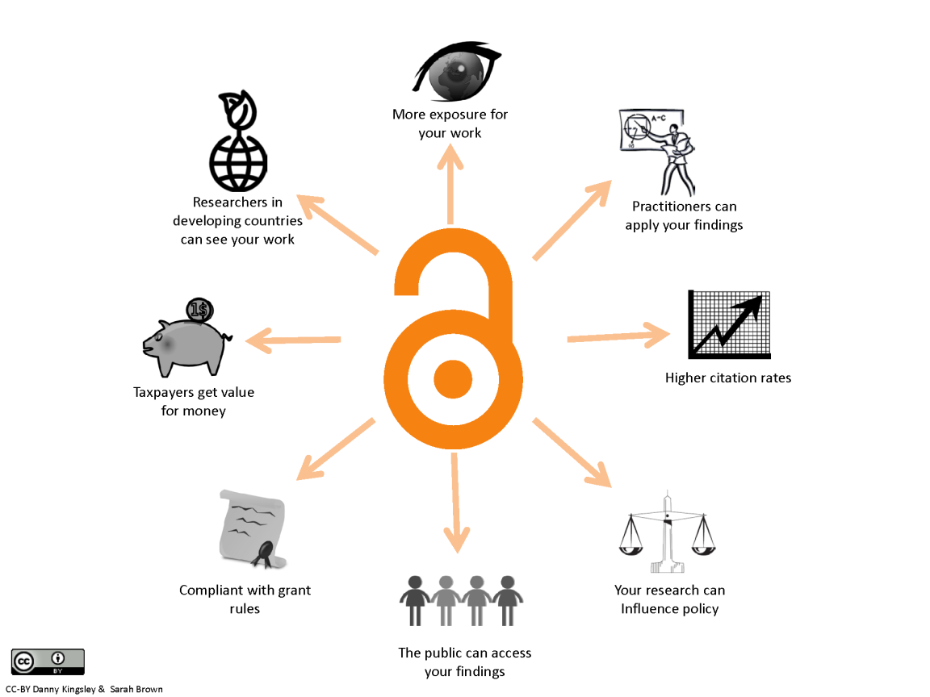 Open Access policies
The University of Wolverhampton's commitment to OA is outlined in its Open Access Publications Policy (Word doc 46k). The policy also details open access requirements for complying with REF21.
Copyright and licenses
Open access content is made available under various copyright licences, which define how material can be used, shared and adapted. Licences may be determined by authors, publishers or funders.
Most open access publications are made available through Creative Commons licences. There are six main licences which specify the conditions for sharing, using and adapting works, details of which can be found on the Creative Commons website.
You can check publishers' open access conditions, including licences, on Sherpa Romeo or on the websites of individual journals.
Your funder may have specific licensing requirements which will need to be applied when you share your research outputs. Check your funder's licensing requirements on Sherpa Juliet.
Supporting open access
As part of our commitment to supporting a transition to an environment where immediate open access is the norm for research publications, the University Library has memberships in the following schemes that increase the number of open access publications:
Directory of Open Access Journals
The Directory of Open Access Journals is an independent index of open access journals. Inclusion in the directory requires that journals and their publishers meet a set of principles of transparency and best practice, meaning that titles in the directory are working towards a common goal. The directory covers journals of all disciplines.
The financial support of the University Library contributes to the continued operation of the directory, but also allows the directory to expand, through provision of greater support to applying publishers and journals.
Wolverhampton Law Journal is listed in the DOAJ and editor Dr Metka Potocnik talks about the process in a blogpost from Open Access Week 2020.
Open Book Publishers
Open Book Publishers publish open access monographs at no cost to authors, as costs are met by community support through subscriptions and sales. They will take submissions from any discipline but particularly Humanities and Open Sciences.
The sponsorship of the University Library contributes to the publication of up to 40 open monographs, edited collections, textbooks and critical translations per year.
As an added benefit, staff and students of the University can access all electronic formats of monographs published by OBP, and can get discounts on printed versions of the monographs.
What is Open Research?
Open research (also known as 'open science') refers to the principle of all aspects of the research process being open and accessible. This includes results, data, protocols and other aspects of the research process. Open research is collaborative, transparent, reproducible and publicly available, and embodies the principle that research brings most benefits the more widely it is shared.
The University's Open Research Statement provides aspirational best practice for researchers, who aim to benefit from using more open methods of research, by providing guidance on open access, open data, open platforms and open research processes.
Information on open research produced by Vitae.
Both the university's Open Access Publications Policy and Research Data Management policies support the principles of open research.
Further information and Support
For further information and support with open access, please contact the Scholarly Communications Team: WIRE@wlv.ac.uk
We can offer one-to-one support to assist with any open access needs. To book an appointment contact us at the e-mail address above.