EnTRESS supports Black Country and Stoke & Staffordshire small and medium-sized enterprises (SMEs) with the adoption of environmental technologies and resource efficiency processes. All activities are fully funded and the project is part funded by the European Regional Development Fund to promote sustainable economic growth.
Our Focus

Working across a many sectors EnTRESS seeks to improve resource efficiency within Black Country and Stoke & Staffordshire SMEs. Our aim is to increase business competitiveness, improve productivity and identify new market opportunities for SMEs through the adoption of environmental technologies and the reduction of waste.

Globally EnTRESS aligns with Organisation for Economic Co-operation and Development (OECD) priorities and the UN's Sustainability Development Goals. Regionally EnTRESS will support the Black Country and Stoke and Staffordshire to become a low carbon economy.

What we do

EnTRESS engages with SMEs and large organisations to link academic research into business, driving innovation in areas such as waste management, bioremediation, biopolymers, pollution control and sustainable operations. We understand that the environmental technologies sector is varied and fast moving, EnTRESS provides the practical support to help SMEs engage with these innovations.

EnTRESS is part of the University of Wolverhampton's School of Architecture and the Built Environment within Faculty of Science and Engineering.
If you're a Black Country or Stoke and Staffordshire based SME then please don't hesitate to contact a member of the EnTRESS team to find out how we can support you.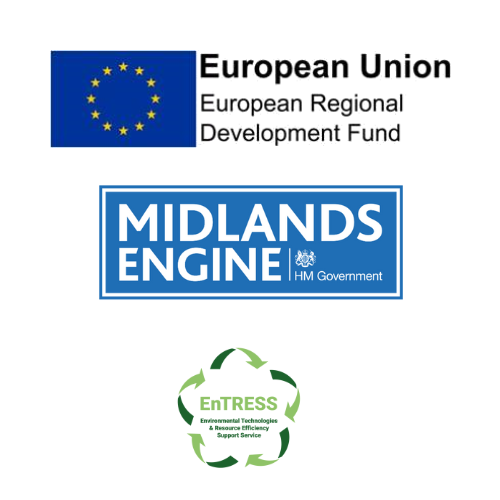 European Regional Development Fund
The project is receiving up to £614,436 of funding from the England European Regional Development Fund as part of the European Structural and Investment Funds Growth Programme 2014-2020. The Department for Communities and Local Government is the Managing Authority for the European Regional Development Fund.
Established by the European Union, the European Regional Development Fund helps local areas stimulate their economic development by investing in projects which support innovation, businesses, create jobs and local community regenerations. For more information visit https//www.gov.uk/european-growth-funding