The University of Wolverhampton's Legal Advice Centre provides free legal advice for the local community. Especially for those unable to obtain legal assistance through other charitable organisations, for example the Citizens Advice Bureau.
Free legal advice is provided by the University's law students, supervised by Beverley Rizzotto the Legal Advice Centre Manager, their lecturers or practising lawyers from local law firms.
The University's Legal Advice Centre builds upon a long tradition of student law clinics, where it is recognised that both the community and students would benefit from experiential legal education. The clinic work prioritises the community's needs for legal services and clients' interest, which complements legal education in developing students' legal skills, experiencing law in operation and reflecting on ethics and conduct of legal practice.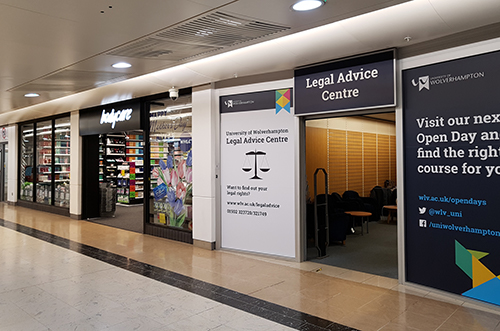 Please note that we have moved premises. As of Monday 18 March 2019, the Legal Advice Centre is located in the Mander Centre in Victoria Arcade (ground floor) next to Body Care. This is almost opposite our previous location.
The service of the University's Legal Advice Centre includes providing preliminary legal advice on whether you have any legal rights or claim and identifying:
the law that would be applicable
the recourse or remedy that may be available to you
the next steps or action you would be able to take.
This is to enable you to consider whether you have a legal case or claim and what you can do to resolve it.
The Legal Advice Centre does not provide a client representation service but you will be given information, where possible, about further steps or actions that can be taken.
We advise on a variety of areas of law, including:
contractual disputes (such as sale of goods and/or consumer related matters)
negligence claims (such as claims arising out of an accident, including personal injury)
housing law (such as tenancy contract disputes)
business start-up and general business law advice
employment law related matters.
We do not provide advice on:
criminal investigations and prosecutions
debt
divorce law (including: family disputes / children custody / domestic violence)
finance (including: financial investment, tax-related issues).
We reserve the right not to give advice in any particular case.
The Legal Advice Centre is run by law students. First we will offer you an appointment for an initial interview at the Centre. Two students will carry out the interview under the supervision of the Centre Manager (a qualified solicitor) or a member of academic staff (some of whom are qualified solicitors or barristers). Local law firms also support our Legal Advice Centre, providing their services 'pro bono', meaning 'for the public good'.
You will need to contact us to make an appointment. The best way to do this is to drop into the Legal Advice Centre. Alternatively you can email us or complete an online enquiry form, leaving your contact details for the Legal Advice Centre Manager. The Legal Advice Centre Manager will respond as soon as possible to arrange an appointment. We do not give legal advice over the phone or by email.
At your appointment you will be interviewed by two student advisors under the supervision of academic staff. Please bring with you all relevant documents to this interview. All communications between you and the student advisors and their supervisors will be in the strictest of confidence.
In order to give you the best possible service, we will not give you any advice at the first meeting. Students will research your case and check their advice with their academic tutor supervisor and/or an experienced solicitor. You will be invited to a follow up meeting, within two to three weeks, with your student advisors and who will then advise you. Alternatively we may provide you with advice in writing. If we are unable to provide you with any advice, we will try and signpost you to other services which may be assistance to you.
The University of Wolverhampton Legal Advice Centre is in the Victoria Arcade, Mander Shopping Centre in Wolverhampton City Centre (the entrance opposite the Beatties store). Please note that we moved premises in March and are next to Body Care, almost opposite our previous location.
To make an appointment:
We do not give legal advice over the phone or by email.
Please note that the Legal Advice Centre will reopen week commencing Monday 3 February 2020. (Opening times to be confirmed.)

Please note:
Whilst we encourage you to drop into the Centre, we cannot offer legal advice on the spot, and an appointment must be made for you to attend for an interview. If your matter is urgent however, or if we are not in a position to help you, we can signpost you to other services which may be available and of assistance to you. Further, during student holiday periods, our service may not operate, or will operate on a reduced service, therefore you may find there is a delay in responding to your query. Please remember that this is a student led service, reliant on volunteers. If you require urgent legal advice, you may need to consult with a solicitor, or seek alternative advice.
The following websites may be of use to you:
www.advicenow.org.uk

Alterations to opening hours will also be displayed on the Legal Advice Centre door.
Students studying in the University's Faculty of Social Sciences can volunteer at the Legal Advice Centre alongside their studies. Student legal volunteers gain experience through experiential learning.
Students are expected to deal with enquiries from the general public who have legal issues, and in some cases signpost to other local services which may be available to them. Students also gain experience in taking client interviews, researching the law and applying legal principles to real legal problems, providing general advice on issues concerning employment, probate, property and civil law. Volunteers will also benefit from being able to practise legal drafting and writing skills.
To volunteer at the Legal Advice Centre, you must be a student enrolled at the University of Wolverhampton, ideally studying towards a degree in Law (this can include combined degrees such as Business and Law, for example), or a degree in another social science, whether undergraduate or postgraduate.
You should declare your interest in volunteering to the Legal Advice Centre Manager, submitting a CV and a short covering letter detailing why you wish to volunteer at the Centre. Send to beverley.rizzotto@wlv.ac.uk
Family Law Clinic
From time to time, law students from the University of Wolverhampton, with the assistance of local law firms, provide legal support to the public as part of pop-up advice clinics at the Legal Advice Centre.
Our Family Law Clinics for Winter/Spring 2020 are on:
Thursday 6 February 11am – 1pm
Tuesday 3 March 1.30pm – 3.30pm
Friday 3 April 11am – 1pm
If you are seeking general advice in relation to separation, divorce, child custody and contact, drop in for a free 20 minute consultation with a qualified solicitor from HRS Solicitors.
No appointments will be given, and slots will operate on a first come, first serve basis. Our Family Law Clinics are usually quite busy, so it is always advisable to attend early to avoid disappointment.
If you have any queries about this clinic, please contact Beverley Rizzotto on Beverley.rizzotto@wlv.ac.uk