Back
Back
What is a sports science degree?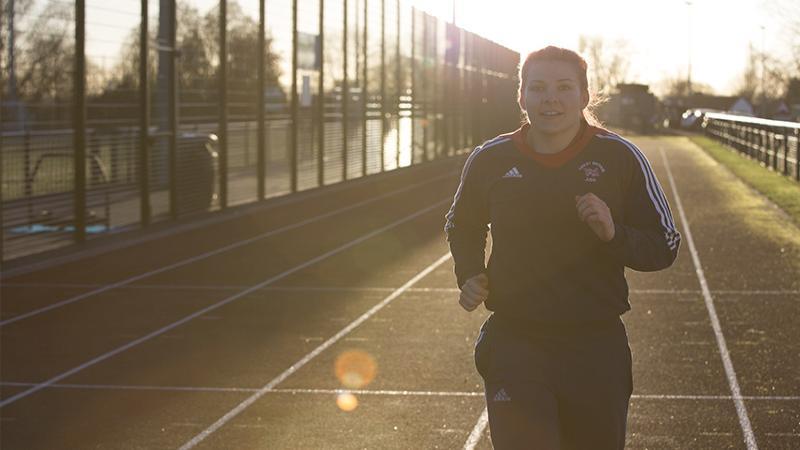 Studying the multidisciplinary field of sports science has become more popular over recent years, with many people from a variety of backgrounds choosing to pursue this degree.
In this article, we'll be taking a look at the various aspects of a sports science degree, what you will study throughout the duration of this exciting course, and possible career paths that graduates may go on to do after achieving this qualification.
We'll explore the core elements of the curriculum, the skills you'll pick up throughout your study, and help you decide on whether studying a sports science degree is right for you.
What is sports science?

What will you learn during a sports science degree?

How will a degree in sports science benefit you?

Who should study a sports science degree?

Can you become a physiotherapist with a sports science degree?

Other career opportunities in sports science

Careers that benefit from sports science

Conclusion
What is sports science?
Sports science is a multidisciplinary field of study that combines physical education with several elements of science, including physiology, biomechanics, psychology, nutrition, and sports medicine. In practice, sport science involves applying scientific knowledge in order to improve human performance in their sports and exercise, as well as improve overall health and wellbeing.
One of the main aims of sports science is to help athletes advance their abilities through a combination of physical activity, nutrition planning and recovery strategies. This allows sports coaches to maximise the potential of each individual while also helping them maintain good health and performance throughout their career.
The study of sports science has vastly increased in popularity in recent years, and is now offered by a range of UK universities. This is largely due to recent advancements in sports and exercise technology, the increased specialisation in sports, and an increased focus on health and nutrition.
The sports industry has also grown significantly over recent years. Not only are more people participating in sports, but the sports industry has seen greater investments in professional teams and events. In 2023, the UK sports industry was valued at $46 billion, projected to be worth $50 billion by 2024 (Statista, The UK Sports Industry).
Not only does this reflect the growing interest in sports science as a field of study, but it also reflects the increased career potential to those who study the subject, making this degree an enticing option to potential students.
The University of Wolverhampton provides an extensive range of sports science degrees, which have all been designed to allow students to pursue a number of opportunities once they graduate.
Sports Science courses we offer include:
What will you learn during a sports science degree?
Sports science is taught through a combination of theoretical and practical learning. You will cover a number of interesting modules throughout your degree which all help build your knowledge base in areas such as anatomy, physiology, sports performance and also client management skills.
The psychological aspects of sports are also covered, from motivation to performance enhancement, as well as research methods for evaluating sports performance. Many degree programs also offer optional modules which allow learners to specialise in specific fields, such as strength & conditioning or coaching.
Due to the passion of most people working in this industry, most courses are taught by professionals with extensive experience in this field, meaning you will be receiving first-hand knowledge from sports scientists who have worked in a variety of settings.
How will a degree in sports science benefit you?
With a sports science degree, you will learn many skills that will help you make decisions on your future career path. Let's take a look at a few of these skills:
Sports performance analysis

Research and data analysis

Verbal and communication skills

Professionalism for good customer communication

Knowledge of biology and physiology

Critical thinking skills

Computer skills and using specific software
Many of the skills you'll learn are highly transferable, so you can move into a variety of fitness-related careers. Some of these roles include personal trainer, physiotherapist and exercise physiologist.
Let's take a look at some of these skills in more detail.
Sports performance analysis
Sports performance analysis skills allow you to examine the physical and psychological performance of athletes and sports professionals. These skills combine various sciences such as physiology and biochemistry alongside using advanced technology to identify the performance of athletes, ultimately leading to coaches being able to determine where an athlete needs to improve in their sport.
Research and data analysis
Research and data analysis skills are crucial for success in the field of sports science. By implementing evidence-based research methods and game analysis techniques, sports scientists can create a holistic view on the sport they are analysing. This data collected then gives them the ability to interpret results and make connections between variables in the data that may otherwise go unnoticed, which can then be discussed with coaches and physiotherapists to optimise the performance of athletes in their chosen sport.
Verbal and communication skills
It is important for professionals working in sports science roles to communicate effectively with clients. As a sports science professional, you'll have the ability to present their knowledge and research effectively, as well as understand and respond to the needs of their clients. This is one of the largest portions of the job. Clear and effective communication lays the groundwork for successful collaborations between different professionals, such as athletes, coaches, dietitians and psychologists.
Who should study a sports science degree?
Those looking to become physical trainers, dieticians, coaches or sports educators should consider studying a sports science degree as the knowledge gained will give them an edge over other candidates by providing a deeper understanding of injury prevention and nutrition.
For those wishing to become professional athletes, studying a sports science degree can also provide invaluable insight into how their body works and how best to optimise their performance through proper nutrition and training techniques.
Whether you plan on using a sports science degree to be self-employed or work in-house for an organisation or sporting team, having such qualifications may open up more avenues within the competitive job market as employers often look for applicants with higher training and education levels.
Can you become a physiotherapist with a sports science degree?
Sports science graduates make great candidates for those wishing to become a professional physiotherapist. Both of these fields have a large overlap in content and professional responsibilities, such as learning about anatomy and physiology.
Sports science specialises in human performance, whilst physiotherapy applies this knowledge to rehabilitation, musculoskeletal treatments and injury prevention. Having completed an undergraduate degree related to health sciences may also give applicants an edge when applying for Master's-level programs in physiotherapy.
Becoming a physiotherapist tends to be one of the most popular choices for students who have completed a sports science degree, and many find it to be an incredibly rewarding and interesting field of work.
Other career opportunities in sports science
The versatility of a sports science degree opens up a wide range of career options. Sports science degrees are directly applicable to many different professions.
Research from Prospects shows that 19.5% of sports science graduates went on to work in education fields 15 months after graduation, whilst 11% found themselves in further study and 5% became employed as therapy professionals.
Here are some of the potential roles available upon completion of a sports science degree:
Exercise psychologist

Personal trainer

Performance analyst

Nutritionist

Sports scientist

Sports coach
Exercise psychologist
Exercise psychologists specialise in helping clients modify their behaviours related to physical activity and exercise. They help clients improve their overall health by encouraging them to engage in regular physical activity, which leads to helping them understand the importance of exercise for mental and emotional wellbeing, and developing strategies to overcome any obstacles that may be preventing them from leading an active lifestyle.
Personal trainer
A personal trainer is a fitness professional who helps people reach their health and fitness goals. They provide individualised instruction in exercise, nutrition and lifestyle modification to achieve optimal results. Personal trainers have an in-depth knowledge of anatomy, physiology and biomechanics that enable them to design safe and effective exercise programs tailored specifically for each client's needs, of all ages.
Performance analyst
A performance analyst is a key figure in today's modern sporting world. They play a vital role in helping athletes and teams reach their maximum potential by providing data-driven insights into their performance. Acting as the bridge between sports science and coaching, these analysts are responsible for collecting and analysing data to determine areas of both individual and collective improvement.
Nutritionist
Sports science nutritionists are experts in the field of health and fitness, specifically in the area of nutrition. They are qualified professionals who understand how different foods can affect an athlete's performance, health and well-being. They give guidance on providing athletes with the correct diet, so that they can help athletes achieve their goals by providing them with nutritional advice tailored to their individual needs.
Careers that benefit from sports science
There are a number of careers that can benefit from a sports science degree, even if they aren't directly related to the subjects you studied during your degree. The skills you acquire while studying can be applied to a variety of exciting careers.
Outdoor activities manager
Outdoor activities managers are professionals who are responsible for managing outdoor activities in recreational programmes and facilities. These professionals are generally in charge of planning and organising various activities while ensuring the safety, efficiency, and satisfaction of the clients attending the outdoor activity centre. They must possess strong communication skills to be able to effectively communicate with staff members and customers as well as coordinate services for different types of events.
Choreographer
Choreographers are artists responsible for the creation and organisation of dance movements. They work with not only dancers, but also costume and set designers, directors and musical composers to create unique, meaningful pieces that convey a story of emotion. Choreography is often seen in theatre performances, music videos, and on television shows, and can be an incredibly creative and rewarding field of work.
Physical education teacher
A physical education (PE) teacher is responsible for teaching students the importance of staying active and healthy. PE teachers help promote physical activity in a safe, structured environment while emphasising the value of lifelong fitness. They teach a variety of skills that can be used both in and out of the classroom, such as running, jumping, catching, and throwing. PE teachers develop lesson plans that introduce students to different activities and sports while also providing instruction on proper safety techniques.
A final reflection on studying sports science
Studying sports science is an incredibly rewarding and interesting endeavour. By involving a combination of many different disciplines, this degree creates a well-rounded understanding of athletic experience, and allows students to learn the intricacies of human movement, leading to maximum performance and safety for clients. This understanding can also enable athletes to cultivate a better appreciation for their own unique abilities and develop meaningful connections with others in the field. If you want to pursue a career in this exciting field, a sports science degree will be able to help you open up many future opportunities.