Back
Back
What is a PGCE? Exploring teacher training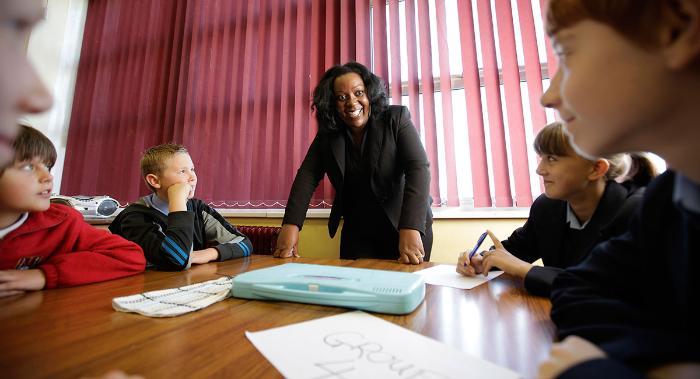 A Postgraduate Certificate in Education (PGCE) is a postgraduate qualification for aspiring teachers. This form of degree is the most common teacher training programme in England, Scotland and Wales, as a PGCE helps you to gain the skills, knowledge and experience necessary to become a qualified teacher in primary, secondary or further education.
This article helps you understand everything you need to know about PGCEs. We'll cover what a PGCE is, what makes it different from other teacher training programmes, and what it can offer you, so you can decide whether this type of course is the best next step for you.
What we'll cover
What is a postgraduate certificate in education?

What qualifications do you need to teach in England?

What different teaching courses are available?

What will you learn during a PGCE?

What are the benefits of a PGCE?

Who should study a PGCE?

PGCE career opportunities.

Conclusion.
What is a Postgraduate cCertificate in Education?
A Postgraduate Certificate in Education (PGCE) is an internationally recognised form of teacher training that provides the qualifications graduates will need to teach at the secondary and higher education levels in the UK.
If you wish to pursue a career in teaching or related fields, this type of qualification offers comprehensive knowledge and skills in topics such as pedagogy, curriculum development, and classroom management, making it a very attractive option for those hoping to work in a teaching environment or a similar role where you can support the development of children.
The PGCE programme usually consists of a one-year full time course with both theoretical and practical components. It enables candidates to gain subject knowledge alongside professional competencies required from teachers such as planning lessons, assessment literacy, effective communication with students and parents, and working collaboratively with colleagues among other things. Once graduates have completed their PGCE programme successfully, they are eligible to apply for Qualified Teacher Status (QTS).
A PGCE is a postgraduate qualification which awards up to 60 postgraduate credits at Master's level (but is not equivalent to a full Master's degree, which is worth 180 credits).,. As a higher level qualification, this makes the PGCE a popular choice for many aspiring teachers.
What qualifications do you need to teach in England?
To teach in England, aspiring teachers need to have undertaken ITT (Initial Teacher Training). This initial training lays the foundation for teachers' knowledge, and it is included in a PGCE degree. Furthermore, in order to teach at both primary and secondary level, you must have Qualified Teacher Status (QTS), and most university-led PGCE programmes lead to QTS. Having both ITT and QTS status means you are eligible to teach in most schools throughout England.
Although you don't have to undergo a PGCE course to achieve QTS, most courses are designed to help students achieve this with the necessary skills, knowledge and experience. For example, our PGCE programmes ensure that all students that complete the course successfully are recommended for the award of Qualified Teacher Status (QTS).
What different PGCE courses are available?
There are a wide range of different PGCE courses available to study in the UK, with some covering more specific subjects than others. Most PGCE qualifications will prepare you for teaching children between the ages of five and 16, although there are also options for those who wish to teach older age groups such as adults and post-16 learners.
Depending upon what level of teaching you're interested in, there are various courses that can help you develop your professional practice within the classroom setting. For instance, if you wish to train as an early years' teacher, then there are courses available specifically aimed at this age group.
PGCEs vary depending on what subject matter you would like to focus on. From primary education as a whole, to more specific secondary education subjects such as English, mathematics and different disciplines of science such as chemistry and biology.
The University of Wolverhampton provides an extensive range of teaching courses, which have all been designed to allow students to pursue a number of teaching opportunities in a variety of educational settings once they graduate.
PGCE courses we offer include:
What will you learn during a PGCE?
By studying for your PGCE, you will develop an understanding of best practice for teaching and learning. You'll also gain insight into how education systems work across different stages, such as primary and secondary .
Your course will cover educational theories, assessment methods, curriculum design and planning, while providing practical opportunities to apply these learning techniques. You will learn how to successfully monitor student progress and provide feedback, whilst also how to work collaboratively with colleagues, parents, and other stakeholders in education.
Most importantly, you'll get the chance to develop your own teaching style through observations of experienced teachers in real classrooms. This will help you develop and assess your own strategies for delivering educational content and also for managing behaviour. There arealso opportunities to study subject-specific curricula, such as an English PGCE, which can assist you in becoming an effective teacher of a specific field.
What are the benefits of a PGCE?
Studying a PGCE offers a selection of great benefits for students, once they have completed the course. Not only does a PGCE equip candidates with the skills and knowledge required to be successful in their chosen educational career, but it also offers a wide range of benefits that can help individuals throughout their teaching journey.
Open up career opportunities:

the most obvious benefit of having a PGCE is the doors that it opens up for individuals wanting to pursue a teaching career. Not only does the certificate guarantee entry onto an accredited teacher training course, but many employers will not consider applicants without one. Having a PGCE provides jobseekers with greater opportunities when searching for roles, as well as ensuring they have met the required criteria set by educational institutions.
Develop valuable skills:

another advantage of earning a PGCE is that students develop valuable practical skills throughout the programme which are essential in order to successfully teach children.
Gain an internationally recognised qualification:

a PGCE is an internationally recognised qualification, and this means your skill set achieved from your studieswill be acknowledged, not just in the UK, but all over the world.
Gain an in-depth understanding of teaching practices:

another area where having a PGCE is beneficial is that not only will it give you the qualifications needed to teach, but also the skills and understanding of the industry and pupils needed to excel in this profession.
A lifelong qualification that benefits your teaching career:

if you want to become a teacher, then a PGCE is going to grant you a lifelong qualification to not only teach, but also benefit your teaching career.
Who should study a PGCE?
If you are passionate about teaching and want to develop your knowledge and skills within the field, then studying for a PGCE could be perfect for you.
A PGCE gives you access to up-to-date information on educational trends and insights into effective teaching practices, allowing you to gain an understanding of how best to support students' learning. Furthermore, with many employers now seeking teachers with qualifications such as a PGCE, it could give you an advantage when applying for jobs.
What are the entry requirements to study a PGCE?
Entry requirements vary between UK universities, but there are some common criteria that all potential students should be aware of before applying.
Typically, applicants will need to have at least a 2:1 degree or higher from an accredited university. Some institutions may require applicants to have obtained their undergraduate degree within a certain timeframe, such as within the last 5 years, and certain universities may also ask for evidence of any existing teaching experience. This can include anything from volunteer work with children to providing private tutoring sessions during your studies or gaining mentoring qualifications.
To study a PGCE at the University of Wolverhampton, we tend to look for students who hold an undergraduate (Bachelor's) degree from a university in the United Kingdom.
PGCE career opportunities
For those who have recently completed their PGCE degree or are considering embarking on PGCE teacher training, there is an exciting selection of career opportunities available to them.
After taking the initial steps towards becoming a qualified teacher, graduates can move into roles that offer both personal and professional development. Not only are there job prospects within schools and higher education institutions, but also with companies in the private sector. There are even specialist roles in certain fields such as sports coaching and educational psychology which require a PGCE qualification. With qualifications like these under your belt, you can become an expert within your chosen field of education, giving you more options than ever before when it comes to pursuing success.
Conclusion: Studying for a PGCE
The final points to bear in mind if you are considering studying for a PGCE, is that it can be an immensely fulfilling experience that can open many doors to unique and rewarding teaching opportunities. It involves hard work and dedication, but the rewards of helping young people achieve their educational goals can be worth it for many graduates. With the right resources and support, you can ensure your success in this programme and become a confident, knowledgeable teacher qualified to teach in the UK.