Back
Back
Academic scoops another prize for cancer research
A University of Wolverhampton academic has scooped a prize for his cancer research – the second time he has been presented with an award by the British Lung Foundation.
Dr Vinodh Kannappan, a postdoctoral research associate, won the Poster Competition prize for his presentation "Disulfiram: An old anti-alcoholism drug targets hypoxia induced cancer stem cells in malignant mesothelioma" at the Mesothelioma Research Network (MRN) Research Day organised by the British Lung Foundation in London recently.
The MRN Research Day brought together researchers working on mesothelioma along with key speakers to share ideas, exploring a number of themes including patient experience, therapies and available treatments.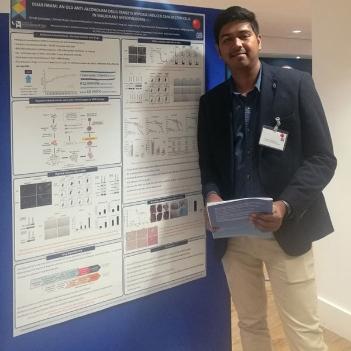 Vinodh said: "All grant holders were invited to present their data at the Research Day which specifically looked at mesothelioma. I was absolutely thrilled to have won the prize considering the range of expertise and the breadth of research on display.

"This continued national recognition will encourage the team to continue in our efforts to provide cancer patients and the NHS with an economical, affordable and effective treatment for cancer."
Vinodh was competing against researchers from Oxford, Imperial College of London, the Beatson Institute of Cancer and the University of Manchester amongst others.
Team leader at the University, Professor Weiguang Wang, said: "We are at a very exciting stage in our research following collaboration with scientists in Europe, the USA and China which has resulted in our invention being patented by the University and a spin-out company, Disulfican, being set up to further develop the new anti-cancer drug."
Vinodh's research celebrated another win at the House of Commons recently when he won Silver for biomedical research excellence – walking away with a £2,000 prize.
Led by Professor Wang, the Cancer Research Group is developing a treatment based on Disulfiram, an existing drug used to treat alcoholism which is showing promising results in pre-clinical testing as a new anti-cancer therapy.
While standard Disulfiram shows strong anticancer activity in the laboratory, its application in cancer clinical testing has previously been inhibited by its very short half-life in the blood stream, where it breaks-down and loses its anti-cancer profile. By encapsulating Disulfiram within a poly lactic-co-glycolic acid (PLGA) nano-particle, Disulfican scientists are able to prolong the half-life of the drug in the blood stream and transport it to the tumour site where it is released.
Disulfican Ltd aims to assemble an international research collaboration focused upon the development of the drug formulation to regulatory standards and testing its anti-cancer safety and efficacy.
ENDS