Back
Back
University of Wolverhampton just the job for graduates
Graduates from the University of Wolverhampton are proving to be highly employable after a new report revealed record numbers go into jobs or further study after they leave.
The Destinations of Leavers from Higher Education (DLHE) Survey is a national annual survey of everyone who has recently graduated from university or HE college.
Each year universities, on behalf of the Higher Education Statistics Agency (HESA), contact graduates six months after they have completed their studies to find out their employment status.
Overall, 96.3 per cent of students who graduated from the University of Wolverhampton in 2016 were in work or further study after they had left - outperforming the UK average for all universities and a record high for the University.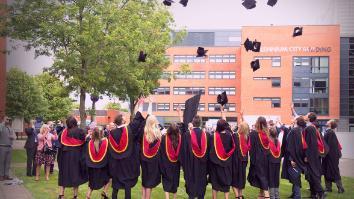 Wolverhampton students are also supporting the regional economy with 81 per cent working in the West Midlands after graduation.
More than two thirds of our students also go into graduate level jobs with 68 per cent being employed in professional or managerial roles- up from 66 per cent last year.
The survey results also highlighted that 69 per cent reported earning £15,000 to £29,999 and a further 16 per cent earning £30,000 to £59,999, six months after graduating. The average starting salary of a graduate has risen from £22,692 to £24,024 per annum.
Deputy Vice-Chancellor, Professor Ian Oakes, said: "University of Wolverhampton students have demonstrated they have the knowledge, skills and qualities that employers are seeking.

"We have had high employability rates over the last few years. So to improve once again is an outstanding achievement by both our staff and students, resulting in the University having one of the highest overall employability rates in the UK.

"University is not just about learning and getting a degree – it is also about getting a job and a career at the end of it. We have put together a package of support measures for students alongside their courses to prepare them for the world of work.

"This means our students stand a better chance of succeeding when they've graduated. We've ensured employability skills are embedded into our courses along with a real focus on gaining experience through placements, internships and volunteering opportunities.

"We have an ongoing £250m investment plan to provide the best facilities, courses and technology to give our students the best possible experience. These figures show if you choose the University of Wolverhampton you have an excellent prospect of gaining employment following graduation with an increasing number of our students going straight into graduate level jobs and gaining graduate level salaries.

"We also play a central part in the regional economy and the regeneration of the areas in which we work so are proud of the fact that 81 per cent of our graduates contribute to the West Midlands economy by getting a job in the region or setting up their own business here."
Students at the University get to access to range of support alongside their studies including careers advice and guidance, workshops on CV writing and interview techniques, access to part-time jobs, international work placements, industrial placements and an annual Enterprise and Employability Awards scheme.
The University also assists those graduates who wish to start their own business as well as providing volunteering opportunities to help build vital experience and confidence. In 2015-16 this resulted in 74,819 hours volunteered which saved businesses more than £970,954.
Last year the survey showed that 96.1 per cent of the University's graduates were in employment or further study six months after graduation.
GRADUATE CASE STUDIES
Nathan Tupper (23) from Petersfield, Hampshire, was part of the University of Wolverhampton Racing (UWR) team, which gives students the opportunity to gain hands-on motorsports experience. He graduated in 2016 with a BEng in Motorsport from the Faculty of Science and Engineering and secured a role as an Engine Systems Technician at Mercedes AMG in Brackley, Northamptonshire. Mercedes-Benz runs the Mercedes AMG Petronas Formula One Racing Team - one of the most successful teams in F1 history having achieved back to back drivers and constructors titles in 2014 and 2015.
Nathan said: "It was always my aim to find a job within Motorsport or the performance car sector, which as a kid I would never have thought would be possible.
"I chose to study at the University of Wolverhampton purely for the opportunities available to me alongside my degree in Motorsport. To be able to be part of both the F3 team, Morgan and Formula Student team allowed me to gain practical experience alongside my degree, which was not offered to the same extent as other universities.
"I have always been a fan of Motorsport and interested in cars so to have a degree in this area was obviously of interest. For this to then open doors into a career of something I enjoy definitely made my mind up to study the degree."
Stuart Wedge (31) from Codsall graduated from the BSc in Quantity Surveying in 2016 and has secured his first role as a Quantity Surveyor with Stourbridge-based Kendrick Homes.
He said: "The University provided me with skills and knowledge about the field of quantity surveying and how the role integrates within the wider construction industry as a whole. It also instilled me with personal confidence to sell my skills to prospective employees and to fully utilise the knowledge gained during my time at the university in a positive manner.
"I started my studies full-time but following a summer placement with my current employer I was offered a full-time contract and completed the final year of my studies on a part-time basis. Having the accreditation of a BSc (Hons) from the University of Wolverhampton supported me, but my studies also showed to my employer that as an individual I was willing to learn and develop my skills and attributes, and show dedication to pursue a role as a quantity surveyor within the company."
After graduating from his BSc Sports and Exercise Science course last year 27-year-old Nathaniel Keay decided to set up his own business.
With help from the University's SPEED scheme Nathaniel set up Mesolean Group, a recruitment company focused on supported sports graduates into work.
Nathaniel, from Birmingham, said: "I realised there was a need for a business where people could get transitional support to bridge the gap between graduating and gaining employment.
"The transferable skills learnt during my degree, such as research methods and presentation skills, have really benefitted my business.
Naomi Jacques (33) graduated with an Applied Arts honours degree and now creates glass sculptures under the name Naomi Jacques Glass Artist. She works from home in Stafford where she has a kiln and her own working studio space.
"Applied Arts was a truly inspiring course to help you peruse various paths of creativity. The University of Wolverhampton has wonderful facilities across many mediums and all the up to date technologies (as well as traditional processes) available for you to explore. The teaching and technical staff were brilliant. The modules given allow you to direct your learning towards your chosen career path, making the degree geared around your specific needs."
ENDS
For more information please contact James Allen in the Media Relations Office on 01902 322003.
Date Issued:
For more information please contact the Media Relations Office on 01902 32 2736 or 01902 518647.