LibKey Nomad – Speeding up the research process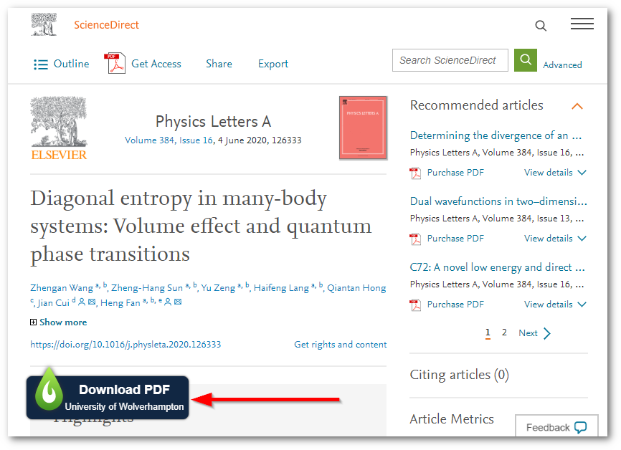 We understand that the research process can feel complicated and lengthy – that's why we're bringing you a new feature, as part of the Library Service.
By installing LibKey Nomad in your browser, you can access our extensive range of library articles more easily from anywhere online – even Wikipedia!
Once it is installed, whenever you come across a journal article online, Nomad will inform you if the article is available through the library's subscriptions, or there is an open access copy available (no need to use extensions such as Unpaywall).
Simply click the Nomad button and start reading.
How to install LibKey Nomad
Nomad is available as a Google Chrome extension. To install it follow these instructions:
Using Chrome, go to www.LibKeyNomad.com This will take you to the extension in the Chrome web store
Click on the Add to Chrome button, and then on the Add extension button when the confirmation prompt appears
Nomad will prompt you to select your insitution. Find University of Wolverhampton in the drop-down list and select it.

That's it. You are set up and ready to go.
Please Note: LibKey Nomad should also work in other browsers that are based on Chrome and allow extensions from the Chrome web store, for example the latest version of Microsoft Edge and Brave browsers. For Edge you may be prompted to allow extensions from other stores - please ensure you understand the implications of this choice, as we cannot provide any official support for Nomad on these browsers.
If you have any further questions about LibKey Nomad please contact us.
FAQs
Several different Nomad buttons can appear depending on the availability of the article:

The library has full access to this article through our subscriptions and we can link you straight to the PDF or the article page


An open access copy of the article is available, and we can link you straight to the PDF file or article page

LibKey Nomad works on over 1000 publisher sites, including:
ACM Digital Library
American Chemical Society (ACS)
American Medical Association (AMA)
American Psychological Association (APA)
BMJ Publishing Group
Brill
Cambridge University Press
Elsevier Science (Science Direct)
Emerald
IEEE
IOP
Oxford University Press
SAGE
Springer Nature
Taylor and Francis
Wiley
It also checks the citations on Wikipedia pages for you.
For the full list of supported publishers see the following page: What publishers do you support?
No, using LibKey Nomad doesn't require you to set up any personal account.
The extension is only active when you are one of the supported publisher's sites - all other websites are ignored.