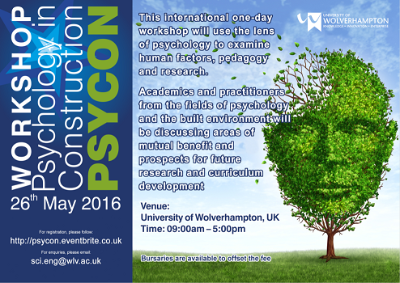 Psycon 2016
Psychology in Construction (Psycon) aims to enhance the creation and sustenance of a built environment that is most befitting to its human users. Built environment considerations have historically been considered within the remit of environmental psychology. This subset of psychology focuses on the transactions between people and places (Spencer and Gee, 2009).
The philosophy of Psycon has been propagated over the years and our current initiative is taking the baton and running with it. An inspiration can be drawn from Lightner Witmer (1867-1956), the man who first used the phrase clinical psychology in 1908 when he established the first clinical journal called Psychological Clinic. Lightner Witmer stated that: "Although clinical psychology is closely related to medicine, it is quite as closely related to sociology and to pedagogy. The school room, the juvenile court, and the streets are a larger laboratory of psychology. An abundance of material for scientific study fails to be utilized, because the interest of psychologists is elsewhere engaged, and those in constant touch with the actual phenomena do not possess the training necessary to make their experience and observation of scientific value" (Witmer, 1907; p.7 ).
Another inspiration can be drawn from Elizabeth (Libby) Burton of the University of Warwick, who died in November 2014. Libby had a dual role as a professor of Architecture in the School of Engineering and Director of Wellbeing at the Warwick Medical School. Prior to her death, Libby delivered a symposium titled The Pursuit of Happiness and noted in her speech that we know a lot more now about how the built environment affects the wellbeing and happiness of people as well as which aspects of wellbeing are most affected. Through numerous research outputs Libby and her colleagues have revealed: how the built environment affects human feelings, stress, concentration, the experience of pain, physical comfort (such as warmth or coolness, light to see, etc), safety from injury, satisfaction with life, etc.; and ability to recover from mental fatigue and cope with symptoms of mental disorders such as dementia, Attention Deficit Hyperactivity Disorder (ADHD), autism etc. Some of their research also showed how the built environment impacts on wellbeing indirectly including how it could affect the physical activities, social engagement, privacy, safety and security, competence, autonomy and independence as well as equality and inequality issues. However, Elizabeth Burton pointed out that there is much more to know (Burton, 2014).
The preceding context has shown how researchers from Psychology and other disciplines have observed over the years that the space around us profoundly affects us emotionally, behaviourally and cognitively (Jarrett, 2006). Research abounds on how the built environment could affect these various faculties of the human psyche. However, as Churchill (1943) rightly observed, "we shape our buildings, and afterwards our buildings shape us". This quote seems to imply that the built environment that we create is a reflection of who we are and what we value. At the same time, who we are and what we value is a result of the built environment in which we live, work and learn. The Psycon initiative therefore is examining the pedagogic, research and practical applications of psychology in the built environment.
Psycon 2016 playlist https://www.youtube.com/playlist?list=PLBXrfJFC4g0RLwKnSqE8Hk4csyP75M99I
Burton, E. (2014) Professor Libby Burton's Legacy Lecture: The Pursuit of Happiness. Youtube Video. Available online at <https://www.youtube.com/watch?v=SzyPsg0RoyU>. Retrieved on January 18, 2016.
Churchill, W. (28 October, 1943). House of Commons rebuilding. House of Common Debates, Volume 393 cc403-73.Available online at <http://hansard.millbanksystems.com/commons/1943/oct/28/house-of-commons-rebuilding>. Retrieved on 18 May, 2016
Jarrett, C. (2006). Is there a psychologist in the building? The psychologist, 19(10), 52-55.
Spencer, C. and Gee, K. (2009). The roots and branches of environmental psychology. The Psychologist, 22,180-183.
Witmer L. (1907). Clinical Psychology. Psychological Clinic, 1(1), 1-9.
Keynote Speaker: Anil Patel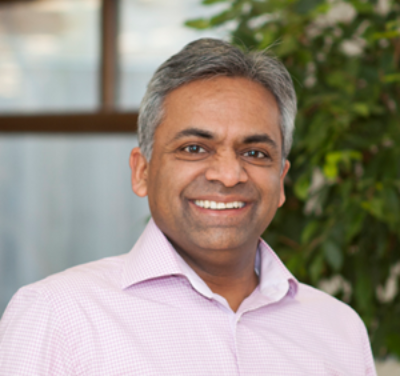 Anil is an Associate Director in Arup's Infrastructure Group at their Solihull Campus.
He is a Chartered Civil Engineer with 30 years' experience in the design and construction large multi-disciplinary highway and railway projects.
He has worked in and led integrated teams with Clients and Contractors on major infrastructure projects. This has involved him working in co-located project offices in the UK and overseas (in the Netherlands, Qatar, India, Melbourne, Brisbane and Sydney).
Anil is currently Arup's Programme Director for the Highways England Collaborative Delivery Framework (CDF) contract, and is responsible for promoting collaborative working and behaviours within Arup's Highways business.
Within the 80-strong Highways design team at Arup's Solihull office, he is a member of the leadership team with specific responsibility for staff and people issues, resource allocation and co-ordination, recruitment, and training and
Development.
‌
Keynote speaker: Kate Fairhall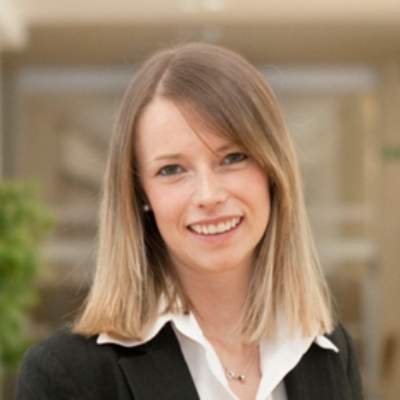 Kate is a Chartered Occupational Psychologist with technical experience of integrating and understanding of human factors and behaviours into design and operations. She leads the People Factors service area and team within Arup's Operations Consulting Group. She is also an experienced project manager having led a large training and design team on operational readiness for Heathrow's new Terminal 2, which successful opened on 4th June 2014. In April 2015, she was named Change Management Consultant of the Year by the Management Consulting Association.
Some of her key projects include:
• Network Rail, Digital Railway: Human Factors and Business Change Subject Matter Expert
• Highways England: Project Manager for the design and delivering of a Behavioural Based Safety Programme for the Operational Division
• Heathrow Airport Terminal 2: Arup People Lead for the Operational Readiness Programme
Keynote speaker: Kathryn Lennon Johnson
Kathryn­­­ ­­­­­­­is a behavioural change specialist and founder of 'Built Environment Skills in Schools', a nationwide platform established to connect all the dots of skills and careers engagement in construction using experiential tools like gamification, simulations, virtual and augmented reality, apps and social media. This increases the effectiveness of employer outreach, relieves pressure on schools, and puts students in control of their own careers journey allowing them to experience much more in the sector.
Kathryn is a committee member of NAWIC West Midlands, the Forum for the Built Environment Birmingham branch, and the Black Country Constructing Excellence Club.
Kathryn will be presenting on the significance of 'how the built environment feels', an angle that is often overlooked in traditional technical construction qualifications. The workshop will cover:
We often talk about the visual design, the aesthetic or the functional of the built environment, but how it makes us feel is immediate, often subconscious, and has a marked effect on how we interact with a building.
How we feel determines what we think, and therefore what we do (means, motive, opportunity of behaviour)

ACTIVITY - recognising our emotional responses to the built environment

Form, function and feeling are, in part, an attribute of the mind-sets and cultures that created the existing built environment

ACTIVITY - identifying the issues and cultures that have shaped the built environment

Each of these outcomes, behaviours and issues has an impact, and this often contributes to longer term knock-on effects

ACTIVITY - understanding the basis for these impacts in human psychology

A crucial part of the challenge for the built environment is to get more up-front input from those who have experienced these problems, or have innovative solutions, or have a passion for improvement so we can address problems at source. Input can be in the form of people joining the sector (particularly young people being encouraged into jobs in the sector), but also communities, neighbourhoods and groups

ACTIVITY - ideas to stimulate subject interest in new students and communities
At the end of the session, the group will have created an outline map highlighting gaps in course outlines for psychology in construction, as well as identifying some potential tools to address engagement from budding students.