Overall University organisation is the responsibility of the Offices of the Vice-Chancellor.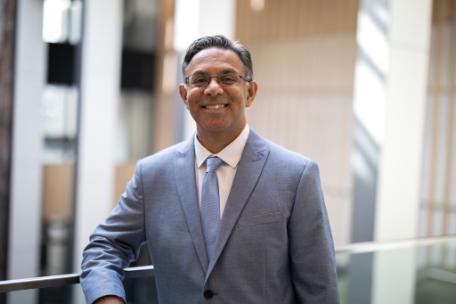 Professor Ebrahim Adia joined the University of Wolverhampton as Vice-Chancellor on 1 October 2023.
Formerly Pro Vice-Chancellor (Academic Leadership) at the University of Central Lancashire (UCLan), Ebrahim has a national and international profile and brings to the role a wealth of experience, serving as Chair and member of a number of high-profile boards.
Ebrahim was born and raised in Bolton. He was the first in his family, and one of the few from his school to attend university, which has helped to shape his views on the role of higher education. As a result, Ebrahim has strived in both his professional and personal life to create opportunity and to help transform the lives of individuals and local communities.

Ebrahim's academic background is in public policy and policy analysis. He taught as a Lecturer and Senior Lecturer in Education for 18 years before moving into academic management. As the Provost for UCLan's Burnley Campus, Ebrahim led on the development of a new campus and increased student numbers ninefold and as the Assistant Vice-Chancellor for Student Experience and Transformation at the University of Bolton he helped to improve both student satisfaction and student continuation.
Ebrahim was appointed as a Teaching Excellence Framework (TEF) Panel Member by the Office for Students which enhanced his understanding of best practice to support the development of an outstanding student experience that delivers high levels of graduate employability.
Ebrahim has worked closely with the devolved Greater Manchester Combined Authority where he held the role of deputy portfolio for Economic Strategy and Internationalisation and served as a Board Member of the Manchester Growth Company offering him excellent experience and understanding of working in partnership with public and private stakeholders to mutual benefit. He has also held a number of senior Board roles in the NHS, was appointed by the Government to the Commission on Integration and Cohesion and has served as a Rapporteur at the Council of Europe in Strasbourg.
Samantha Waters LLB(Hons), PGDip was called to the Bar of England and Wales in 1999 and further qualified as a Solicitor in 2003. She is a qualified International Civil and Commercial Mediator and has a PGDip in Governance, Risk and Compliance. Samantha has over twenty years' public sector experience in the disciplines of Legal, Governance, Risk and Compliance.
As Chief Operating Officer and University Secretary (COO&US) Samantha is responsible for the leadership, development, and alignment of effective and efficient Professional Service functions that support the delivery of our University enabling more effective resource management, responsiveness to change and supporting stronger career pathways for our Professional Services colleagues.
Samantha is also responsible for ensuring the University has the structures and systems of governance in place to enable it to respond and compete efficiently and effectively in a modern and fast changing environment whilst ensuring appropriate standards of conduct, compliance, and accountability.
Samantha provides advice and support to the University's Governing Body and to the Vice-Chancellor, as the University's Accountable Officer and their Executive Team.
In her spare time, Samantha enjoys walking the dog, is Chair of the UWRacing Team and is a fully paid up member of Team LH – if you know you know! Samantha also runs a not-for-profit Mediation Training Programme.
David Reeve was appointed Chief Financial Officer in 2022. David has held a number of financial leadership roles at higher education institutions including the University of Reading and Bournemouth University.
David is from Yorkshire. He enjoys travel, likes history and loves cats.
Professor Prashant Pillai, MBE, was appointed Pro-Vice Chancellor Research and Knowledge Exchange in July 2023. The new position forms part of the University's newly structured Offices of the Vice-Chancellor and will lead efforts to continue to grow and improve the institute's world-class research. Prashant's strategic priorities are to embrace all Research and Knowledge Exchange (KE) across the University and embark on a journey of sustained growth: promoting people, culture and ambition.
Formerly Associate Dean for Research and Knowledge Exchange in the Faculty of Science and Engineering, in 2023 Prashant was awarded the 2023 India UK Achievers Honours Award in the Education, Science and Innovation category. He has led numerous research projects in networking protocols and cyber security. As Director of the partnership project in Herefordshire Cyber Quarter, Midlands Centre for Cyber Security, he has pursued the application of Artificial Intelligence (AI). His research aims to understand and solve security threats in cyberspace and expand knowledge of cyber-crime on a large scale to protect the smart cities of the future. 
Prashant has attained a vast number of accomplishments across two decades since studying his Master's degree in informatics. He has published over 100 papers furthering international understanding of cybercrime, systems, security and other associated topics. Prashant continues to develop innovative education programmes and direct important research projects to increase global understanding of the threats we face as technology continues to progress.
Pro-Vice Chancellor Student Outcomes appointment to follow.
Pro-Vice Chancellor Global and Civic Engagement appointment to follow.
Chief People and Culture Officer appointment to follow.
Louise Tonks - Chief Administrative Officer & Executive Assistant to the Vice-Chancellor
Joy Egginton - Executive Assistant
Harjinder Johal - Executive Assistant