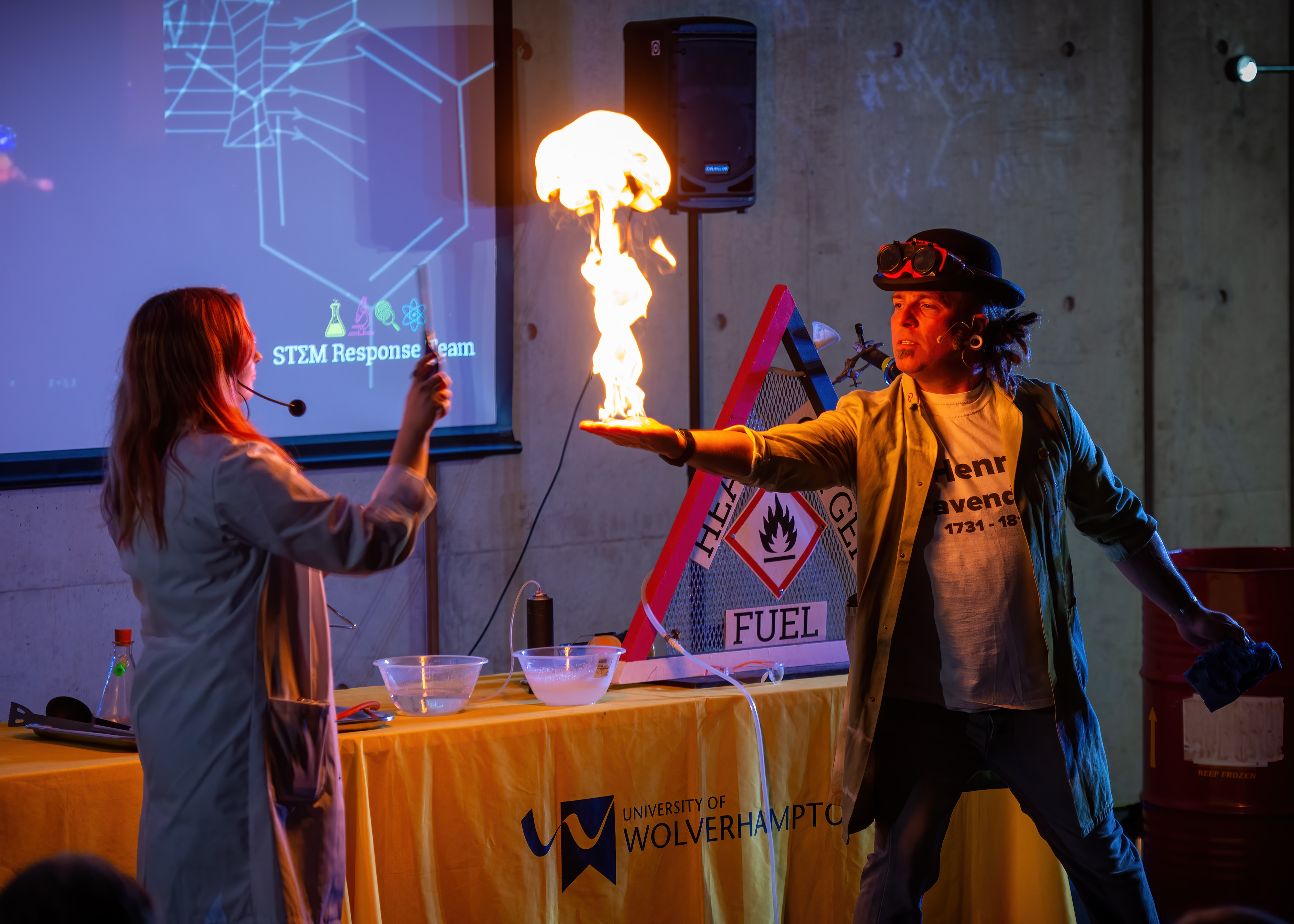 A Volatile History of Chemistry is an interactive time-travelling adventure through the history of chemistry. Starting with Marie and Pierre Curie and ending with the notable Robert Boyle, using audience participation and fantastic demonstrations, our performers will take the audience on an explosive journey to learn about some of the most important laws of chemistry and the people who invented them.
This show is suitable for KS3, KS4 and KS5
All shows are 50 minutes in duration, however, can cater to large audiences depending on the suitability of the location.
This session links in with the national curriculum in the following ways
The properties of the different states of matter (solid, liquid and gas) in terms of the particle model, including gas pressure
Changes of state in terms of the particle model.
A simple (Dalton) atomic model
Combustion, thermal decomposition, oxidation and displacement reactions
What catalysts do.
Energy changes on changes of state
Exothermic and endothermic chemical reactions
A simple model of the atom consisting of the nucleus and electrons
Changes of state of matter in terms of particle kinetics, energy transfers and the relative strength of chemical bonds and intermolecular forces
Identification of common gases
Factors that influence the rate of reaction: varying temperature or concentration, changing the surface area of a solid reactant or by adding a catalyst
Develop an interest in and enthusiasm for the subject, including developing an interest in further study and careers associated with the subject
This show will generate a socially constructive environment that will promote direct and incidental learning opportunities through informal science education in the chemistry subject area that is directly relevant to and supports GCSE and A-Level chemistry curriculum which may lead to increased attainment.

Promotion of questioning, engagement in the science classroom and discussion of careers.

A contextual position for chemistry learning that will help your young learners position their knowledge.

A directly inspirational and aspiration experience for young adults which is relevant to those particularly in from a widening participation background as our team are local to the Black Country and present an alternative to the social norms of the 'scientist'.
Booking Enquiry
Fill In Our Form
Book now and bring the STEM Response Team's award-winning STEM workshops and interactive science shows to your school and community centre.