Back
Back
What can you do with a law degree?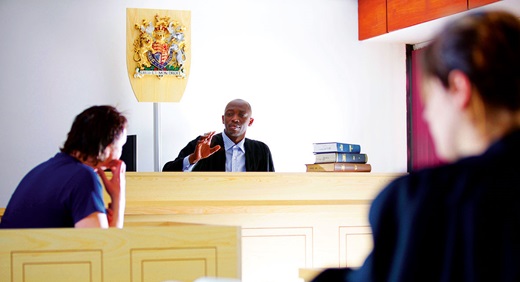 A law degree is a highly sought-after qualification, often studied by those looking to go into legal roles such as solicitors, barristers, mediators, arbitrators and more. Obtaining such a degree requires dedication and a commitment, but is certainly rewarding thanks to the many doors it opens for graduates.
Law degrees provide graduates with an abundance of career opportunities. Whether the role is directly related to law or not, studying this subject provides you with a strong foundation of skills to get your career started.

In this article, we'll talk through the many options available to law graduates, such as potential career paths and opportunities for further study. We'll also help you understand more about what a law degree involves.
What is a law degree?
A law degree is a type of academic qualification that offers an individual an understanding of the legislation processes and systems governing the state. It is a course designed to provide students with an insight into how legal systems function and operate, as well as providing them with the opportunity to develop their skills in problem-solving, critical thinking and dispute resolution.
For those looking to pursue a career in law or related areas such as human rights, international development or politics, then having a law degree will be extremely useful; and in some cases, required.
Law degrees at the University of Wolverhampton provide students with an in-depth look into many different interesting topics in this field.
Law courses we offer include:
What will you study during your law degree?
Law courses typically cover areas of criminal justice, contract law, civil procedure, torts, constitutional law, property rights, business entities and ethics. Topics will differ from university to university, as will teaching styles and course structures. At the University of Wolverhampton, our law degrees are tailored to meet specific learning objectives for each student; preparing them for further study or their future career path.
For example, on our LLB (Hons) and LLM Law courses you will also have the opportunity to take elective modules on specialist topics like family law and employment law. Additionally, there are professional skills modules which equip students with essential skills for their future career including advocacy skills and client interviewing techniques.
What skills will you gain from a law degree?
Now that we know what studying for a law degree involves and what you'll learn, let's look at the many skills you'll develop by studying a law degree. As a versatile degree, many of the skills you'll learn are highly transferable, helping you progress into a variety of prestigious career paths, including becoming a solicitor or barrister, a conveyancer, partaking in further study, and more.
Here are some of the most valuable skills you'll develop as a law student:
Problem-solving

Written and verbal communication

Research and analysis skills

Independence

Teamwork

Intellectual rigour

Understanding the law
Let's take a look at some of the most key law skills in more detail.
Understanding the law
Having an understanding of the law enables those working in legal sectors to better serve their clients' interests by being able to provide accurate legal advice based on sound research and analysis. Understanding the law also provides lawyers with a foundation for more advanced specialisation in particular areas of legal practice.
Intellectual rigour
Intellectual rigour is a crucial skill to master in today's world. It involves hard work and an analytical approach to problem solving and gaining knowledge. Through intellectual rigour, one can identify problems and apply critical thinking skills to find solutions, while also understanding the context of those challenges.
Research and analysis skills
Research and analysis skills are vital for all industries, professions and academic disciplines. As such, the development of effective research and analytical abilities is an essential part of any educational program. Research skills allow individuals to effectively collect, analyse and interpret data in order to answer questions or draw valuable conclusions.
Law career paths
As a versatile area of study, a law degree offers no shortage of potential career opportunities. There are many different work fields that a law degree directly applies to:
Solicitor
A solicitor is a legal professional who advises individuals and businesses on the law. Working as a solicitor entails representing clients' interests and providing advice in relation to their legal matters. Solicitors draw up contracts, plead cases in court, help settle disputes out of court, prepare legal documents such as wills, provide representation for clients at the police station when necessary and advise on taxation issues.
Barrister
A barrister is a specialist legal professional who provides advice to clients and represents them in court. Working as a barrister involves providing comprehensive legal services such as drafting pleadings, conducting research, making appearances in court and advising clients on their rights. It requires an individual to have the knowledge of law, how to apply it and an understanding of the complexities of criminal and civil cases.
Chartered legal executive
This job requires expertise in multiple areas of the law, including but not limited to contract and commercial law, business law, family court and divorce proceedings, probate and trust administration, criminal litigation and civil litigation. Chartered legal executives provide legal advice to clients on various matters; they also review contracts for their clients' protection.
Coroner
Working as a coroner is an important role in the legal system, providing essential services to families and communities. It involves investigating deaths that have occurred in suspicious or unnatural circumstances, as well as determining the cause of death and issuing death certificates. The work of a coroner can be both challenging and rewarding - requiring knowledge of law and medicine, as well as sensitivity when dealing with grieving family members.
What do most law graduates go on to do?
Law graduates face a variety of career paths after graduating from law school. While many go on to work as practising attorneys, some choose to pursue other opportunities in the legal sector or outside of it entirely. Data from prospects luminate shows that over half of law graduates are employed in full-time work, whilst 11.4% have gone on to further study and 15.8% are working whilst studying. 43% of law graduates have gone on to work in the legal sector 15 months after graduating, whilst 14.2% work in clerical fields and 8.7% work in business.
Careers where a law degree can be useful
There are a number of careers where a law degree can be useful, even if they aren't directly related to the subjects taught throughout your degree. With the abundance of skills you gain through a law degree, you can apply these skills to a number of rewarding and exciting careers.
Management consultancy
Management consultancy is a profession which uses expertise and experience to provide advice to organisations on their management practices and strategies. This advice is aimed at improving the organisation's operations, structure, financial performance or other areas deemed necessary by the client.
Investment banking
Investment banking involves providing advice to companies, governments, and other organisations on how best to manage their investment portfolios in order to maximise returns. Investment bankers also help companies raise capital by underwriting debt or equity securities for them.
Legal publishing
Legal publishing is a multifaceted and specialised career field that requires an understanding of both the legal industry as well as the publishing industry. It involves a variety of knowledge and skills which makes it attractive to those who have interests in different areas. Working as a legal publisher involves creating, editing, formatting, and distributing content for legal professionals.
Final thoughts on studying for a degree in law
In conclusion, studying for a degree in law is a worthwhile endeavour, as it equips graduates with knowledge and skills that are transferable across many industries. Its comprehensive nature provides an understanding of the legal system and how to navigate it effectively. Additionally, studying for a degree in law can open up future career opportunities and may even lead to specialisations further down the line. For those considering this academic path, having a well-developed plan and clear goals will help them to maximise the opportunity.