Back
Back
What Can You Do With an Architecture Degree?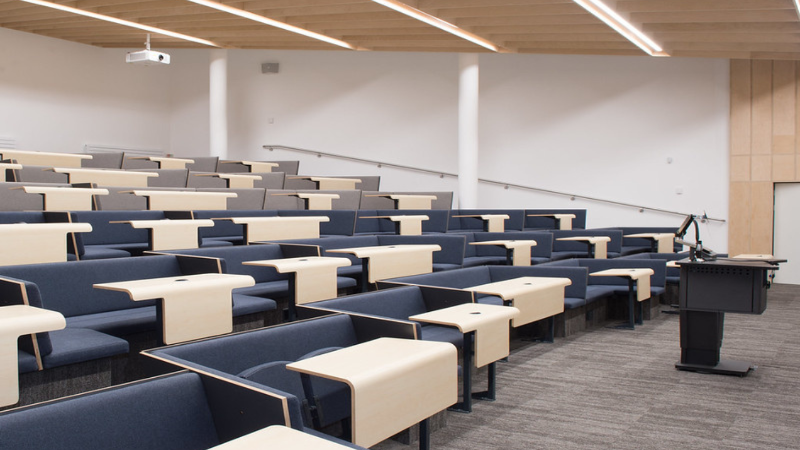 Studying for an architecture degree is a popular choice for many who enjoy calculated creativity, and producing work that helps improve society. This exciting and rewarding field enables students to gain a broad variety of skills that can be applied to many different areas. Studying architecture can ultimately lead to the production of new buildings, ranging from housing, to schools, to hospitals and to many other types.
This guide from the University of Wolverhampton explains how an architecture degree can allow graduates to develop both their technical knowledge and creative ability. As part of the curriculum, students will also learn how to design buildings in accordance with functional, aesthetic, and environmental considerations.
Most importantly, through this guide, those interested in studying architecture will discover what can be achieved with an architecture degree and how it can be applied to various professional roles.
What do you study during an architecture degree?
Throughout an architecture degree, you will study modules that provide you with a fundamental understanding of the science and art of designing structures and spaces. Whilst studying, your time will consist of studying modules such as design, building technology, professional practice, urban planning, history, mathematics, environmental science and materials science.
Courses in these areas provide students with an understanding of the complexities involved in creating safe structures for a variety of purposes. Through project-based learning experiences, students develop practical applications for their knowledge by creating designs for real-world projects such as residential housing or commercial buildings.
Some key areas of study include architectural communication, where you will develop effective communication skills in a range of media, the history and theory of architecture that will familiarise you with the development of architecture through the ages and doing practical sessions in the design studio, learning how to integrate technology and urban design into architecture.
How long is an architecture degree?
It typically takes three years to complete an undergraduate architecture degree, followed by a 2-year Master's degree. As per the Royal Institute of British Architects (RIBA) guidelines, qualifying requires five years of academic education and an additional two years of practical experience.
Through the University of Wolverhampton, you would be required to study our BSc (Hons) in Architecture, and then study the Master's in Architecture (MArch) for a further two years, finalised with two years of work experience once you have completed your study.
Your study is generally laid out as follows:
Undergraduate study

Master's of Architecture (MArch)

Practical experience

Examinations
1. Undergraduate study - BSc Architecture
The initial segment serves to build up fundamental architectural expertise. An undergraduate degree course usually spans three to four years when studied full-time. After finishing your undergraduate degree, students must gain practical experience, by taking a minimum of one year out and securing a position under the guidance of an employer, mentor, and advisor.
2. Postgraduate study - MArch Architecture
The two years of postgraduate study contributes to deepening and expanding architectural knowledge, and is required before you progress into the final two years of practical work.
3. Practical experience
To fulfil RIBA requirements, you'll need to gain at least 24 months of practical experience to progress to the next stages of becoming a qualified architect. Students should acquire at least 12 months of experience under the direct supervision of a qualified architect, which permits them to assume greater responsibilities and also allows them to become RIBA Associate Members.
4. Examinations
The final stage of the program entails both written and oral examinations and assessment of the students' prior practical experience. These examinations usually take place with a panel of examiners appointed by the University or college offering the degree program, and cover a wide range of topics, including history and design practice, and, a demonstration and assessment of the student's portfolio.
What skills do you gain during an architecture degree?
Studying architecture is not just about having the technical capabilities to design and build structures, it also involves developing a range of skills that are valuable for future architects and other career paths. In addition to learning how to design buildings from the ground up, students gain knowledge of construction methods, urban planning theories and building regulations. They become proficient in using computer-aided design (CAD) programs and acquire an understanding of sustainable technologies.
Furthermore, studying architecture encourages creative problem solving skills which may be applied to other areas such as event management or engineering. At university level, students learn effective research techniques while they develop their own project ideas through collaboration with peers. This helps them develop effective communication skills which are essential when working on a project with clients or colleagues.
Some of the valuable skills you can gain during an architecture degree:
Written and computer-aided design skills

Project management skills

Analytical problem solving

Teamwork

Written and oral communication

IT skills

Adaptability and flexibility skills
What can you do with an architecture degree?
An architecture degree provides students with a wealth of career opportunities. Whether it's in the public or private sector, individuals with an architectural background can utilise their skills to land a job within the building and design industry. There are many types of jobs available for those who have graduated from an architecture program; they range from residential to commercial and industrial projects.
A study by Prospects shows that 65.8% of architecture graduates were in full-time employment 15 months after graduation, with the top roles being CAD, drawing and architectural assistants, quantity surveyors and chartered surveyors. 3.8% of graduates were also in further study, whilst 10.2% were working part-time.
Architecture career paths
Some of the most common career paths available to architecture graduates include:
architect

building control surveyor

cAD technician

town planner

urban designer

interior and spatial designer

architectural assistant
Architect
Architecture is an important profession that involves designing and creating the buildings and structures that shape our daily lives. From skyscrapers and homes, to bridges to parks, architects are responsible for designing physical spaces that both serve a purpose and reflect aesthetic principles.
An architect's job involves much more than simply drawing up plans. It requires a combination of creativity, technical skill, research, problem-solving and communication. In order to create functional yet aesthetically pleasing designs, architects must understand building codes, zoning regulations and structural requirements. They must also be familiar with construction materials and methods and have knowledge of engineering principles.
Building control surveyor
A building control surveyor is a professional responsible for ensuring that construction projects meet the necessary regulations and standards. This occupation is critical for safety, as building control surveyors make sure that buildings are structurally sound and do not pose any health or safety hazards.
Building control surveyors must be knowledgeable in both local and national regulations related to construction, such as those concerning fire protection, structural integrity, disabled access, ventilation systems and electrical wiring. They use this knowledge to assess plans before building work takes place, monitoring progress of works on site during the construction process to ensure compliance.
CAD technician
A CAD technician is an essential part of any architectural, engineering or manufacturing business. These professionals are involved in the everyday design and production of goods or services, as well as providing technical support for the day-to-day operations of a business. CAD technicians use special computer software to create diagrams and models for projects such as buildings, engineering components or even medical equipment.
They will often be responsible for designing different parts of a project from concept to completion, ensuring that all safety regulations are met along the way. In addition to this, they are also expected to provide technical advice and guidance on how best to utilise products or processes for maximum efficiency.
Construction manager
A construction manager is a professional responsible for overseeing the various aspects of a construction project. From planning, budgeting, and coordinating the activities of workers, to ensuring that projects remain on schedule and within budget, the role of this expert requires leadership skills and technical know-how. It is important to note that no two construction projects are alike; therefore, successful completion of a project depends on the ability of a construction manager to adapt their expertise accordingly.
Estimator
An estimator works within the construction industry and is responsible for providing an accurate estimate of costs associated with projects. They are typically employed by companies that specialise in construction, engineering or other related fields, and their role is to determine the quantity and cost of materials needed for a project. This includes labour costs as well as accounting for any other expenses such as subcontractors. The primary duty of an estimator is to assess all potential risks associated with a project before starting it.
They must analyse the design plans, review material requirements and create detailed estimates that include labour costs, equipment needs and permits. Estimators then review these estimates with clients to ensure that they have taken into account all variables related to the project's cost.
Structural engineer
Structural engineering is an important field of engineering that focuses on the construction and design of buildings and other structures. Structural engineers are responsible for ensuring the safety, strength, and stability of many large-scale constructions. They work with architects and other engineers to develop a structure's plan, which they then assess in order to make sure it meets all applicable building codes and standards. Structural engineers begin their journey by assessing the site conditions where the structure will be built.
This includes evaluating soil properties, seismic activity, local climate patterns, existing infrastructure, and more. With this information in hand, structural engineers can suggest changes to the plans to ensure maximum safety and effectiveness within their budget constraints.
Concluding thoughts on studying to become an architect
Becoming an architect certainly isn't a simple process, but it's one that can be extremely rewarding. Through studying the necessary skills and knowledge, having a passion for creativity and problem-solving, and gaining experience in the field, aspiring architects can equip themselves with the tools to become successful practitioners. In addition to technical knowledge and creative abilities, having an understanding of business acumen and professionalism is also critical for success in this field.