Back
Back
Undergraduate vs. postgraduate study: what's the difference?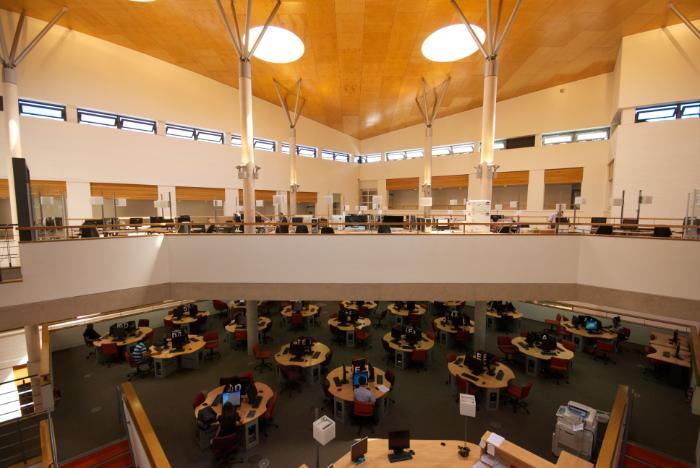 Studying at university is an exciting step for students, but with so many different types of courses and degrees available, it can be overwhelming to understand the differences between them.
Whether you're just starting your higher education journey, or looking to continue with further study, understanding the differences between undergraduate and postgraduate is a great place to start.
Both options lead to degrees, but they differ in several ways. In this blog, we will explore the differences between undergraduate and postgraduate programmes and provide guidance on how to choose the best course for your academic and career goals.
Undergraduate: an overview
An undergraduate degree is the initial level of higher education that students can pursue after completing secondary education. This is usually studied in the form of a Bachelor's degree, which takes around three years to complete.
Undergraduate degrees are designed to provide students with the foundational knowledge and skills needed to pursue further study or career goals. Final qualifications can be awarded as either an ordinary or honours (Hons) degree:
An ordinary Bachelor's degree

is usually a three-year course. This type of degree doesn't require students to complete a dissertation or independent research project, and students typically do not receive class rankings or honours designations.

A Bachelor's honours (hons)

degree is a more in-depth and prestigious qualification. To achieve an honours qualification, students must complete a dissertation or research project. This provides students with the opportunity to develop research skills and demonstrate their ability to work independently.
Both ordinary and honours Bachelor's degrees are recognised qualifications that can lead to a wide range of career opportunities, but an honours degree is generally more highly valued by employers, particularly for positions that require a high level of knowledge and expertise in a specific field. Additionally, an honours degree is often a prerequisite for postgraduate study.
Postgraduate: an overview
Postgraduate study refers to any education that follows the completion of an undergraduate degree. This includes Master's degrees and doctoral study (PhDs).
While an undergraduate degree provides students with a broad-based education, postgraduate study allows students to specialise in a particular area of interest within their field. This gives students the opportunity to engage in independent research, critical thinking, and advanced analytical skills.
It is an excellent way for students to enhance their career prospects, as postgraduate degrees are highly valued by employers across a range of industries. Additionally, postgraduate study can provide a pathway for students who wish to pursue academic careers or research positions.
Undergraduate vs. postgraduate: the differences and similarities
Undergraduate and postgraduate education are two distinct levels of higher education that students can pursue. While both types are offered by universities across the world, there are many differences between both levels of study, as well as similarities.
Let's take a closer look at the similarities and differences between undergraduate and postgraduate study.
Teaching and learning
One of the main differences between undergraduate and postgraduate is the methods of teaching and learning. At undergraduate level, most Bachelor's degrees follow a taught structure, whereby learning materials are delivered via lectures, seminars, online resources, coursework and exams.
At postgraduate level, most Master's degrees also follow a taught structure, however the student is usually expected to take more of an independent approach to learning than at undergraduate level, and will be expected to demonstrate advanced critical thinking.
While taught Master's degrees involve all the familiarities of undergraduate study, such as lectures, seminars, and independent research, many universities also offer research Master's degrees. This type of postgraduate degree involves ongoing independent study, whereby students complete original academic research. A research Master's degree is better suited to those looking to pursue academic or research careers, whereas taught Master's degrees are better suited for those looking to improve their employability in a specific field.
Postgraduate study involves more freedom
At postgraduate level, there is a greater emphasis on independent study, having previously gained academic experience at undergraduate level. With this, you can expect to have a lot more freedom at postgraduate level.
Undergraduate courses typically involve a structured study programme with set modules and course materials. Postgraduate study usually offers more freedom and independence with your learning, with courses often including optional modules to allow students to specialise their knowledge in an area that suits them.
As a result, postgraduate students are given the opportunity to explore their own interests within their field of study and to pursue research questions that they are passionate about.
Postgraduate study also offers more flexibility in terms of how and when students undertake their studies. For instance, it's common for Master's degrees to include part-time or online study options, which allows students to fit their studies around work or other commitments. This flexibility is offered to ensure that those in work are able to develop skills within their profession, or even change career paths.
Learning with a diverse group of individuals
Another difference between undergraduate and postgraduate study is the opportunity to study alongside a diverse group of people.
At undergraduate level, the majority of students are those who have completed secondary education and are taking the next step into higher education. Postgraduate courses attract a broad range of students from different backgrounds and levels of experience, and often attract a more specialised and diverse group of students.
For example, Master's degrees are intended for students who already have a good foundation of knowledge in their chosen field, and are looking to deepen their knowledge and expertise. This often means that postgraduate courses attract students who are already working in their field, as well as students who have taken a career break, or those looking to specialise in a new subject.
This diversity is incredibly valuable to postgraduate students. It provides the opportunity to learn from those with experience and different perspectives. It also provides a great opportunity to network with those who share similar interests and operate in similar industries and sectors.
Entry requirements
One of the most significant differences between undergraduate and postgraduate study to take note of is the entry requirements. As different levels of higher education, Bachelor's and Master's degrees have vastly different entry requirements.
Bachelor's degrees typically require applicants to have completed secondary education at school, college or sixth form. Most will require A-Level or equivalent qualifications as a prerequisite to study the course. Entry requirements will vary depending on the university and course, but are generally designed to help students access the necessary foundational knowledge and skills that suit their abilities and goals.
In contrast, Master's degrees usually require students to have already completed an undergraduate degree or equivalent qualification in a relevant field of study.
The more specialised the postgraduate programme, the more stringent the entry requirements are likely to be. For example, a postgraduate programme in law may require students to have a degree in law or a related subject, while a postgraduate programme in civil engineering may require students to have a degree in engineering or a related science.
Length of study
When considering either an undergraduate or postgraduate degree, it's important to understand how long it'll take to complete your studies.
In the UK, undergraduate degrees typically take three years to complete. However, some courses such as medicine or architecture may take longer.
Master's degrees, on the other hand, typically take between one and two years to complete, depending on whether they are studied full-time or part-time.
Doctoral programmes (PhDs), which are the highest level of postgraduate study, can take between three and five years to complete, and require students to undertake original research and produce a doctoral thesis or dissertation.
Research methods
Research methods are a core part of any higher education programme. At undergraduate level, students are generally introduced to basic research methods throughout modules, and will often study an entire module dedicated to academic research techniques. This helps Bachelor's students grasp the foundations of research design, data collection, analysis and evaluation. This is usually a compulsory aspect of undergraduate study.
While undergraduate study introduces students to the basics of research methods, postgraduate study involves more advanced research methodology and incorporates this as a central focus throughout the programme.
This is largely because Master's and doctoral programmes require students to undertake original research, and as a result, requires students to develop a more in-depth understanding of research methods. This can involve learning more advanced techniques for collecting and analysing data, such as statistical analysis or content analysis. Postgraduate students may also need to learn how to use specialist software or equipment to conduct their research, such as laboratory equipment, survey tools or digital databases.
For example, Master's and doctoral students will develop their own research questions and methodologies, and will be required to critically evaluate independent research.
Contact with academic staff
Postgraduate study involves less structured contact with academic staff and more one-to-one contact, particularly in research-focused programmes. As a result, they typically have more opportunities for one-to-one supervision and guidance from their academic supervisors.
Having an increased level of contact with academic staff can be both challenging and rewarding for postgraduate students. On one hand, it provides an opportunity to work more closely with experienced academics and to receive tailored feedback on their work. On the other hand, it requires a higher level of initiative and independence on the part of the student, as they must take responsibility for their own research and seek out opportunities for support and guidance when needed.
Conclusion
In conclusion, there are a number of differences between undergraduate and postgraduate study. From teaching structure, length of study, entry requirements and more, there's lots to consider when understanding how undergraduate courses differ from postgraduate courses.
Undergraduate degrees are typically the first degree a student earns after secondary education and offer a broad overview of a field of study, while postgraduate degrees require an undergraduate degree and allow for specialisation in a specific area.
Additionally, postgraduate degrees can lead to higher salaries, more advanced job opportunities, and greater potential for career advancement.
Find out more about undergraduate and postgraduate study
We offer a range of courses at both undergraduate and postgraduate level at the University of Wolverhampton. Explore what it's like to study with us, whether you're just starting your higher education journey or looking to advance your knowledge with postgraduate study.
Learn more about undergraduate and postgraduate courses.