Ameles/Currents of Unmindfulness by R. M. Francis - Halloween Poetry Event
When? , 18:00 - 20:00
Where?

Harrison Library MD Building, Wulfruna St, Wolverhampton WV1 1LY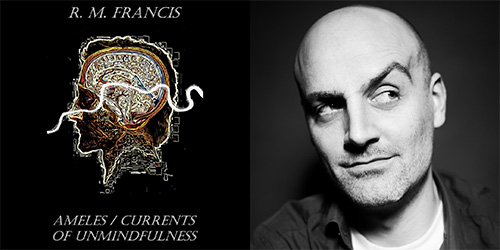 ArtsFest at the University of Wolverhampton invites you to a poetry reading by R.M.Francis.
In Greek Mythology, those who drank from the underworld river, Ameles Potamos, would suffer inexplicable disorientation. They would be left adrift, out of time, out of place, sometimes out of their minds.
The tales in Ameles / Currents of Unmindfulness by R. M. Francis, his debut collection, range from the quietly unsettling to weird and full-on horror.
R.M. Francis plays around with genre conventions and forms to deliver a flood of dark disturbing imagery that will stay with you in the darkest recesses of your mind.
R. M. Francis will read from this new collection of horror and will be joined by three guests. Two recent graduates, Sophie Ford and Toby Crabbe, who have already started to forge their own horror writing credentials, having work appear online and in anthologies. Our other special guest is horror titan, Chris Long, author of six novellas three collections, and has been published in celebrated horror magazines and presses. Find out more about Chris here: https://www.cjlongwords.com/about
R. M Francis is Senior Lecturer and Programme Leader for Creative and Professional Writing, his novels, Bella and The Wrenna were published with Wild Pressed Books and he's published two collections of poetry, Subsidence (Smokestack Books) and The Chain Coral Chorus (Play Dead Press). He co-edited Smell, Memory and Literature in the Black Country (Palgrave Macmillan) and is reviews editor for the Journal of Class and Culture. Ameles / Currents of Unmindfulness (Poe Girl Publications) is his debut collection of short fiction.