President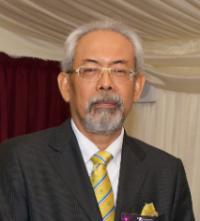 His Excellency Tuan Yang Terutama Tun Datuk Seri Panglima Haji Juhar bin Haji Mahiruddin
Head of State for Sabah and Chancellor of Universiti Malaysia Sabah
LLB (Hons) Law, 1988
Biography
His Excellency Tuan Yang Terutama Tun Datuk Seri Panglima Haji Juhar bin Haji Mahiruddin, was born on 5 November 1953 on Tambisan Island. He succeeded Tun Ahmadshah Abdullah in 2010. Being presented with the Instrument of Appointment at the Istana Negara by His Majesty Yang di-Pertuan Agong Tuanku Mizan Zainal Abidin, His Excellency was sworn-in at a ceremony on 1 January 2011.
Upon being sworn-in as the new Yang di-Pertua Negeri, His Excellency automatically received the State's highest award, the Seri Panglima Darjah Kinabalu [SPDK) which carries the title Datuk Seri Panglima.
His Excellency graduated with a law degree from Wolverhampton Polytechnic now the University of Wolverhampton University, England in 1977 and was called to the Bar of Lincoln's Inn in 1980 as Barrister-at-law. Upon returning to Sabah, His Excellency joined the judicial service, serving as First Class Magistrate in Sandakan in 1981 for a year before pursuing private legal practice.
Beginning a political career as Political Secretary in 1986, in the 1990 National Election, His Excellency contested and won the parliamentary seat for the Kinabatangan constituency and was appointed Deputy Speaker of the Dewan Rakyat, the Lower House of Parliament, being re-appointed in 1994.
An appreciation and empathy for the underprivileged fishermen and farmers whom he grew up with on Tambisan Island led His Excellency to join the United Malay National Organisation (UNMO), becoming Head of the Batu Sapi Division. On 5 December 2002, His Excellency was appointed Speaker of the State Legislative Assembly, serving until November 2010.
Politics run through His Excellency's family, his father was an influential politician and his younger sister, is the first woman to hold the post of Deputy Senate President in Malaysian parliament's history. His Excellency is married to Yang Amat Berbahagia Datin Seri Panglima Hajah Norlidah Datuk R.M. Jasni, daughter of Datuk R.M. Jasni, also a politician. The happy couple is blessed with four children, two boys and two girls.
In personal life, His Excellency appreciates music and is a good musician himself, playing the guitar and singing. An avid photographer and occasional painter, golf was recently added to His Excellency's list of interests and he is the Patron of the Sutera Harbour Marina, Golf & Country Club.