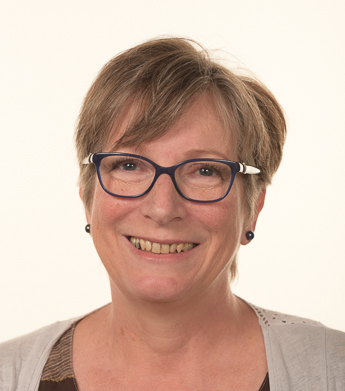 Deborah Orpin
Subject Leader, English Language, Linguistics and TESOL
Email address D.S.Orpin@wlv.ac.uk
Phone number 01902 3544
Location

MX103, Housman Building

Faculty

Faculty of Arts

Institute

School of Humanities

Areas of expertise

Corpus Linguistics, Text Linguistics, Critical Discourse Analysis, Corpus Assisted Discourse Studies
I joined the University of Wolverhampton in 1998 and lecture in English Language and Linguistic studies. Before taking up my post at Wolverhampton, I taught for many years as a teacher of English as a Foreign Language and lecturer in English for Academic Purposes, working in the West Midlands area and, before that, in the Faculty of Economics and Business Studies at Ancona University, Italy. I also worked for a period as a freelance lexicographer on the COBUILD project.
At undergraduate level, I teach modules in lexis and grammar, stylistics, pragmatics and discourse analysis. I also teach a post-graduate module in corpus linguistics. My specialist area is corpus-assisted discourse studies. I am happy to supervise PhD projects in corpus linguistics and discourse analysis.
My research is in the field of corpus-assisted discourse studies. I am particularly interested in the public understanding of science. My PhD examined the ways in which the risks associated with the measles, mumps and rubella (MMR) triple vaccine are expressed in a corpus of texts taken from a vaccine-critical website. Since completing my PhD I have researched the recontextualization of epidemiological content on Twitter by a public health agency and representations of loneliness in the press and in an online forum.
Senior Fellow of HEA (2016)
Member of the British Association for Applied Linguistics (BAAL)
2015 PhD English Language and Applied Linguistics, University of Birmingham
1997 MA Applied Linguistics, University of Birmingham
1978 BA (Hons) German Language and Literature, University of Birmingham
1991 PGCE, Warwick University
Chapters in edited collections
#Vaccineswork: Recontextualizing the content of epidemiology reports on Twitter. In M. J. Luzon and C. Perez Llantada (eds.). Science communication on the Internet: Old genres meet new genres. Amsterdam: John Benjamins. (forthcoming)
Articles
"The fact that there is no other credible theory … strengthens the case against vaccination": expressing factual status in vaccine-critical discourse. (In preparation for resubmission to Discourse, Context and Media)

'Corpus Linguistics and CDA: examining the ideology of sleaze' International Journal of Corpus Linguistics, 10.1, 2005
Recent Conference Papers
'Representations of loneliness: a comparison of news and forum discourse'. 7th Conference on Critical Approaches to Discourse Analysis Across Disciplines (CADAAD), Aalborg, Denmark, 3-6 July 2018.
'"Never been proven to work in the real world": appeals to the notion of the 'real world' as a discursive strategy in vaccine-critical discourse'. Corpus Linguistics 2017. Birmingham, July 2017.
'The expression of claims to truth in a corpus of vaccine-critical texts', 14th International Communication, Medicine and Ethics Conference (COMET 2016), University of Aalborg, 4 July – 6 July 2016
"Ordinary people"' and risk discourse: the challenges of disambiguating voices in a corpus of online discussion forum threads', Corpora and Discourse, University of Siena, 30 June 2016 - 2 July 2016
'Evaluation as a persuasive strategy in computer-mediated vaccine-critical discourse', BAAL Health and Science Communication SIG Event, Queen Mary University, London, 9 November 2015
'Talking about Risk in the MMR debate', 5th Corpus Linguistics Conference, Liverpool, July 2009
Professional Experience
From 1993 until 1996, I worked as a freelance lexicographer for COBUILD, HarperCollins