Back
Back
What can you do with a forensic science degree?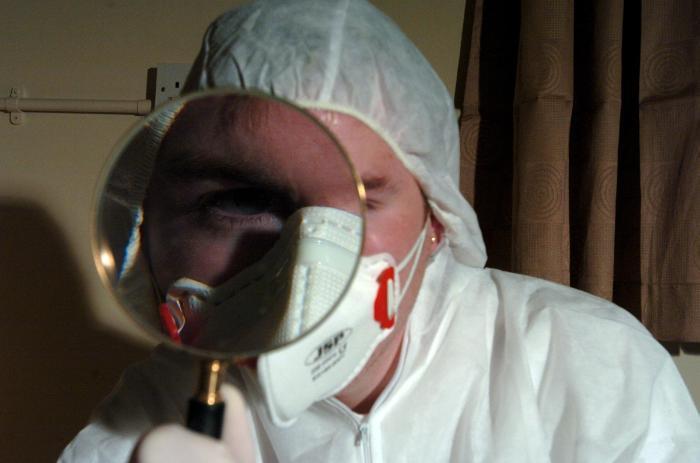 Studying forensic science is hugely rewarding, providing graduates with highly employable, specialist skills. It opens the door to a range of career opportunities across the fields of science, law, and criminology.
In this guide, we take a look at your career options as a forensic science graduate, as well as opportunities for further study.
What is forensic science?
Forensic science is the application of scientific analysis and investigation in the context of law and criminology. It can involve analysing physical or digital evidence for legal proceedings, which includes the collection, preservation and processing of evidence such as DNA, fingerprints, fibres, and ballistics.
There are a range of areas involved in forensic science, for example, it can include using biology, chemistry, physics and computer science to help solve crimes and bring perpetrators to justice.
We offer a range of courses in forensic science and related subjects at the University of Wolverhampton:
Skills you'll gain from forensic science
By studying forensic science, you'll have the opportunity to develop a range of useful skills. Some skills are specific to laboratory and forensic work, whereas others are transferable to a range of career options.
Examples of forensic science related skills include:
Evidence collection and preservation

Forensic photography

Laboratory skills

Legal knowledge and understanding
Transferable skills include:
Analytical skills

Attention to detail

Communication skills

Critical thinking

Data analysis and interpretation

Problem-solving skills

Research skills

Scientific reasoning

Time management

Writing skills
Career options for forensic science graduates
Forensic science graduates can pursue a variety of careers in both public and private sectors. Some common career options for forensic science graduates include:
Forensic scientist

Crime scene investigator

Detective

Biomedical scientist

Forensic accountant

Forensic psychologist

Digital forensic analyst

Toxicologist
Forensic scientist
Forensic scientists work with law enforcement agencies and the justice system to help solve crimes, identify perpetrators, and exonerate innocent suspects. The role involves analysing evidence such as DNA samples, fingerprints, hair, blood, and other trace evidence found at a crime scene. Forensic scientists then document their findings in reports that can be used by investigators and the criminal justice system. The court may also call for forensic scientists on the case to provide testimony as an expert witness, providing context to the case with professional opinions based on crime scene evidence.
Crime scene investigator
A crime scene investigator (CSI) is a trained specialist who collects evidence from crime scenes. The CSI specialist is responsible for documenting the scene, collecting physical evidence, performing initial analysis of evidence, and then presenting the evidence to forensic specialists to analyse it in more detail.
Detective
A detective is a law enforcement officer who is responsible for investigating crimes and gathering evidence to build a case against a suspect. Detectives are typically assigned to specific departments within law enforcement agencies, such as homicide, robbery, or fraud. A detective is responsible for building up the overall case against suspects, and will also be involved with interviewing suspects and witnesses.
Toxicologist
A toxicologist is a professional specialising in the study of toxic substances and their effects on living organisms, including humans. In a criminal context, this often involves examining illegal drugs. Toxicologists may work in a range of settings, including government agencies, research institutions, and private companies.
Forensic psychologist
A forensic psychologist is a professional who uses their knowledge of psychology to work within the criminal justice system. This involves applying an understanding of human behaviour and mental processes to a range of legal and criminal justice issues.
Most specialists in this career field will have studied some kind of psychology qualification. If this is a career path that interests you, it might be worth considering studying a Master's in psychology after a Bachelor's degree in forensic science.
Work experience
Work experience is highly valuable in any field. In forensic science careers, laboratory experience can be particularly valuable, since many careers will involve working in a laboratory setting or collaborating with lab professionals.
There are several ways that forensic science graduates can gain work experience, such as internships, volunteer work, or entry-level positions in the field. Internships and volunteer work can be a great way to gain experience and make valuable connections in your chosen field, even if they are unpaid.
Entry-level positions such as crime scene technician or laboratory assistant can also provide valuable experience and allow graduates to learn from experienced professionals in the field.
What do forensic science graduates go on to do?
In the UK, over 30% of forensic science graduates go into science roles after finishing university*. In total, over 65% of graduates are employed either in a full-time or part-time role*, with 9.5% in further education, and 9.2% working alongside studying*.
For a full overview of forensic science graduate outcomes, take a look at the data below:
| | |
| --- | --- |
| Outcome after graduation | Percentage |
| Employed | 67.1% |
| Further study | 9.5% |
| Working and studying | 9.2% |
| Unemployed | 8.1% |
| Other | 6.1%% |
| | |
| --- | --- |
| Field of work | Percentage |
| Science | 31% |
| Other professions | 15.7% |
| Retail, catering or customer service | 15.3% |
| Clerical, secretarial or administrative | 9.9% |
| Other | 28.1% |
*Sources - prospects.ac.uk and the Higher Education Statistics Agency.
Further study in forensic science
Forensic science is a multidisciplinary field that requires knowledge in a range of areas, such as biology, chemistry, physics, and law. Pursuing further study in forensic science can provide opportunities to gain expertise in such fields, positioning graduates for greater career opportunities, and helping them become eligible for more specialised roles within the field.
We offer several further study options for students looking to pursue forensic science and related subjects at postgraduate level:
Challenges and rewards of a career in forensic science
A career in forensic science can be both challenging and rewarding. As a career that centres around high-pressure situations, such as homicide investigations or court cases, forensic scientists are often called upon to provide evidence in challenging situations. The role can be emotionally challenging at times, for example, analysing crime scene photos or autopsy reports.
However, the most rewarding aspect of a career in forensic science is the crucial role you'll play in bringing justice to victims and their loved ones. As a forensic scientist, you'll make a real difference to people's lives, society and the criminal justice system. This is often what drives people to pursue this field of work, and those who are passionate about using science to help solve crimes will likely find forensic science a rewarding career.