Dr Dean Kelland, Faculty of Arts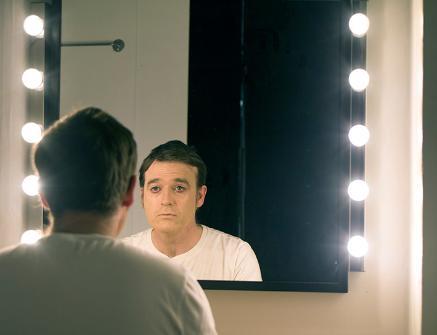 Dean Kelland is a UK Based Artist who explores portraiture as a performative practice. His process follows an interdisciplinary approach that incorporates performance film, live performance techniques and photography as well as other media and methods. His doctoral thesis "Flawed Masculinities: "Rupturing" 1950s/60s/70s British Sitcom via a Performance-led Interdisciplinary Arts Practice" was supervised by Professor Roger Sabin and Reader Susan Trangmar at Central St Martins, and was successfully examined by Dr. Simon Grennan (University of Chester) and Professor Caroline Evans (Central St Martins).
In 1997 Dean graduated from the University of Wolverhampton with a First Class Honours Degree in Photography. Following a period of time successfully pursuing a career as a lecturer within art & design he consolidated his practical experiences by completing a Masters degree in Fine Art at Staffordshire University in 2006. Now employed as a Senior Lecturer at the University of Wolverhampton the practice based research that Dean has undertaken has recently had a more autobiographical approach to the inception of projects and has enabled him to return to the themes of comedy that were so prevalent in shaping him during his formative years.
Having shown work at a variety of locations throughout the UK, Dean has secured solo exhibitions at the Ikon Gallery in Birmingham and was also commissioned to produce new work for the international video art exhibition alongside artists such as Gillian Wearing, Cornelia Parker and Beat Streuli for About Town in conjunction with Birmingham Hippodrome Plus and Ikon. He has also presented work on Hancock's Half Hour and Steptoe and Son as part of the With Humorous Intent Symposium at the Mostyn Oriel Gallery in Llandudno and the annual British Comedy Conference at Manchester Metropolitan University. Dean has also been featured in Re-framing Photography and a recent edition of the Comedy Studies Journal.
Dean is now engaged in new work for forthcoming residencies that continues his interest in comedy and masculinity.
Contact information:
www.deankelland.com or kellandimages@hotmail.co.uk
Falling Slowly
Falling Slowly is a performance-based artwork that addresses Slapstick Comedy. The work will seek to interrogate this comedy genre and challenge the audience to ask questions about the role of the comedian and the subsequent exchanges between audience and performer.
The proposal is for a multiple series of events derived from the artist performing a repeated 'slapstick' act in live situations. Once in 'character' the artist will perform the act to live audiences that is taken from, and embedded within, the history of slapstick (references such as Charlie Chaplin & Buster Keaton) yet is ruptured through the inadequacy and repetition of the performance. The audience reaction within this situation will help to shape the direction of the on-going performances and illuminate the role of pain in comedy and the culturally gendered stereotype of the flawed male within comedy.