The 'Noble Gift' which led to the Formation of Dick, Kerr Ladies FC
05/06/2020 - 11.28
Steve Bolton
Please Preserve This Important Building
The most famous women's football team in the history of women's football is the Dick, Kerr Ladies. To this day the Dick, Kerr Factory still imposes on the busy arterial Strand Road in Preston - its beautiful blue plaque in tribute to those magnificent pioneer women footballers glistening in the sun. However, a little further on down Strand Road, tucked away quietly under the banner of Preston Sea Cadets is another building of historical importance. Few of the Preston folk passing this building on a day to day basis will be aware of its age or significance to World War 1 and women's football.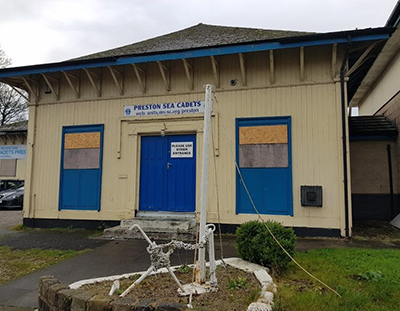 Preston Sea Cadets Building Jan 2020. This Wooden Structure is over 100 years' old
(Source: Author's collection)
World War One
A newspaper article in the Preston Herald in September 1914, has the borough medical officer pointing out how ill-prepared Preston is for a possible outbreak of Smallpox. He points out that a temporary structure which had been built on Moor Park in 1888 and moved after half blowing down could admit at most 14 patients. Obviously, as a country our health service was hopelessly unprepared for the wounded and injured about to need care from the war. The voluntary and charity sector under the aegis of the Military and the Red Cross mobilised and by the end of the war 3,000 auxiliary hospitals were in operation. Moor Park became the home of the Moor Park Voluntary Aided Hospital and this magnificent institution which opened on January 14th 1915, treated over 3,000 patients over the course of the war. It is important to note that VAD nurses were not 'qualified' nurses and after the war could only work as nurses after completing formal nurse training.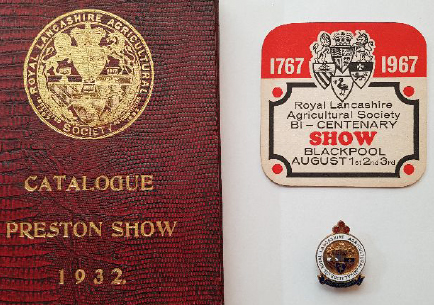 Royal Lancashire Agricultural Show Moved Each Year
(Source: Author's collection)
Royal Lancashire Agricultural Show
This annual show moved each year to a large town in Lancashire. In 1914, the show was in Liverpool and it made a profit. The show was a massive affair. The catalogue for the 1932 show (which was on Moor Park), is a 300-page book which details the 202 stands. The show would take place over three days and the main judging arena could hold 10,000. The 1914 show organisers agreed to the request that their wooden buildings could be repurposed as a 'Noble Gift' to the people of Preston. The RLS erected and loaned the structure for free. The Horrockses (Cotton Dynasty) relief fund and a County Council grant guaranteed its upkeep for four weeks. An awful lot of charity money would be needed over the next few years.
Fundraising
Preston was for hundreds of years 'Cotton Town'. The most famous and iconic cotton company was Horrockses, Crewsdon and Company. Lord Hollins of Horrockses and Lady Hollins were patrons of the hospital and effectively underwrote its survival. Much effort was put in by the people of Preston to fundraise with every kind of collection, fete, show, whist drive, sporting tournament and of course football match to raise money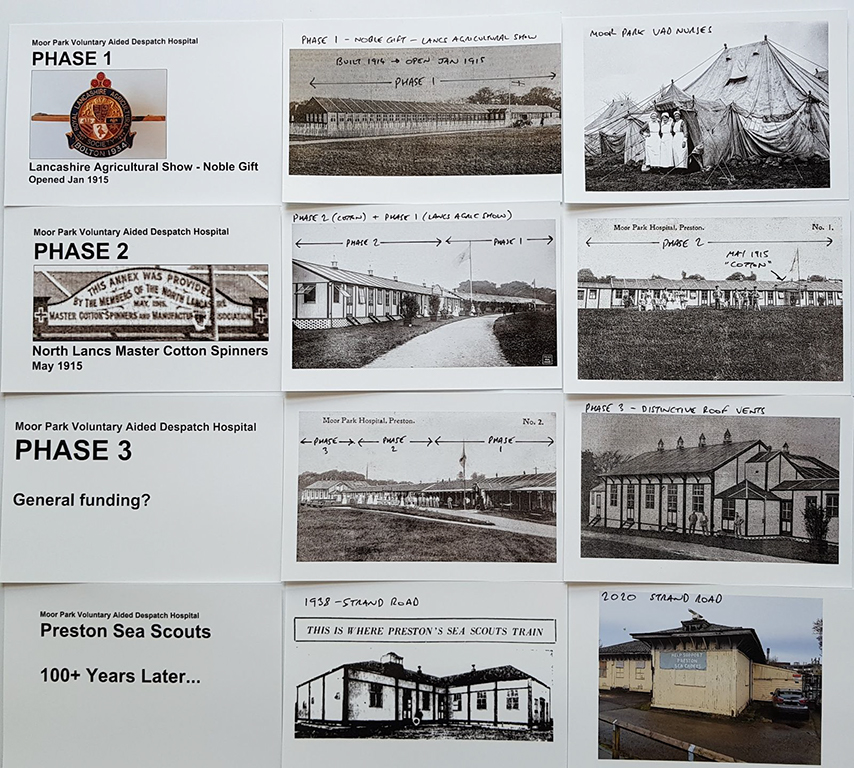 Moor Park VAD Hospital - Phases of Development
(Source: Author's collection and Preston Digital Archive)
Moor Park Hospital - The Noble Gift
The initial building was divided into one long ward with accommodation for 40 to 50 beds and five smaller compartments at the opposite ends of the central ward. On the left hand side of the main entrance were the doctor's room and the nurses sitting room. At the opposite end were the kitchen and larder. The kitchen had four large gas stoves and two large boilers. Two small bathrooms and lavatories were situated in two small outbuildings at the back. Heating and radiators were provided free by the local Gas company which charged reduced rates for gas. There were initially eight acting and consultative doctors which included one woman, a 'Doctor Miss' Murdoch. Matron Mrs Howard remained in post all the way through the War and was awarded the Red Cross Medal for nursing. Phase 2 was provided by cotton money as the sign on the later postcards states: "THIS ANNEXE WAS PROVIDED BY THE MEMBERS OF THE ROYAL LANCASHIRE MASTER COTTON SPINNERS AND MANUFACTURERS ASSOCIATION - MAY 1915).
Gail Newsham and Patrick Brennan - Women's Football History Pioneers
(Source: Author's collection)
Football and War
The two World Wars had a very different effect on women's football. Modern women's football (as we would recognise it today) became a high profile and widely popular game thanks principally to World War One. In the 1917-1918 season teams like Blyth Spartans played 31 games and the Sterling Ladies of Dagenham played 20 games. World War Two had the opposite effect, with few of the many high profile and magnificent womens' teams of the 1930s, surviving to continue playing after the war. One of the myths is that men's football ceased to exist during the wars. This is not true because there were a lot of men in the military, reserved occupations, not eligible or waiting to join up who continued with games. However, articles at the time show that crowds were often poor and the clubs were struggling financially.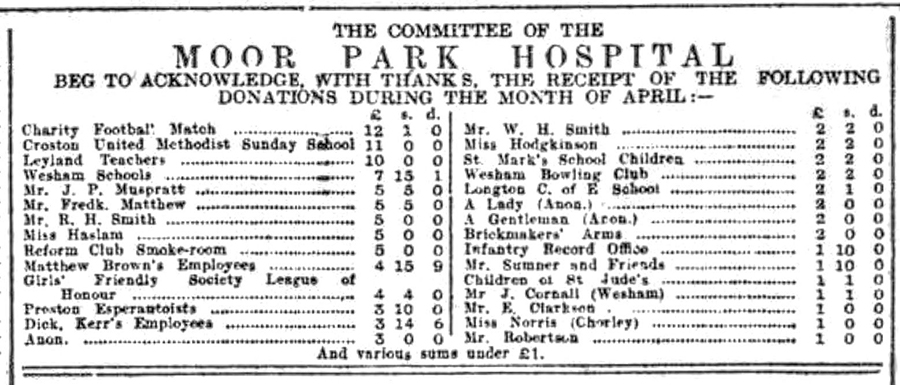 Moor Park Hospital Fundraising - April 1916 Donations - £12 was a lot of money
(Source: British Newspaper Archive)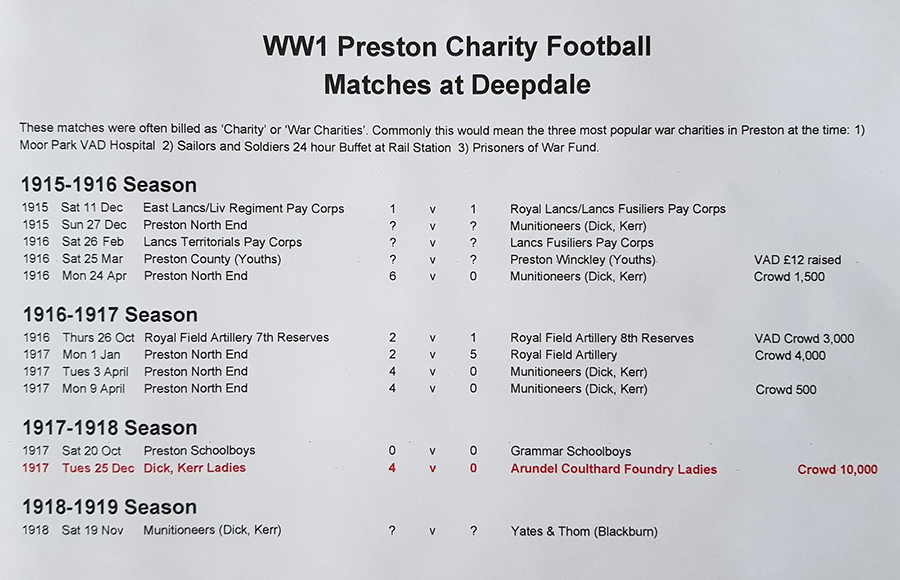 Charity Fundraising Games at Deepdale
(Source: Author's Collection)
Football and Fundraising
It is interesting to look at the men's football taking place at Deepdale. Military games such as Preston North End versus Royal Field Artillery look interesting in that the crowd seems to be a healthy 4,000. However, most of the spectators were military and were charged ½ to ⅓ entrance so the funds generated for charity would be low. The Preston County v Preston Winckley game in March 1916, generated £12 for the VAD for which Matron took an advert in the paper to thank them for. £12 in those days was a valuable addition to funds. The advert for the game emphasised that the players were too young to be of military age. The men's game on Monday 9th April 1916, in aid of war charities had a particularly disappointing crowd of 500. So Matron turned to the women of the Dick, Kerr factory and they were initially asked to help with concerts, but they were more interested in football (a more detailed explanation can be found in Gail Newsham's book).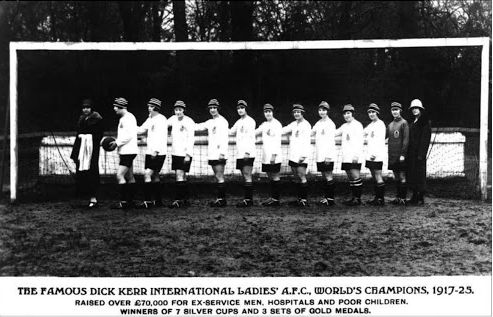 The 'World Champion' Dick, Kerr's Ladies
Granny Lizzy Ashcroft holding onto mate Lily Parr (with ball)
(Source: Author's collection)
Dick, Kerr Ladies and The Noble Gift
Gail Newsham in her ground-breaking and socially vital lifework: "In a League of Their Own", tells the story of their formation to raise funds for the VAD hospital on Moor Park. 10,000 spectators paid to see the debut of this famous women's team and they ran out winners at 4-0 against Courthalds (another local company). All of the proceeds went to the VAD hospital. The local newspapers reported that a total £488 was handed over to the VAD hospital. This was an astronomical sum. It is possible to frame this money in today's terms but I think that because of the frugalities of the time it wouldn't really give an idea of how valuable this donation was. The gate receipts were £338 and this was topped up with £100 from collections at the Dick, Kerr works and a £50 donation from the directors. Women's football in Preston had started with one heck of a splash - and it was here to stay.
Preston's Noble Gift in 2020

Moor Park VAD Hospital Surviving Buildings Today
(Source: Author's collection)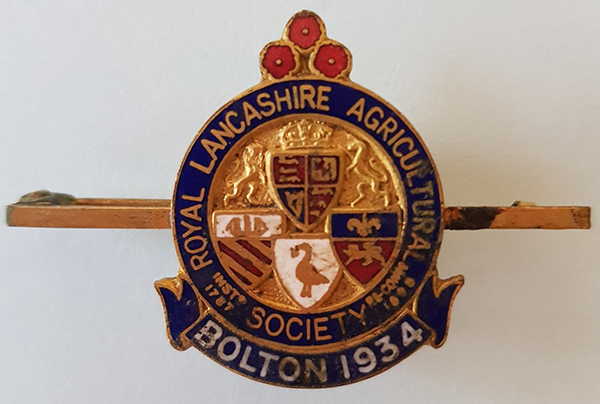 Medal awarded to Lizzy Ashcroft at the Royal Lancashire Agricultural Show 1934 'England v Belgium'
(Source: Author's collection)
Author's Note
This is a very personal story for me. My granny, Lizzy Ashcroft made her debut in April 1921, at St Andrew's in front of 30,000 for St Helen's Ladies. When the FA imposed its notorious ban in December 1921, her career as a footballer could have come to an end if the Dick, Kerr Ladies hadn't been able to offer her a position. I knew that the VAD hospital had given rise to the start of the Dick, Kerr Ladies but I was amazed to find that it was a 'Noble Gift' from the Royal Lancashire Agricultural Show of 1914. I was even more amazed to find that part of the building was still in existence today. The beautiful medal above helps to show how important the Royal Lancashire Agricultural Shows were to the Dick, Kerr Ladies 30 years later. My photos show that the building is starting to show its age and needs some TLC. It would be such a shame is this treasure was lost to the nation.
Biography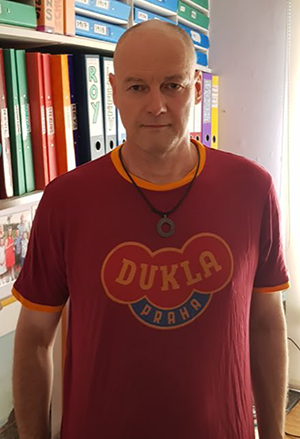 Steve Bolton was awarded a BSc (Hons) in Mathematics from University College London and a Post Graduate Certificate in Education from the University of Nottingham. Steve's passion is researching and writing about the history of women's football. He has had several articles published and is currently working on h first book: "Granny Played Football". Granny Lizzy Ashcroft was one of the most influential and important pre-World War Two women's footballers. She made her debut at the age of 16, for St Helens Ladies at St Andrews in April 1921, in front of a crowd of 30,000. After the English FA ban she joined the Dick Kerr Ladies in 1923 where she played until her retirement in 1935. She was vice-Captain under Lily Parr from 1932-1934 and in 1935 took over the Captaincy from her great mate Lily and led the DKL on only their second ever continental tour. Steve is custodian of the Bolton Family Archive which is one of the foremost collections of pre-World War Two women's football memorabilia in private hands.
Steve's Twitter handle is: @STEPHEN11981196 and he can be contacted by email lizzyashcroftfootballer@gmail.com