Remembering Fulham Players Who Died In The Great War
30/01/2020 - 9.00
Alex White
My extensive research has shown that nine players, who played for Fulham's first team, died during the First World War. Compared to other League clubs this figure is not large and it is not clear why this is. For example, Second Division Glossop had 20. Nowadays, there are plenty of resources for researching the First World War, which includes service records of various soldiers. The first Fulham player to be killed in action was the 27-year-old Willie Borland. He enlisted in the 7th Battalion of the Cameron Highlanders on 26th October 1914. On 25th September 1915, the Battalion took part in the opening day of the Battle of Loos, where the British Army suffered devastating losses. Borland was killed during the offensive.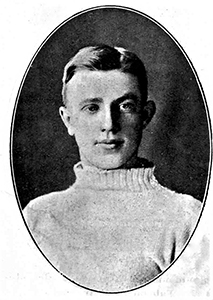 Pictured: Willie Borland
Billy Maughan enlisted in the Durham Light Infantry in 1915. He survived the 2nd Battle of Ypres, but during the Battle of the Somme, he lost his life in the assault on the Transloy Ridges at the start of October 1916. Maughan, by then a Corporal, sustained serious wounds and was moved back to a casualty clearing station at Dernancourt. The 22-year-old subsequently died from his wounds on 2nd October 1916. Leonard James Moon played at inside-left for Fulham from February-October 1897, during their London League days. He enlisted, taking a commission as 2nd Lieutenant in the 10th Battalion of the Devon Regiment in February 1915. He served in France and Greece and died at Karosouli, Salonika, Greece 23rd November 1916. When Moon committed suicide, he was suffering from paranoia as a result, of what would now be identified as post-traumatic stress. Private Harry Robotham who had played for Fulham at wing-half from 1903-05, enlisted in the 23rd (Service) Battalion of the Middlesex Regiment, (Footballers' Battalion); on 26th November 1915. He took part in the Battle of the Somme. Robotham was subsequently killed in action on 12th September 1916 during the subsidiary Battle of Flers-Courcelette.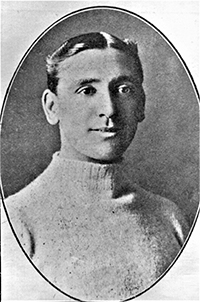 Pictured: Pat Flanagan
Pat Flanagan, who played for Fulham at inside-forward from 1909-1910, enlisted in the British Army at Woolwich on 8th December 1915, before returning to his reserved employment as an artillery shell machinist. Driver Flanagan was then mobilised into the Army Service Corps on 7th February 1917 and was sent to German East Africa (now Tanzania). In August 1917, Flanagan died from dysentery in Dar-es-Salaam on 31st August 1917. Fred Wheatcroft, played as an amateur for Fulham during their Southern League days, and joined the East Surrey Regiment in May 1916. Private Wheatcroft was eventually promoted to Second Lieutenant in May 1917. Wheatcroft found himself commanding a Platoon of B Company, 13th East Surreys during the British offensive near Cambrai. The Battalion was hit by enemy machine gun and mortar fire that inflicted significant casualties. It was during an attempt to withdraw on the 26th November that he was killed.
Wing-half Bob Suart, who had appeared for Fulham from 1908-11, enlisted in the 8th South Lancashire Regiment in 1915 before transferring to 14th Royal Warwickshire Regiment later that year. He saw action in the Battles of the Somme and Third Ypres. He was transferred to the Italian Front but returned to France in April 1918. On the 27th September 1918, the 14th Warwicks took part in an assault on positions near the village of Gouzeaucourt called African Trench. They came under fire from determined German counter-attacks and suffered significant casualties and among the dead was 36-year-old Private Bob Suart. The long serving Fulham wing-half, Fred Waterson, enlisted with the 1/5th King's Own Yorkshire Light Infantry before transferring to the 2/6th Durham Light Infantry. Waterson had risen to the rank of Corporal by 1918 and his Battalion took part in the final allied advances of the war in France and Flanders. Waterson sustained wounds that led to his death in the French town of Hazebrouk on 12th October 1918. The 24-year-old Private Teddy Thompson had played for Fulham during season 1914-15. He enlisted in the 2nd Battalion of the Scots Guards in February 1917 and his Battalion saw action at St. Quentin, Bapaume, Arras, before finally taking part in the last battles on the Western Front in November 1918. Having been involved in fighting near the Sambre Canal, Thompson was killed in action on Wednesday 6th November 1918, just four days before the end of the war.
Biography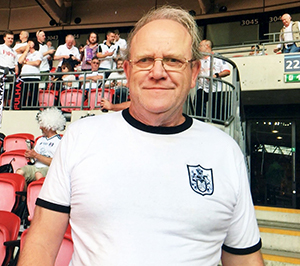 Born in Lambeth in 1952 and brought up in Wandsworth, Alex saw his first Fulham match in December 1962 and became a regular at the Cottage from 1965 and is Fulham FC's official historian. He wrote for the Fulham programme for most of the 1980s, 1998-2002 and in recent years, including many historical articles on the club plus contributions to the Footballer magazine.
Alex completed his first book with Dennis Turner – Fulham the Complete Record (1987) plus updates Fulham Facts & Figures (1998) and the second Fulham Complete Record in 2007 when the publishers managed to leave his name off the cover! Other Fulham books include: A Century of Memorable Fulham Matches (1997), The Men Who Made Fulham FC (2002), a Who's Who of Fulham players and managers, Fulham 1879-1979 (2007), a Photographic History, The Fulham Miscellany (2012), Fulham, The Early Years 1879-1907(2014) and Fulham-The Team - Seasons 1903 to 2019.
He has also made contributions to Fulham's Golden Years (1992) and Fulham the Team (1995). Other books have been Football Managers (1993) which included a Who's Who of every Football League manager from 1888-1993 and Football Grounds of London (2005) with Bob Lilliman. Alex has a BA (Hons) degree in Social Science from Kingston University and worked for over 35 years for Social Services and the London Probation Service but is now retired.
Fulham-The Team – Seasons 1903 to 2019 (ISBN 978-1-9160656-0-4) was published in August 2019 by Ashwater Press - www.ashwaterpress.co.uk