Fulham Players and the First World War
27/01/2020 - 3.50
Alex White

The Experiences of Fulham Players in the First World War
When the war broke out many of the playing staff joined the Armed Services. Tommy Laws was the first Fulham player to enlist in 1914, signing up with the Cameronians (Scottish Rifles), and served throughout the war. Percy Champion re-enlisted with the Army in July 1916 and served in Salonika, Greece during 1916 and was promoted to Sergeant in August 1917. Percy was invalided out of the Army in November 1919 as he was suffering from malaria and gastritis and by this time, he had been promoted to Company Sergeant Major. Willie Walker suffered from malaria whilst serving in Palestine from September 1915 and this eventually ended his playing career. Bill Garvey was also called up for military service in 1914.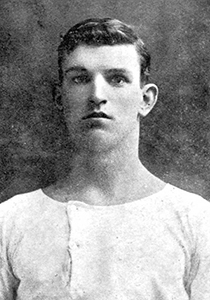 Pictured: Willie Walker
Fulham players, at the Cottage in 1914, had various experiences in the Armed Services. Jack Papworth became a Sergeant Major with the Machine Gun Corps in France. Tim Coleman joined the Footballers Battalion and with former player Robert Dalrymple was reported as killed in action during December 1915 but were quickly found to be alive. Jock Curtis was a Gunner with the Royal Field Artillery. Ernie Coquet found himself in the Royal Engineers serving with the Army Cyclists Corp. followed by the Waterways & Railways Department. Some players were given commissions. Gordon Hoare, who played wartime and peacetime football for Fulham, became a Lieutenant with the ASC (Mechanical Transport in July 1917. Frank Penn, George Cannon and Johnny McIntyre served with the Royal Air Force which had previously been known as the Royal Flying Corp. Penn was a qualified engineer in mechanics.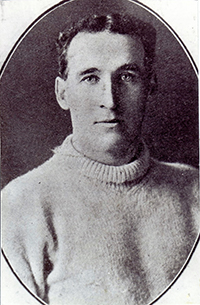 Pictured: Robert Dalrymple
Various talents were utilized by the authorities during the First World War. Most Fulham players joined the Armed Services but other players served their country in different ways. Many went back to their original occupations before they became professional footballers. Club captain Jimmy Torrance worked as a ships' boilermaker in Scotland. Many worked in munitions, including: Harry Lee at Dick Kerr's Ltd (Preston), James Smith, Ted Charlton (Robert Thompson's of Sunderland) and Fred Maven (Barrow). Fulham manager Phil Kelso was making shells at Woolwich Arsenal during the summer months. Arthur Wood, George Cannon, Bert Pearce, Will Taylor and Arthur Reynolds were described in 1915 as doing 'government work'.
Fulham Players Killed in Action in the First World War
Two players who played for Fulham during season 1914/15 were killed in action during the War. Wing-half Billy Maugham played for West Stanley and Easington Colliery Welfare before joining Fulham in February 1914 as a tenacious wing half. He enlisted with the 6th Battalion of the Durham, Light Infantry in 1915 and rose to the rank of Corporal before dying from wounds at the Somme on the 2nd October 1916. He is buried at the Derrancourt Communal Cemetery in Northern France. He could have made a big name for himself in the game but for his untimely death. Youngster Edward Thompson enlisted with the 2nd Battalion of the Scots Guards in 1915 but was killed in action in Bermeries, Northern France on Wednesday 6th November 1918, at the age of only 24, and was buried in the local cemetery. He signed for Fulham from Northern Alliance club Spen Black & White. He was a good tackler and very smart with the ball, Edward played only one league game for Fulham against Grimsby Town at Craven Cottage in February 1915.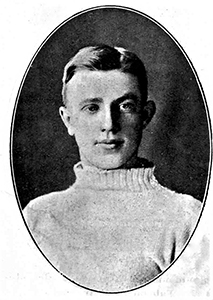 Pictured: Willie Borland
The first casualty of the War was Willie Borland who was killed in the Battle of Loos in Belgium on the 25th September 1915. Borland joined the Queen's Cameron Highlanders in July 1915 and served in the expeditionary forces in France and Flanders His death, at the age of 27, is commemorated at the Loos memorial at the Pas de Calais. Willie played three games for Fulham during 1910/11 after joining the club from his hometown team Darvel Juniors. When he left Fulham, Willie returned to Scotland to play for Galston and Dumfries. Former Fulham inside forward, Pat Flanagan, enlisted in December 1915 and worked in Munitions as a shell machinist at Woolwich Arsenal. He was called up on 7th February 1917 to serve in the Army Service Corps in mechanical transport. He died later that year of Dysentery at the Clearing House at Mingoyo near Dar-es-Salaam, in what is today, Tanzania. 'Little Jack' played 12 games for Fulham then played for Norwich City and Woolwich Arsenal.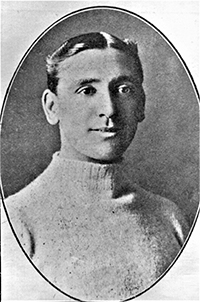 Pictured: Pat Flanagan
Harry Robotham was a player from Fulham's Southern League days. He enlisted at Wolverhampton in 1915 with the Footballers 23rd Battalion of the Middlesex Regiment (Footballers Battalion) and was killed in action on the 12th September 1916 at the Somme. His death is commemorated at the Threpval Memorial, as his body was never found. He also appeared for Brentford, Glossop and New Brompton.
Centre-half Bob Suart was playing for Stockport County when he enlisted in 1915 with the Royal Warwickshire Regiment and was killed in action Vis-en-Artois near Arras in France in 27th September 1918, at the age of 35, just weeks before the end of hostilities. Suart came to the Cottage from Stockport County with Bob Carter for a joint fee of £550 in April 1908. A strong plucky player and a good header of the ball, he made 102 appearances for the Whites before his transfer to Port Vale in August 1911.
Fred Waterson enlisted at Doncaster with the King's Own Yorkshire Light Infantry in 1915 and later switched to the 29th Battalion of the Durham Light Infantry where he rose to the rank of Corporal. He died of wounds in Northern France on 12th October 1918, just one month before the end of the war, at the age of 41. He was buried at La Kreule Military cemetery at Hazebrouk. Waterson played for Burton Swifts before joining Fulham in 1903 and spent most of the next six seasons captaining the reserves, making just 14 appearances for the first team.
Fred Wheatcroft became a 2nd Lieutenant with the 5th Battalion of the East Surrey Regiment and died leading his men into battle on the 26th November 1917 at Bourlon, France, at the age of 35. He was buried at the British Cemetery at Anneux and a memorial to him was placed in Alfreton Church in 1927. A schoolteacher throughout his playing career, Fred Wheatcroft played for Derby County, Swindon Town Derby County and Swindon Town. Wheatcroft appeared for Fulham during season 1915/16.
Four former Fulham reserves were also killed during the War. Former boxer Bill Barton died at the Pas de Calais on the 8th December 1918 as did Bert Perkins on the 27th September 1915; Frank Docherty of the Northumberland Fusiliers died on the Somme on the 7th August 1916; and Sam Herbertson who died in the Dardenelles on the 12th July 1915.
Biography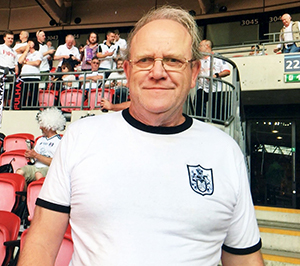 Born in Lambeth in 1952 and brought up in Wandsworth, Alex saw his first Fulham match in December 1962 and became a regular at the Cottage from 1965 and is Fulham FC's official historian. He wrote for the Fulham programme for most of the 1980s, 1998-2002 and in recent years, including many historical articles on the club plus contributions to the Footballer magazine.
Alex completed his first book with Dennis Turner – Fulham the Complete Record (1987) plus updates Fulham Facts & Figures (1998) and the second Fulham Complete Record in 2007 when the publishers managed to leave his name off the cover! Other Fulham books include: A Century of Memorable Fulham Matches (1997), The Men Who Made Fulham FC (2002), a Who's Who of Fulham players and managers, Fulham 1879-1979 (2007), a Photographic History, The Fulham Miscellany (2012), Fulham, The Early Years 1879-1907(2014) and Fulham-The Team - Seasons 1903 to 2019.
He has also made contributions to Fulham's Golden Years (1992) and Fulham the Team (1995). Other books have been Football Managers (1993) which included a Who's Who of every Football League manager from 1888-1993 and Football Grounds of London (2005) with Bob Lilliman. Alex has a BA (Hons) degree in Social Science from Kingston University and worked for over 35 years for Social Services and the London Probation Service but is now retired.
Fulham-The Team – Seasons 1903 to 2019 (ISBN 978-1-9160656-0-4) was published in August 2019 by Ashwater Press - www.ashwaterpress.co.uk