Fulham Guest Players During The First World War
28/01/2020 - 4.25
Alex White
Fulham Guest Players Who Were Internationals
Some of the leading names in British football played for the Cottagers between 1915 and 1919. Twenty-five internationals turned out for Fulham during that time: 17 England men, six Scottish caps and one each from Wales and Ireland. There were some strong links between Fulham and certain clubs, especially from the North East. The Newcastle influence was great, six players with Magpie connections played for Fulham — Neil Harris, Wilf Low, Bill McCracken, Tom Niblo, Jock Rutherford and Tommy Urwin. It should also be added that Harris and Urwin joined Newcastle after the war. Middlesbrough sup­plied three internationals, Jack Carr, George Elliott and Urwin, and Sun­derland two, George Holley and Jac­kie Mordue.
Some of the best centre-forwards of the time appeared at the Cottage during the war years. 'Happy' Harry Hamp­ton played 14 times in a Fulham shirt from December 1916 until April 1919, scoring 13 goals. These included hat-tricks against Southampton, on his debut, and Luton, later the same month, and he appeared for the club occasionally until his final game in the semi-final of the 1919 Victory Cup when Spurs were beaten 2-0. His devil-may-care, robust and fearless approach to the game brought him 246 League goals in a career stretch­ing from 1904-1923. Villa were his first love, winning a League Championship and an FA Cup winners' medal whilst at Villa Park.
Another fine international centre-forward was Fred Morris of West Bromwich Alb­ion. Strongly built and courageous, he possessed neat control, rapid acceler­ation and dynamic shooting powers. Fulham were lucky to have his services for much of the 1917/18 season and he helped himself to 24 goals in only 23 appearances, including four hat-tricks. Fred was in the Royal Flying Corps during the war and hit hat-tricks against Crystal Palace, Clapton Orient and Spurs between September and December 1917. Morris was a prolific goal scorer with 116 goals in 283 League and Cup matches for Albion Another great international centre-forward was George Elliott from Middlesbrough, who scored five goals in six Fulham appearances from October 1917 to April 1919. A much-loved player at Ayresome Park, Elliott scored 208 goals in 364 League and Cup appearances, before retiring in August 1925. A future international centre-forward was Ernie Simms who was capped by England in 1921 against Ireland. He was virtually unknown when he guested for Fulham from Luton Town in September 1917 but scored a hat-trick during his debut against Crystal Palace in September 1917. After the war he appeared for South Shields and Stockport County.
Pictured: Danny Shea
Other England internationals to appear for Fulham between 1915-19 were: Fred Bullock; Jackie Carr, Jac­kie Mordue, Bobby McNeal, George Holley, Edward Taylor, Jock Ruther­ford, Danny Shea, Tommy Urwin, Charles Wallace, Willie Watson and Bob Whittingham, who played in a Victory International against Scotland in 1919 but sadly died shortly after­wards.
Fred Bullock, a guest player from Huddersfield, played four games at the beginning of the 1915/16 season. He served with the Footballers Battalion (The Middlesex Regiment) during the war. He won his only England cap in 1921, against Ireland, but died in November 1922 at the early age of 36. Jackie Carr, a right-winger from Middlesbrough, played 466 games, scoring 78 goals for 'Boro' between February 1911 and May 1930. He later managed Hartlepools United, Tranmere Rovers and Dar­lington. Two fine international inside-rights of the time appeared for Fulham, one of whom was signed by Fulham permanently after the war. Danny Shea, of Black­burn and West Ham, scored 17 goals in his 31 appearances for the Cotta­gers in wartime football and appeared in a hundred games for Fulham from 1920-23. The other one was George Holley, a guest from Sunderland. He gave the Rokerites great service from November 1904 to July 1919, and then moved to Brighton. Holley gained ten England caps between 1909 and 1912. He was the father of Tom Holley who appeared for Fulham as a guest during the Second World War.
Other internationals from the North East were Jackie Mordue and Jock Rutherford. Rutherford made one appearance for Fulham in season 1916-17 as a guest from Arsenal. He played for Newcastle United from 1902-1913. Jackie Mordue was a guest from Sun­derland. He made his debut for Fulham in a 9-0 victory over Reading at the Cottage in September 1916 and four of his five goals came in consecutive wins over Watford and Southampton, two months later. A fine goalscoring winger, he partnered Charles Buchan on the Rokerites right wing. He also played for Arsenal, Middlesbrough and Hartlepools and was player-manager at Durham City. Bobby McNeal, a teammate of Fred Morris at West Bromwich Alb­ion, also guested for Fulham. He was a wing-half who won two England caps in 1914. Like Morris, he won a League Championship medal with Albion in the first season after the war. He served Albion from 1911-1925, when he retired because of injury. The only international goalkeeper to appear for Fulham was Ted Taylor, who played in the 1916/17 season. Taylor gained three League Championship medals in the 1920s with Huddersfield and Everton and won eight England caps. Taylor made his debut for Fulham in November 1916 in a 4-0 defeat at Stamford Bridge and his final match came at Brentford in a 4-1 victory in February 1917.
The Who's Who of great names to play for Fulham in the war years con­tinues with Tommy Urwin, a winger from Middlesbrough. He later joined Newcastle United for a £3,200 fee in August 1924. Described as, "A bundle of whipcord, keen and plucky", by a contemporary source, Urwin played for all the major North East clubs. Urwin served with the Royal Field Artillery during the First World War and served in India and Egypt. Tom made his debut for Fulham in a 2-1 defeat at Brentford in April 1916 and played another two games for the club during that month.
Charles Wallace, who partnered Hampton at Villa, appeared in the 1918/19 season — another long-serving player, who appeared for Villa from 1907-1921, when he moved to Oldham. He played in two winning FA Cup Finals for Villa in 1913 & 1920. He also won a League Championship medal with Villa in 1909/10. Finally, Willie Watson, a centre-half from Burnley, appeared in the 1916/17 season. He gained League and Cup medals with Burn­ley, whom he served from 1909-1925. He made his Fulham debut against Watford in December 1916 in an 8-2 home win, and his only goal came in a 7-1 win at Queens Park Rangers.
Scottish International, Neil Harris, scored 14 goals in his 18 Fulham appearances during season 1918/19. He scored twice on his debut for Fulham in a 5-1 victory over Clapton Orient in December 1918 and helped Fulham reach the final of the Victory Cup in 1919. His brother, Joshua, also played for Fulham as a registered player from 1925 until 1928. Harris came from Scottish club Partick This­tle. He later played for Newcastle United, Notts County and Old­ham and managed Swansea Town and Swindon Town. His son, John, played for Chelsea after World War Two. Harris appeared for Scotland in 1924.
Besides Neil Harris, Fulham also had Scottish internationals Joe Dodds, James Gait, Jimmy Gordon, Tom Niblo and Wilf Low in their line-ups during World War One. Dodds came from Celtic and was a full-back with a great turn of speed, winning many medals at Parkhead. Galt was a centre-half from Everton, who played for Rangers before the war. Jimmy made his Fulham debut in a 3-2 defeat at Croydon Common in September 1915 and was a regular for a while with his friend Jimmy Gordon. They went into business together after the war and ran a billiards room and a motor business in Glasgow from 1921. By the time of his death in November 1935, Galt was the head of a large motor agency.
Jimmy Gordon, a right-half from Rangers, won ten caps for Scot­land. He and Jimmy Martin were both ingloriously sent off in an ill-tempered match with Clapton Orient in September 1916, which Fulham still managed to win 3-0 despite hav­ing only nine men for much of the second half. A great crowd favourite due to his wonderful skill, Jimmy was a born footballer who developed into a broad-shouldered and hardy athlete. He was a thinking footballer with a quick grasp of the changing phases of a match. Gordon also gained 10 Scottish caps and represented the Scottish League on 14 occasions. Not an international, Jimmy Martin was strong, robust and fearless, and had come to prominence with Hearts during the war and played regularly for Portsmouth in the Twenties. He suffered a bad hand injury whilst serving in the Dardanelles during the war. Martin made his debut for Fulham at Brentford in October 1915 and scored a hat-trick in his last game in a 7-2 victory over Watford in March 1917.
Centre-half Wilf Low made over 300 appearances for Newcastle United and won five Scottish International caps and helped Newcastle United to win the FA Cup in 1910. Another guest player was former Aston Villa and Newcastle winger, Tom Niblo, who was 38 years old when he appeared for Fulham and had won his one Scott­ish cap way back in 1904. With his great left foot, Tom Niblo was a stylish dribbler with the ball who often had a tendency to over-elaborate.
Billy McCracken was famous for his perfecting the offside trap, which finally led to a change in the law in 1925. It was said at the time that no player in their career has been more loudly booed. Yet another guest from Newcastle, he appeared for Fulham only once against Chelsea in January 1919. The only Welsh international was Bill Jennings, who played in eleven matches for Wales bet­ween 1914-1929. He made seven appearances for Fulham in the 1918/19 season. The overriding impression of the internationals who played for Fulham in the war years is the long service they gave to their respective clubs. Jennings was no exception, he plied his trade for 19 years at Bolton Wanderers. He was capped by Wales before becoming a regular in their side and went to play for his country on eleven occasions.
Other Guest Players
Other guest players who appeared regularly for Fulham were Ralph Shields of Huddersfield Town who was a regular goal scorer for Fulham after hitting a hat-trick on his debut against Watford in November 1915. He hit 18 goals in just 22 appearances for the Whites during 1915/16. He died as a Prisoner of War in the Sandakar Camp in Borneo during 1944. Small, tricky and a crowd pleaser, Ted Bassett of Notts County was a useful player who could score goals. He also played for Millwall, Watford and Luton Town. Ted made his Fulham debut at Millwall on 16th March 1918 and gave some fine displays on either wing for the club, scoring six goals in 31 games.
Ernie Grimsdell was the brother of the more famous Arthur of Watford and Spurs fame. He made a name for himself with Watford and Queens Park Rangers. Grimsdell gained two England Amateur International caps on a tour of Sweden in June 1914. After making his Fulham debut in a 6-1 defeat at West Ham in September 1917, Grimsdell appeared 39 times for Fulham over the next two seasons. David Howie was powerful in the tackle despite his slender frame. He played almost 500 games for Kilmarnock and Bradford Park Avenue who he later managed for a short period. He made his debut for Fulham in a 4-0 home defeat against Chelsea in April 1917 and later scored two goals in a 5-1 victory over Clapton Orient in September 1917. He appeared at right-back, inside-left and at his usual position of centre-half for the Whites in his twenty appearances for the club in which he scored five goals.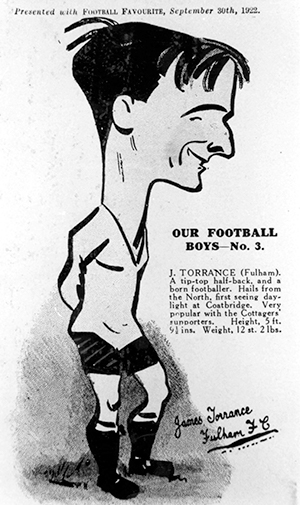 Pictured: Jimmy Torrance cartoon
Amongst the guest players were some of the most illustri­ous names of the age, some less talented but equally colourful characters graced the Cottage in these grim times. More famous as a cricketer than a footballer, Percy Fender played two games for Fulham as a goalkeeper, making his debut at Millwall in a 1-0 victory in October 1918. Fender had the misfortune to break his leg in his second appearance at Clapton Orient after only ten minutes and was taken to the London Hospital. Fulham stalwart Jimmy Torrance replaced him in goal. Fender also turned out, occasionally, for the club's reserve team in the early Twenties. Percy usually kept goal for the Casuals and appeared for England in Test matches on 13 occasions and was a hard-hitting right- hand batsman who bowled at medium pace. Percy played 52 matches for Sussex and 414 for Surrey in a long and illustrious career. He is remembered for keeping goal for Fulham in a white sweater.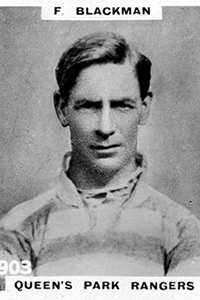 Pictured: Fred Blackman
Old favourites Mark Bell and Fred Wheatcroft, from Fulham's Southern League days, came back to the club. Of the guests, the most regular was Leeds City's Fred Blackburn, who made 125 wartime appearances. Fred Blackman was virtually a Fulham player during the war years and rarely missed a match and made 125 appearances in all. Wonderfully quick with both feet, a sure kicker and a fearless tackler, Blackman played for Brighton, Huddersfield Town and Leeds City. Of Fulham's pre-­war regulars, Jimmy Torrance headed the war­time lists, playing in 130 games. Adding these to his peacetime tally, brings him close to the 500 appearances mark for the club, and he played in every position other than-left back.
Biography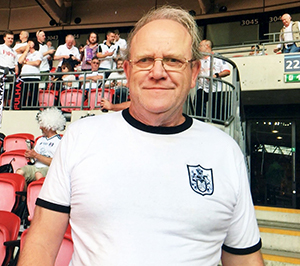 Born in Lambeth in 1952 and brought up in Wandsworth, Alex saw his first Fulham match in December 1962 and became a regular at the Cottage from 1965 and is Fulham FC's official historian. He wrote for the Fulham programme for most of the 1980s, 1998-2002 and in recent years, including many historical articles on the club plus contributions to the Footballer magazine.
Alex completed his first book with Dennis Turner – Fulham the Complete Record (1987) plus updates Fulham Facts & Figures (1998) and the second Fulham Complete Record in 2007 when the publishers managed to leave his name off the cover! Other Fulham books include: A Century of Memorable Fulham Matches (1997), The Men Who Made Fulham FC (2002), a Who's Who of Fulham players and managers, Fulham 1879-1979 (2007), a Photographic History, The Fulham Miscellany (2012), Fulham, The Early Years 1879-1907(2014) and Fulham-The Team - Seasons 1903 to 2019.
He has also made contributions to Fulham's Golden Years (1992) and Fulham the Team (1995). Other books have been Football Managers (1993) which included a Who's Who of every Football League manager from 1888-1993 and Football Grounds of London (2005) with Bob Lilliman. Alex has a BA (Hons) degree in Social Science from Kingston University and worked for over 35 years for Social Services and the London Probation Service but is now retired.
Fulham-The Team – Seasons 1903 to 2019 (ISBN 978-1-9160656-0-4) was published in August 2019 by Ashwater Press - www.ashwaterpress.co.uk