Fulham and the Second World War Part 5 - Fulham's Wartime Internationals, Guest Players and Players Killed During the War
12/02/2020 - 11.37
Alex White
Fulham's Wartime Internationals
Joe Bacuzzi appeared 13 times for England during the war years, including four matches against Scotland. He was on the winning side in three of these games against Scotland but was on the losing side when England lost 4-5 at Hampden Park in April 1942. Other wartime internationals were Ronnie Rooke (one cap for England against Wales in October 1942), Eddie Perry for Wales against England in April 1941 and Viv Woodward who scored for Wales against England in a 3-2 defeat in June 1941. Prolific goal-scorer Ronnie Rooke scored 212 goals in 199 wartime appearances for Fulham and three times exceeded 30 goals in a season between 1939-1946.
Guest Players
Many full internationals were guests for Fulham including Cliff Bastin, Leslie Compton Reg Cumner and Ted Drake (Arsenal), Jimmy Allen and Frank O'Donnell (Aston Villa), Les Boulter, Idris Hopkins and Leslie Smith (Brentford), George Green and Harold Hobbus (Charlton), Harry Burgess, George Mills, Dick Spence and Sam Weaver (Chelsea), Wilf Copping (Leeds United), Frank Swift (Manchester City), Dave 'Boy' Martin (Notts County), Joe Sloan (Tranmere Rovers), Bill Nicholson and Bill Whatley (Tottenham) and Stan Cullis (Wolves) but most of these played only a handful of games for Fulham. However, England international Stan Cullis made 18 appearances for Fulham, Welsh international Bill Whatley 12 and Joe Sloan of Tranmere Rovers, who played for both the Republic and Northern Ireland, scored six goals in 11 games.
The guest players who made the most appearances for Fulham are: Len Jones (Plymouth Argyle) 118 apps/8 goals, Harry Dukes (Norwich City) 96/0*, Joe Conley (Torquay United) 85/43, David Thomas (Plymouth Argyle) 44/20, Tom Holley (Leeds United) 41/2, Paddy Gallacher (Bournemouth) 34/13, Charlie Leyfield (Doncaster Rovers) 31/9, Cyril Dean (Southampton) 31/15 and Ernie Muttitt (Brentford & Dartford) 30/3.
* Dukes often got mixed up with George Duke (Luton Town) who also played in goal for Fulham, so this figure may be incorrect.
Fulham Players Killed During the War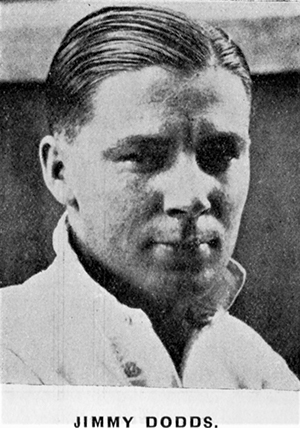 Pictured: James Dodds
A centre-forward from The Linfield club in Belfast, James 'Jock' Dodds was 19 when he came to Craven Cottage in July 1934 and his only Fulham appearance came at West Ham United in April 1936. Dodds moved to Gillingham in May 1936 and the back to Glentoran (Belfast) in July 1937 before former Fulham centre-half, Syd Gibbons, by now the player-manager of Worcester City, signed him in August 1938. Dodds moved to Kidderminster Harriers in July 1939. Jock Dodds was serving with the 62 Squadron of the RAF when he was killed in action on 26th February 1942, at the age of 29. This is commemorated at the Singapore Memorial, as his body was never recovered.
Carlisle born George Fairbairn played some matches for Fulham during wartime football. He joined the Coldstream Guards in November 1939 and was killed in action in Tunisia on 21st February 1943, aged just 23. He was a half-back who had joined Fulham from Enfield in 1939 and played on loan with Dundee United and Aberdeen during 1942.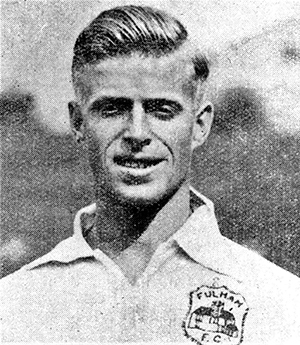 Pictured: Dennis Higgins
The red-haired Dennis Higgins was killed on active service in North Africa on 25th September 1942, at the age of 26, fighting with the Durham Light Infantry. He left a wife called Nancy in his hometown of Leek in Staffordshire. As he had no known grave, his death is commemorated at the Alamein Memorial in Northern Egypt. Higgins played for Leek Alexandra and Tamworth prior to coming to Craven Cottage in November 1935. He looked to have a fine career ahead of him when he replaced Jack Finch during the second half of 1938/39 and scored his one and only hat-trick at Bradford in January 1939. After scoring 12 goals in 34 appearances for Fulham, the war intervened.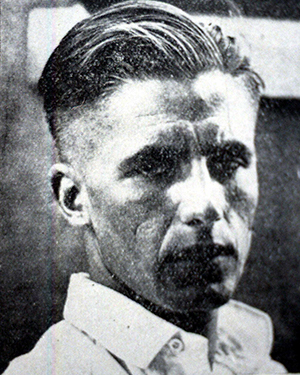 Pictured: Jim Tompkins
One of the most heroic and tragic figures to play for Fulham, Jimmy Tompkins was a fine left-half. He attended St Walter St Johns School in Battersea and played for Woking in April 1930, whilst still at school. After 34 appearances for Woking, he was then offered a place on Arsenal's ground staff, at the same time as Fulham had signed him as an amateur. After lengthy discussions between managers Jimmy McIntyre and Herbert Chapman, Tompkins became a Fulham player in March 1932. He was hardly an overnight sensation, probably because he was played at centre-half. His somewhat lightweight frame was better suited to wing-half, and he made the breakthrough in the Fulham team that reached an FA Cup semi-final in 1936 where they lost to Sheffield United. From then until the outbreak of the Second World War, the number six shirt was his own and his style was characterised by tight marking, fierce tackling and good distribution. He was cool, stylish and mature beyond his years and always the epitome of fairness. When war was declared he saw action early because of his experience with the Territorial Army. He joined the Royal Fusiliers (City of London Regiment) in 1939 and soon obtained his first stripe. By September 1942, he was a Major but was killed in Normandy on the 10th July 1944 shortly after the D-Day landings. His death is commemorated at the Bayeux Memorial, as he has no known grave. His wife Cecilia was to die months later and their only son Maurice, who was on Fulham's ground staff in the 1950s, also lost his life serving in the Army.
As a youngster, Ernie Tuckett was spotted by Scarborough whilst playing for Guisborough Brigantes in the Under 18s North Riding Junior Cup Final. He scored but his side lost 4-1. Arsenal soon persuaded Ernie to sign amateur forms for them in April 1932 but he had to wait four years before becoming a professional. In the interim, he had been playing for the Gunners nursery side at Margate in the same side as Jimmy Evans who also later signed for Fulham from Arsenal. Tuckett was the makeweight in a deal that brought Laurie Scott from Bradford City to Arsenal in February 1937. Even though Ernie was a centre-forward he played as a centre-half for Arsenal and Fulham in his rare appearances for the two clubs. His only game for Fulham came at Chesterfield in April 1939, in a 1-0 victory. Ernie played very little football during wartime and concentrated on his RAF duties. Rising to the rank of Corporal, Tuckett was killed in an aircraft accident on the 27th May 1945, whilst serving with the Royal Air Force Volunteer Reserve and was buried at Boosbeck (St Aidan Churchyard) Yorkshire.
Biography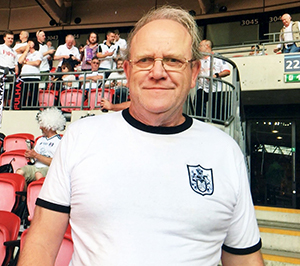 Born in Lambeth in 1952 and brought up in Wandsworth, Alex saw his first Fulham match in December 1962 and became a regular at the Cottage from 1965 and is Fulham FC's official historian. He wrote for the Fulham programme for most of the 1980s, 1998-2002 and in recent years, including many historical articles on the club plus contributions to the Footballer magazine.
Alex completed his first book with Dennis Turner – Fulham the Complete Record (1987) plus updates Fulham Facts & Figures (1998) and the second Fulham Complete Record in 2007 when the publishers managed to leave his name off the cover! Other Fulham books include: A Century of Memorable Fulham Matches (1997), The Men Who Made Fulham FC (2002), a Who's Who of Fulham players and managers, Fulham 1879-1979 (2007), a Photographic History, The Fulham Miscellany (2012), Fulham, The Early Years 1879-1907(2014) and Fulham-The Team - Seasons 1903 to 2019.
He has also made contributions to Fulham's Golden Years (1992) and Fulham the Team (1995). Other books have been Football Managers (1993) which included a Who's Who of every Football League manager from 1888-1993 and Football Grounds of London (2005) with Bob Lilliman. Alex has a BA (Hons) degree in Social Science from Kingston University and worked for over 35 years for Social Services and the London Probation Service but is now retired.
Fulham-The Team – Seasons 1903 to 2019 (ISBN 978-1-9160656-0-4) was published in August 2019 by Ashwater Press - www.ashwaterpress.co.uk