Fulham and the Second World War Part 4 – Season 1945/46
11/02/2020 - 11.25
Alex White
Many players were still in the Armed Forces, and few clubs were able to put out their strongest sides, or even field the same team in consecutive matches. The Cottagers used 46 players in the 42 games. A handful of pre-war Fulham players appeared but retired before the resumption of League soccer. These were Jim Evans, Ernie Hiles, Taffy O'Callaghan (who became the trainer), and Bert Worsley. Rooke, Bacuzzi, Freeman, Shepherd and Woodward, whose Fulham careers spanned the war years, would play in league soccer after 1946. Promising youngsters such as Jim Taylor, Sam Malpass, Dave Bewley, and Dennis Rampling also played during the season. Fulham did not use many guest players as things gradually returned to normal and home players return from serving abroad.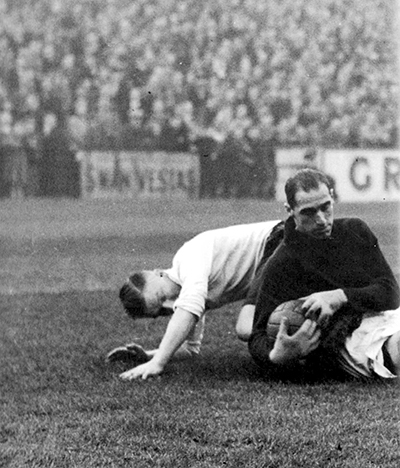 Action photo versus Portsmouth 1945-46. Players Pompey GK Walker & Dennis Rampling (Fulham).
A number of players who joined Fulham during the war as guest players, signed for the club after the end of hostilities. These are Pat Beasley from Huddersfield Town and Cliff Lloyd from Wrexham in December 1945, Peter Buchanan from Chelsea in March 1946, Jim McCormick from Spurs in November 1945, Bob Thomas from Plymouth in June 1947 and Jack Watson from Bury in August 1946. A number of players who played for Fulham before the war returned as guests from 1939-1945. These are Sam Abel, Ambrose Buckley, Bob Dennison, Bill Mason, Eddie Perry and Trevor Smith.
There were some impressive gates at the Cottage (eight of around 30,000) and a few exciting victories, not least over Arsenal, Wolves and Chelsea. The 5-2 home victory over Arsenal during November 1945 was outstanding. Immediately after the start Buchanan killed a high ball, slipped it forward to McCormick, and from the inside man's through pass Rooke beat Griffiths with a well-directed right-foot drive. The Gunners' equaliser came after 32 minutes when Fulham 'keeper Sanders was beaten by Dr O'Flanagan, immediately after a point-blank save from Bremner. Fulham went right down from the kick-off for Rooke to put them ahead with a left foot shot after a solo dribble. Then fine individualism by Rooke ended in Jessop scoring from the cross-pass. Arsenal opened the second half in earnest, and persistent approach work by Dr. O Flanagan gave Drury a fine chance. He steadied himself carefully and a low drive from about 12 yards completely beat Sanders. In the 31st minute of the second half, after a glorious movement begun by Jessop and carried on by Rooke, Shepherd scored again for Fulham from close range. Rooke got his third goal of the match shortly afterwards, when, at the second attempt, and after a fierce drive had been saved by Griffiths, he beat the visiting keeper to make it 5-2 to Fulham before a thirty thousand crowd.
A light-hearted story came when Fulham visited Coventry City in September 1945. Trainer Penn put Bacuzzi and Woodward in charge of the playing kit. The players travelled by bus from the station to the ground but they forgot about the kit. Thankfully it was later handed in at the bus garage but Fulham had to play in a strange kit supplied by the home club. Playing kits were hard to come by due to rationing and getting hold of clothing coupons, so it was a great relief when it was found.
A fine victory came against future champions Birmingham on the 15th April 1946 by 3-2. Jim Taylor converted a penalty in the first half for Fulham. Midway through the second half the game fanned into life with three goals in six minutes, a brilliant long shot by Viv Woodward started the goal rush. Birmingham fought back with two goals from Dougal and a goal by Peter Buchanan took Fulham to victory at the Cottage. Fulham's best win of the season came on Easter Monday, 22nd April 1946, when Millwall were beaten 7-0 at the Cottage. Fulham scored their first goal in the 35th minute, Wallbanks sent in a long shot that was tipped into the net by Rooke. Fulham's second goal came right from the kick-off on the resumption through a beautiful piece of work in which Shepherd and Beasley figured prominently and Rooke found the net. Shepherd tried with a header on the rebound but failed but Rooke gave the ball to Woodward, whose shot was fumbled by Purdie, so that the ball rolled into the goal. Thus, Fulham brought off two goals in three minutes. Buchanan, in top of his form, put on two more for Fulham. The sixth came from Woodward and Shepherd headed in the seventh after a corner kick.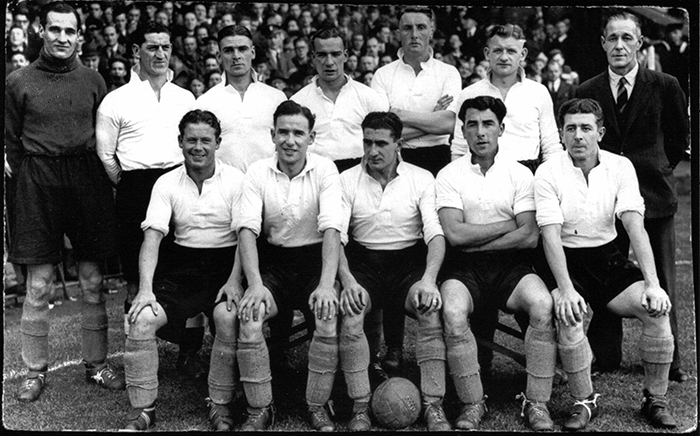 Pictured: Fulham 1945 - Back Row: Sanders WBA); Bacuzzi, Evans, Freeman, Hindle (Blackburn), Wallbanks, Penn (Trainer).
Front Row: McCormick, Buchanan, Rooke, Jessop (Preston), Shepherd.
The great Moscow Dynamo side visited England in November 1945 and they played Chelsea, Cardiff City and Arsenal. When they played at Stamford Bridge the crowd was estimated as 85,000 with many fans sitting on the roof of the stand and the match ended in a 3-3 draw. Fulham's Joe Bacuzzi and Jim Taylor appeared for Chelsea in this match. Dynamo beat an Arsenal X1 4-3 at White Hart Lane eight days later with Fulham's Joe Bacuzzi and Ronnie Rooke in the Gunners' ranks.
In the 3rd round, 1st leg of the FA Cup, Fulham lost 3-1 at the Valley in January 1946, and although they won 2-1 at the Cottage in the 2nd leg they went out of the competition 4-3 on aggregate. Charlton went on to Wembley and therefore became the only club ever to have reached the FA Cup final having lost a game on the way. At the Valley in the first leg, Charlton took the lead after eight -minutes when Fulham 'keeper Horace Rickett badly misjudged a Fell shot and punched the ball into his own net. In the 27th minute Charlton scored their second goal again through Fell. He hit a smasher from the wing and again Rickett misjudged his shot. Charlton went 3-1 up after 35 minutes when Risk transferred to Welsh, who passed onto Turner, and he beat Rickett easily. Fulham scored a consolation goal 12 minutes from time when Dennis Rampling beat 'keeper Sam Bartram after a goalmouth scramble.
In the return match, Charlton scored early on when they broke away and Fell centred for Tadman to nod past Rickett. Rooke scored for Fulham, heading in McCormick's well-judged corner kick after 22 minutes. A quarter of an hour later the keeper miskicked to Rooke who was standing some 12 yards out; he tried a first-time shot but Bartram pushed it out only for Rooke to crash the ball gratefully into the net from the rebound. The second half was nearly all Fulham, but they could not score again.
Fulham's Stevenage Road stand had a hole in the roof at the end of the war, after it was hit in 1944 by what was thought to be an incendiary device. It caused some minor damage to the accommodation inside the Cottage itself. There was an interesting comment in Fulham's programme for a match with Portsmouth on Boxing Day 1945. "We are hoping that time is not too distant when Hitler's present to us, the gap in the centre stand, will be filled in." The ground was very overgrown by this time and it took some time before all the grass and weeds were removed. There were also unconfirmed reports that a V1 (a buzz bomb), heading for the ground, hit the huge plane tree on the riverbank at the Putney End and was diverted away across or into the river. However, Craven Cottage survived relatively unscathed.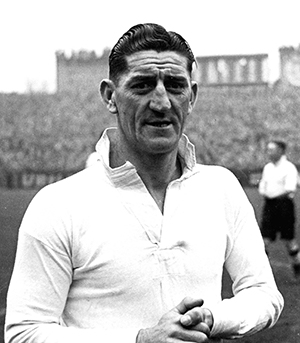 Pictured: Ronnie Rooke
The Second World War ended in May 1945, but most Fulham players were still in the Armed Services. By late October 1945, Fulham still had 24 players serving in the armed forces, of whom 14 were still overseas. Inside forward John Miller was stationed in Scotland, Harry Pitts in North Wales, and Arthur Stevens and Ernie Hiles were still serving in Germany. Harry Freeman and Pat Beasley were demobbed in January 1946, when they returned from Germany. Wing-half Harry 'Choppy' Wallbanks was still working down the mines in Northumberland and Peter Buchanan was engaged in the building trade.
Prolific goal-scorer Ronnie Rooke was the first players to be demobbed in January 1946 and full back Sam Malpass became the second player to leave the services and sign as a professional for Fulham soon afterwards. Sam had been stationed in India and played for touring Army Representative side. The news reached the Cottage that goalkeeper Doug Flack had been selected to tour India with a RAF side. Reserve team player, Albert Hudson, returned from service in India in March 1946 after five years and impressed with his fitness in his first game for Fulham. Flying winger Arthur Stevens was demobbed in June 1946 after serving with the B.A.O.R. Pre-war star winger and England international Johnny Arnold announced that he was retiring from the game and was now 'mine host' at a hotel in Southampton. His former Saints team-mate, Mike Keeping, took up a coaching post in Holland, youngster Dennis Rampling was called up in March 1946 and joined the RAF. He was stationed near Leicester and joined the RAF Physical Training staff. On 2nd March 1946, Fulham played Arsenal at the Cottage and won 2-1 in a friendly match. Oswald Evans made his debut in goal and did well, "in spite of carrying much overweight." He reputedly weighed over 20 stone. Ossie played in Fulham's first league match, after the war, at Bury in August 1946 but let in seven goals and never appeared in the first team again.
Biography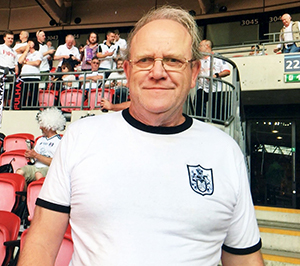 Born in Lambeth in 1952 and brought up in Wandsworth, Alex saw his first Fulham match in December 1962 and became a regular at the Cottage from 1965 and is Fulham FC's official historian. He wrote for the Fulham programme for most of the 1980s, 1998-2002 and in recent years, including many historical articles on the club plus contributions to the Footballer magazine.
Alex completed his first book with Dennis Turner – Fulham the Complete Record (1987) plus updates Fulham Facts & Figures (1998) and the second Fulham Complete Record in 2007 when the publishers managed to leave his name off the cover! Other Fulham books include: A Century of Memorable Fulham Matches (1997), The Men Who Made Fulham FC (2002), a Who's Who of Fulham players and managers, Fulham 1879-1979 (2007), a Photographic History, The Fulham Miscellany (2012), Fulham, The Early Years 1879-1907(2014) and Fulham-The Team - Seasons 1903 to 2019.
He has also made contributions to Fulham's Golden Years (1992) and Fulham the Team (1995). Other books have been Football Managers (1993) which included a Who's Who of every Football League manager from 1888-1993 and Football Grounds of London (2005) with Bob Lilliman. Alex has a BA (Hons) degree in Social Science from Kingston University and worked for over 35 years for Social Services and the London Probation Service but is now retired.
Fulham-The Team – Seasons 1903 to 2019 (ISBN 978-1-9160656-0-4) was published in August 2019 by Ashwater Press - www.ashwaterpress.co.uk