Fulham and the Second World War Part 3 - Seasons 1943/44-1944/45
10/02/2020 - 10.53
Alex White
Season 1943/44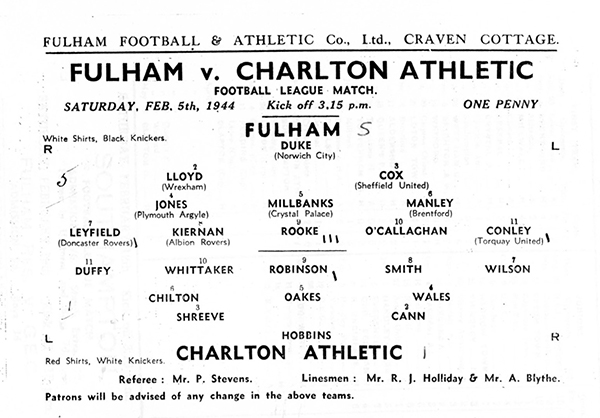 Fulham players were spread far and wide by 1943, due to the war. Sid Thomas was stationed in West Africa and worked on airfield construction, in extremely hot conditions. He played football against the locals and described them as not knowing very much about the game but being very fast. Jimmy Hughes and Doug Flack were in India and met each other when on opposing sides in a representative match near Calcutta. Bob Thomas was a naval stoker with the Royal Navy after working as a shell loader before his call-up. Len Quested luckily spent the war sailing in a tug around Sydney Harbour but Ernie Shepherd had a more gruelling time. He was marooned in Malta during a long period when the island was bombed continuously by the Germans over many weeks. Larry Gage was a paratrooper who made 240 parachute jumps during the war. Fulham manager Alec Stock became a Captain and commanded a tank crew in Caen, France where he was wounded by shrapnel in his back.
There was a typical wartime match with Crystal Palace on the 9th of October 1943, at the Cottage. Fulham's prolific goal-scorer Rooke hit the post after two minutes with a blistering shot but Palace took the lead after 23 minutes when Albert Dawes took a return pass from Wilson and scored. Two minutes later Wilson finished a good movement and Palace led by two goals. Rooke looked offside when he pulled a goal back for Fulham then equalised from the penalty spot just before half time. Rooke put Fulham 3-2 up after 50 minutes then Ward and a Albert Dawes penalty made it 4-3 to Palace. Charlie Leyfield, a guest from Doncaster Rovers, made it 4-4 but Palace' centre-forward Summerfield scored the winner with five minutes to go. Former Fulham 'keeper Alf Tootill made many brilliant and daring saves to save Palace.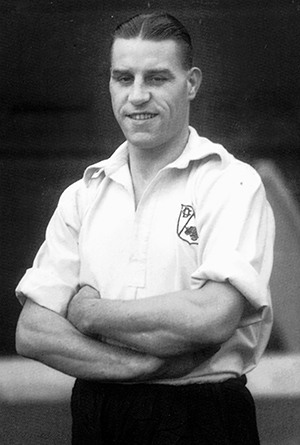 Pictured: Jack Stamps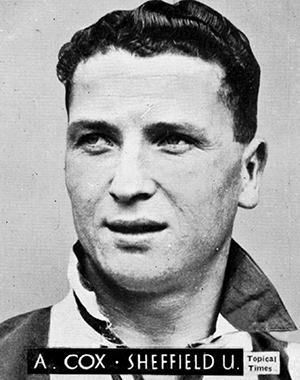 Pictured: Albert Cox
Fulham players Sam Malpass, Ernie Hiles, Viv Woodward, Jim Tompkins, Jim Taylor and Dennis Rampling mustered just 18 games between them all season. However, Jim Evans managed 11, Taffy O'Callaghan 10 and future players Arthur Steven 8 and Johnny Summers 4. For the fifth year running, Rooke topped the scoring charts with 32 goals in 32 appearances, with guest Tom Kiernan (Albion Rovers) attaining 14 in just 11 games which was equalled by Jack Stamps (Derby County) whose goals came in just 15 appearances. Joe Conley (Torquay United) contributed a further seven. Other regular guest players were full-back Albert Cox (Sheffield United), Luton Town goalkeeper George Duke, Leeds United centre-half Tom Holley and Doncaster Rovers left-winger Charlie Leyfield plus regulars Len Jones and David Thomas.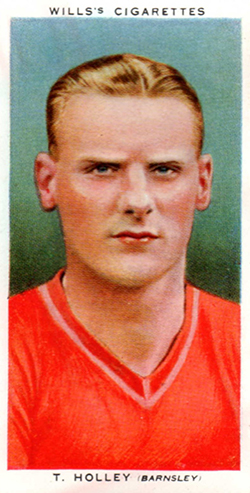 Pictured: Tom Holley
Season 1944/45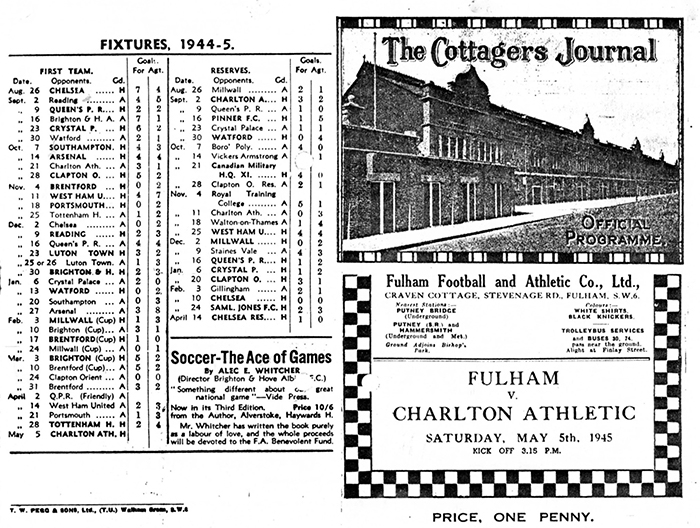 An announcement in the programme in August 1944 stated: "Danger from Flying Bombs. Spotters shall be stationed to give warning of imminent danger and a flag will be displayed on the scoreboard on the riverside and also on the main stand. On such warning being given the game shall be suspended at once, those present being advised to take cover under the Stands or nearest available place. All exit gates will be opened for those who wish to leave the ground." A bomb hit the pitch at one point but fortunately missed the Stevenage Road stand but left a huge whole in the pitch which was quickly filled in.
Fans often did not know many of the players who appeared for the Lilywhites. To confuse matters even more during 1944/45, Fulham had six guest players called Jones! Outside-right Len Jones played regularly for Fulham during the war years and he scored eight times in 118 appearances for the Club. He also played for Barnsley, Plymouth Argyle, Southend United, Colchester and Ipswich Town during his career. The other players called Jones played only a handful of matches for the Cottagers that season. These were: Charlie Jones, a centre-half from Southend United, Fred Jones, a centre-forward from Ipswich Town, Eric Jones, a winger with Stoke City, George Jones, an outside-left from Sheffield United, and Sam Jones a wing-half from Blackpool who became a Northern Irish International after the war.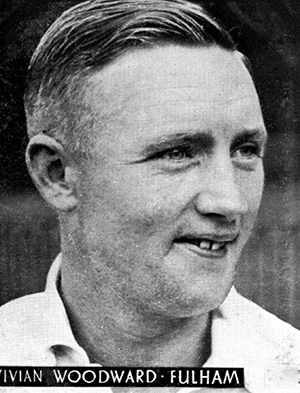 Pictured: Viv Woodward
Joe Bacuzzi served in North Africa and Italy and Jim Evans was serving in West Africa. Fulham's official programme reported in 1945 that Lance Corporal Ernie Hiles was at the Front with the British Liberation Army, 'Bevan Boy' Harry Wallbanks was working down the mines in Northumberland and regularly turning out for Sunderland, Captain Viv Woodward, a lorry driver with the Royal Army Ordinance Corps, and was serving in Germany along with Arthur Stevens and Harry Cranfield. Albert Hudson and Doug Flack were in India playing some football for an Army representative sides. Harry Pitts was stationed in North Wales and Johnny Miller was in Scotland and playing for Ayr United. The club were receiving letters regularly from their players. Corporal Viv Woodward, a lorry driver with R.O.A.C. wrote to say in April 1945 that at top speed he cannot keep up with the Nazi retreat. Players were stationed all over the world but most were stationed in Western Europe.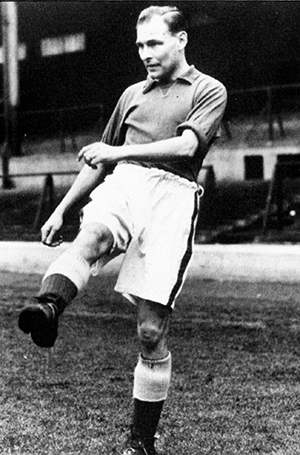 Pictured: Harry Potts
In the League War Cup South in 1945, the team had a decent return in their group of four teams, winning four and losing two of the six matches played. Unluckily this was not enough to see them through the qualifiers. Millwall won the group (beating Fulham twice) and reached the final but lost 0-2 to Chelsea at Wembley in front of 90,000. Future Fulham forward Jimmy Jinks was in their ranks with future Fulham 'keeper Ian Black in goal for Chelsea. Ronnie Rooke topped the scoring charts once again, with an amazing 27 goals in just 15 appearances, which included three four-goal hauls. This was despite being away serving in Italy or in hospital with stomach problems for most of the season. Guest player Harry Potts (Burnley) scored 11 goals and was later a very successful manager of Burnley, so did prolific goal-scorer 'Jock' Dodds of Blackpool. These three players contributed over half of Fulham's total that season. A staggering 92 different players took part in Fulham sides. Regular guest players were Glasgow Rangers' left-back Ralph Cowan, Norwich City's defender Bill Flack, Sheffield Wednesday's forward Anthony Lowes, and Tranmere Rovers' Irish international Paddy Sloan.

Pictured: Jock Dodds
Ronnie Rooke had an astounding start to the season in the Football League South. He scored 20 goals in his first eight appearances. This included hitting four goals against Chelsea and Crystal Palace at Craven Cottage and another four goals in a 7-1 victory at Brighton. Fulham made a great comeback to win 4-3 against Southampton at the Cottage on the 7th October 1944. They were 3-0 down after 20 minutes with Saints goals from Ted Bates and Don Roper two. Rooke scored a minute from half time then scored two further goals to make it 3-3. Rooke's perfect pass led to Leyfield scoring Fulham's winner late on. Veteran outside-left Johnny Arnold made his first appearances in long time in a 4-4 draw at home to Arsenal on the 14th October, a game that Rooke missed. Arnold has been suffering from a long-term knee injury.
A record wartime crowd of 25,000 attended a match with Brentford at the Cottage on the 4th November 1944. Future Fulham inside right Bob Thomas scored both goals in a 2-0 victory for the Bees. Charlie Leyfield, a guest from Doncaster Rovers, broke his leg in this game and was in hospital for some time afterwards. When Fulham met Brighton at the Cottage on the 3rd March 1945, in the League War Cup, the whole team was made up from guest players despite the manager's attempts to draft in some home-grown players. Most of the Fulham players were serving overseas plus Joe Bacuzzi and Ronnie Rooke were unfit. Ernie Shepherd was playing for Bradford City, Jim Taylor with St Mirren and Harry Wallbanks (Sunderland), Pitts (Wrexham) and 'keeper Larry Gage was with Wrexham. The team was: Rickett (Clapton Orient); Abel (QPR), F. Dawes (C. Palace); L. Jones (Southend), Watson (Bury), Buckingham (Spurs); McCormick (Spurs), Livingstone (Bury), Dodds (Blackpool), Sloan (Tranmere), Kippax (Burnley).
Biography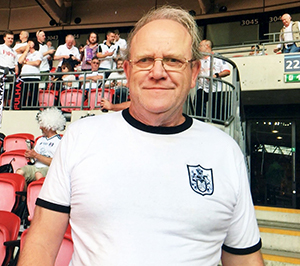 Born in Lambeth in 1952 and brought up in Wandsworth, Alex saw his first Fulham match in December 1962 and became a regular at the Cottage from 1965 and is Fulham FC's official historian. He wrote for the Fulham programme for most of the 1980s, 1998-2002 and in recent years, including many historical articles on the club plus contributions to the Footballer magazine.
Alex completed his first book with Dennis Turner – Fulham the Complete Record (1987) plus updates Fulham Facts & Figures (1998) and the second Fulham Complete Record in 2007 when the publishers managed to leave his name off the cover! Other Fulham books include: A Century of Memorable Fulham Matches (1997), The Men Who Made Fulham FC (2002), a Who's Who of Fulham players and managers, Fulham 1879-1979 (2007), a Photographic History, The Fulham Miscellany (2012), Fulham, The Early Years 1879-1907(2014) and Fulham-The Team - Seasons 1903 to 2019.
He has also made contributions to Fulham's Golden Years (1992) and Fulham the Team (1995). Other books have been Football Managers (1993) which included a Who's Who of every Football League manager from 1888-1993 and Football Grounds of London (2005) with Bob Lilliman. Alex has a BA (Hons) degree in Social Science from Kingston University and worked for over 35 years for Social Services and the London Probation Service but is now retired.
Fulham-The Team – Seasons 1903 to 2019 (ISBN 978-1-9160656-0-4) was published in August 2019 by Ashwater Press - www.ashwaterpress.co.uk