Fulham and the Second World War Part 2 - Seasons 1940/41-1942/43
07/02/2020 - 12.14
Alex White

Season 1940/41
The end of the Phoney War in the autumn of 1940 marked another period of crisis for Fulham. Heavy bombing in London kept crowds down and accentuated the long-standing financial crisis at the club. When Charlton Athletic visited the Cottage in November 1940, a mere 150 people paid to watch, the lowest attendance ever for a first team match. By this time travel was severely restricted which made it difficult for spectators to get to the ground. This was after heavy bombing raids in South West and West London. Two weeks later, when Brentford were the visitors, air raid sirens ended the game early with Fulham leading 3-0 with only 600 spectators in the ground. Most of these entered the ground five minutes before kick-off in case the match was postponed even before it started and the crowd would have problems getting their money back. The players either sat in the stand or lolled around the entrance to the dressing rooms until the match was finally called off. Crowds averaged 2,000 and all players were amateurs since contracts had been cancelled at the start of the war. Fielding 11 players was often difficult and manager Jack Peart rarely knew his team until the kick-off.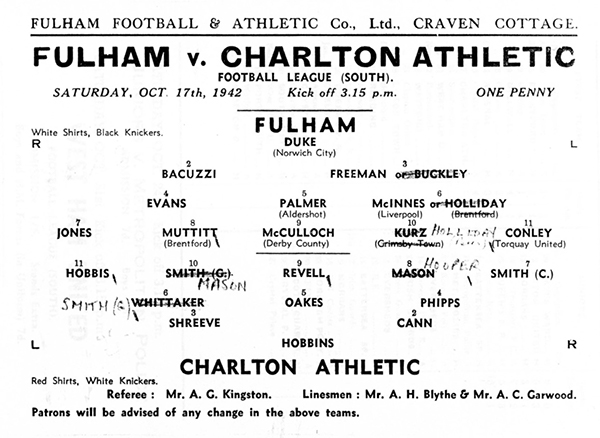 Players and spectators changed places during an air raid warning during a match with Arsenal at Highbury on 7th September 1940. After the air raid sirens went off, play was suspended on the pitch. Spectators who had taken cover suddenly rushed on to the terraces to watch three airplanes overhead and a large cheer went up when a Nazi plane was shot down. Someone in the crowd got hold of a football after the match had been temporarily suspended for some time due the air raid warning, and a 50-a-side began on the pitch involving members of the crowd. After 1 hour and 20 minutes the match was abandoned with 14 minutes to play with Arsenal leading 5-0. Unfortunately, it was too dark to resume and all grounds had no floodlights at that time. The result stood and the match was not replayed.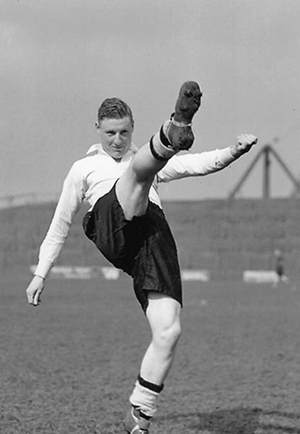 Pictured: Len Fisher
Fulham made little impression on the Football League War Cup that season, going out in the first round 3-5 on aggregate to Watford. A new cup competition, the London Cup, was introduced for the southern teams. Fulham were placed in Group A and played ten fixtures between January and April. Fulham won four but lost six, knocking them out of the competition. Eddie Perry, a pre-war Fulham player, scored both Brentford' goals in the Final of this competition at Stamford Bridge which Reading won 3-2. The prolific Rooke kept up his amazing goalscoring with 35 goals in all competitions; closely followed by Woodward with 12 and guest player David Thomas netted nine. David Thomas of Plymouth Argyle was the brother of Bob who played for Fulham after the war.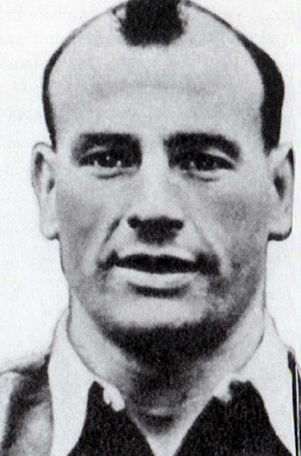 Pictured: David Thomas
Guests in 1940-41 included internationals such as Sam Weaver, Stan Cullis and Cliff Bastin the famous Arsenal left-winger. Other regulars were goalkeepers Frank Boulton (Derby County) and Phil Joslin (Torquay United) as well as Charlie Revell from Charlton Athletic, Ernie Muttitt from Brentford, full-back George Scaife from Leeds United and George Matthewson Bury's centre-half plus Fulham youngster Len Fisher and Vic O'Leary.

Pictured: Frank Boulton
Season 1941/42
1941 was a grim year for London. The Germans were blitzing the capital and there were restrictions on the movements of the population and identity cards were needed to enter certain areas. With many men and women away on active service the crowds at Craven Cottage rarely passed the two thousand mark. Many potential spectators also worked on Saturdays mainly in munitions or the public services. Fulham relied on guest players to make up the numbers and these ranged from unknown amateurs who conned themselves a game to international players. It was not unknown for potential guests to introduce themselves as a pre-war player only for the club to quickly realise that they had been misled when they saw the person play, when it became obvious that they had never played at that level before.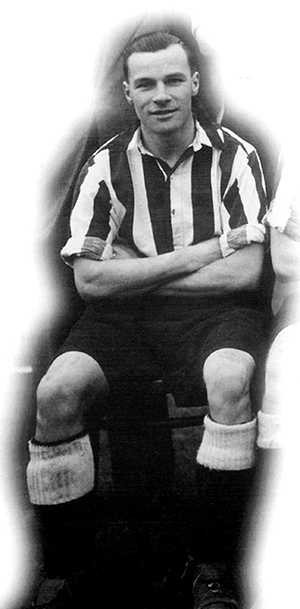 Pictured: Joe Sibley
Fulham joined the breakaway London League but still had to travel to Aldershot, Reading and Portsmouth to complete their fixtures. Rooke continued to score regularly with 30 goals in 25 appearances; guest Joe Conley (Torquay United) contributed 18 in only 20 games and fellow guest Pat Gallagher (Bournemouth) added a further 12 in 29 appearances. An astounding 76 players took part in Fulham sides that season. Regular guest players for Fulham were George Matthewson again; Luton Town's goalkeeper Harry Duke, Albion Rovers inside-right Tom Kiernan, Southend United's 'Joe' Sibley and Len Jones and Spurs left-back Bill Whatley. The season ended on the 23rd May 1942, with an amazing victory against Crystal Palace at Craven Cottage. Palace went in at half-time 3-0 up with goals from JF Smith, Nick Collins and Glynn Lewis. The match turned on its head in the second-half and Joe Conley hit four goals as Fulham won the match 4-3 before a crowd of 3,000.
Southend United winger Sibley played 12 times for Fulham in 1941/42. He also figured in seven games for Queens Park Rangers, three for Spurs, two for Millwall and one each for Aldershot, Chelsea and Crystal Palace that season. He was serving in the RAF at the time and must have had a very understanding Commanding Officer who allowed him this freedom of movement. Ernie Muttitt, who played seven games for Fulham at the start of the 1941/42 season, also appeared 15 times for Brentford, Millwall, Chelsea, Charlton, Crystal Palace and Reading later that season. Fulham recorded three attendances of over ten thousand. Two of these came in the London League against Arsenal and one at Stamford Bridge in April 1942 in a London War Cup tie.

Pictured: Stan Cullis
Fulham who were defeated 9-1 at Fratton Park against Portsmouth in a London War Cup tie in March 1942, won the return match by two goals to one, two weeks later at Craven Cottage. England International and Fulham's guest centre-half, Stan Cullis, was carried off midway through the first half when the London club was 2-1 down to Pompey. After an X-ray he was found to have a fractured fibula and his leg was badly swollen. Cullis later wrote to the FA complaining that a Pompey player had inflicted the injury deliberately. Fulham had actually taken the lead in a breakaway when Pompey 'keeper Walker failed to reach his high cross shot from Kiernan. Barlow equalised two minutes later and Griffiths scored another for Portsmouth three minutes afterwards. When Cullis left the field, Eric Keen moved to centre-half and Tom Kiernan moved back to left-half from inside-left for the Cottagers. After the break, which lasted only two minutes, Pompey scored four goals in 15 minutes to demoralise Fulham. Pompey goals came from Moores, Bullock (2), Barlow (2) and Griffiths (2) in the second half. Fulham's unfortunate goalkeeper that day was Harry Duke, a guest from Luton Town. Brentford won the final at Wembley beating Portsmouth 2-0 with Eddie Perry again in their side.
Season 1942/43
There were plenty of goals scored and conceded during season 1942/43. Fulham biggest win, 6-1, came at Millwall on the 19th December 1942. John Broadhurst, who had played for Tranmere Rovers, Southend United and New Brighton before the war, and making his only appearance for Fulham, scored a hat-trick. The other goals came from Dean, Ottewell and Conley. Fulham biggest defeat came at the Cottage when the visitors Southampton won 8-2. Very few reports of Fulham matches have survived between 1940-1944 and there is not one for this match.
Fulham accomplished only one clean sheet all season, conceding 78 goals (only three teams conceded more). This included seven fours, a six, a seven and an eight. However, they failed to score in just one match and the 69 goals scored included four fours, a five and two sixes. In the League War Cup South Qualifying Group, Fulham suffered heavy defeats at Aldershot (4-1) and at Charlton (6-1) and failed get through the qualifiers. Charlton won the group and eventually made the Cup Final only to be thrashed 7-1 by Arsenal at Wembley in front of 75,000.
Bacuzzi, Freeman, Malpass, Evans, Hiles, Finch, Rampling, Rooke, Woodward, Tompkins and Arnold continued to play when possible, but the number of games each played was unsurprisingly reduced. The prolific Ronnie Rooke continued to top the scoring charts with 23 goals in 26 appearances, and guest Joe Conley (Torquay United) contributed a further 16 and no other player reached double figures. Although fewer than the previous season, 64 different players took part in Fulham sides that season. Regular guest players were Liverpool centre-half Tom Bush (Liverpool), Southampton centre-forward Cyril Dean who scored 7 goals in 14 appearances, Chesterfield inside-forward Syd Ottewell and Plymouth's David Thomas again featured.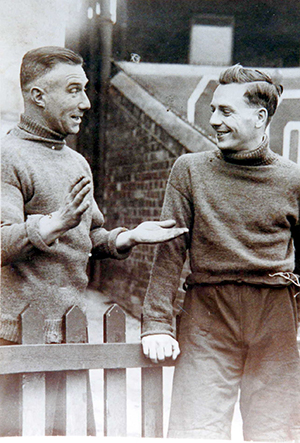 Pictured: Jimmy and Joe Hogan
There was news of other Fulham players. Goalkeeper Larry Gage appeared regularly for the RAF and also played for Aberdeen along with Fulham youngster George Fairburn, who was later killed in action. Young Fulham amateur, Jimmy Wilson was on the Fulham team sheet on Boxing Day 1942, in a 4-2 victory over Queens Park Rangers at the Cottage. His father was Andy Wilson who had played for Chelsea and Scotland during the 1920s. Former Fulham manager Jimmy Hogan's son Joe was reported to be a Prisoner of War in Italy. He had been a reserve for Fulham in 1935 and also played for Swiss club Lausanne Sports and Racing Club (Paris) before the war. The Sunday Mirror reported in September 1942 that Jim Tompkins had been made a Major and they declared that he was the first professional footballer to achieve this rank.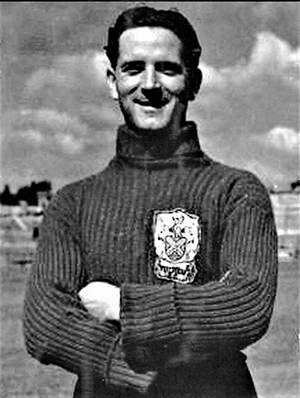 Pictured: Larry Gage
Biography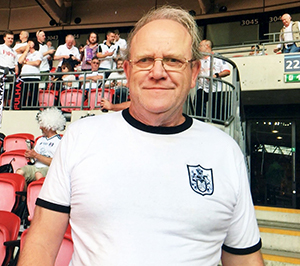 Born in Lambeth in 1952 and brought up in Wandsworth, Alex saw his first Fulham match in December 1962 and became a regular at the Cottage from 1965 and is Fulham FC's official historian. He wrote for the Fulham programme for most of the 1980s, 1998-2002 and in recent years, including many historical articles on the club plus contributions to the Footballer magazine.
Alex completed his first book with Dennis Turner – Fulham the Complete Record (1987) plus updates Fulham Facts & Figures (1998) and the second Fulham Complete Record in 2007 when the publishers managed to leave his name off the cover! Other Fulham books include: A Century of Memorable Fulham Matches (1997), The Men Who Made Fulham FC (2002), a Who's Who of Fulham players and managers, Fulham 1879-1979 (2007), a Photographic History, The Fulham Miscellany (2012), Fulham, The Early Years 1879-1907(2014) and Fulham-The Team - Seasons 1903 to 2019.
He has also made contributions to Fulham's Golden Years (1992) and Fulham the Team (1995). Other books have been Football Managers (1993) which included a Who's Who of every Football League manager from 1888-1993 and Football Grounds of London (2005) with Bob Lilliman. Alex has a BA (Hons) degree in Social Science from Kingston University and worked for over 35 years for Social Services and the London Probation Service but is now retired.
Fulham-The Team – Seasons 1903 to 2019 (ISBN 978-1-9160656-0-4) was published in August 2019 by Ashwater Press - www.ashwaterpress.co.uk