Fulham and the Second World War Part 1 - Season 1939-40
06/02/2020 - 11.17
Alex White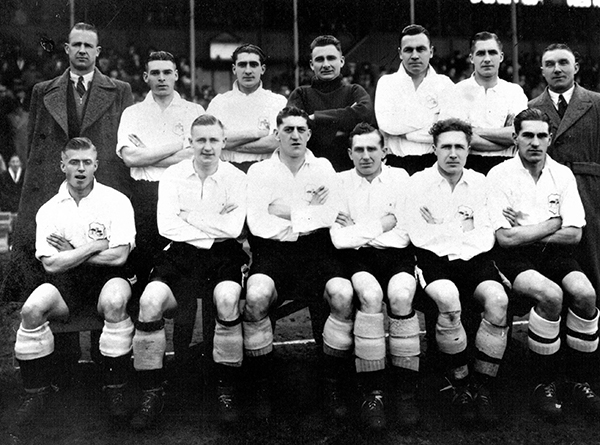 1939 Team Group: Back Row: Clarke, Evans, Bacuzzi, Turner, Keeping, Tompkins, Voisey (Trainer).
Front Row: Higgins, Woodward, Rooke, Finch, Arnold, Hiles.
On the outbreak of Second World War on the 3rd of September 1939, with the Football League season just three games old, the authorities suspended the League programme immediately. Fulham's last game was at home to Luton Town and was one of the last to be played in England since it kicked off at 6.30pm due to travel restrictions around the ground. Only four of that side played after the war, Joe Bacuzzi, Viv Woodward, Ronnie Rooke and Ernie Shepherd, who was making his debut in that last game. Fulham had lost their first two away games of the Second Division season, 3-1 at Bury and 2-1 at West Ham.
Jim Tompkins, Harry Freeman and Sam Malpass joined the Army immediately and Tompkins had his first stripe by November being promoted to Corporal. By August 1940, 17 Fulham professionals were in the services including Ronnie Rooke and Joe Bacuzzi. Eddie Perry, who had returned to the club from Doncaster Rovers, was promoted to Sergeant with the Army Physical Training School at Aldershot in December 1939 but England international Johnny Arnold spent his early war years packing cigarettes and so on, for the troops.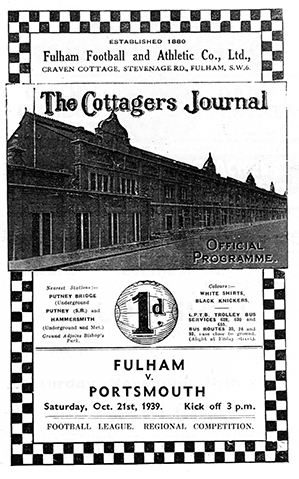 It took several weeks to organise competitions on a basis that would minimise travel and disruption to the war effort. Immediately following the declaration of war, the Home Office closed Craven Cottage, but by October it was re-opened with a maximum crowd limit of 8,000 and during this time Fulham played a number of friendly matches on opponents' grounds. When the ground was reopened again, the first match played in wartime regional competition was on October 21st 1939, against Portsmouth. Fulham beat Pompey 2-1 with goals from Ronnie Rooke before a crowd of 6,468. The programme for his match explained that "A great deal of anxiety for the future of the Club has been experienced by the Directors and Officials of the Club since that vital day in early September when war was declared, and our efforts have been focussed in one direction only, to keep the flag flying. Our players were dispersed following the suspension of agreements by the Football Association, but we have been fortunate in having the co-operation of many friends to keep the nucleus of our team nearby."
Air Raid Warnings
The Territorial Army was training the local population as preparation for enlistment of men into the armed services. This took place on the Craven Cottage pitch. Air Raid Warnings appeared in the club's programme from 16th December 1939. The statement from Secretary W.H.C. Wayte stated that, "…in the event of an Air Raid, all exits from the ground will be opened so that those who wish can leave as speedily and as quietly as possible. Cover is provided under the stand for those who wish to remain. No money can be refunded or re-admittance tickets issued when a match has been abandoned on account of an Air Raid. The Management request that patrons will at all times distribute themselves about the ground and banks as much as possible to avoid crowding. Please remember that in the event of an emergency you will greatly assist by keeping calm." It was also announced in the programme that in the event of an air raid that the nearest public shelters were at the Recreation Ground at Fulham Palace Road or supporters could take cover under the stand.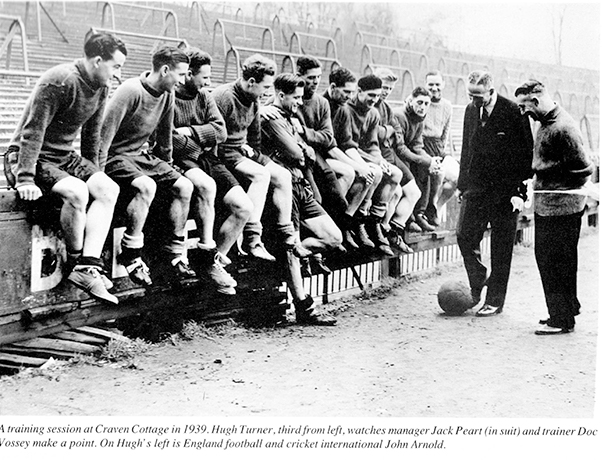 Like all clubs, Fulham struggled to survive during both World Wars. Players and Club Officials signed up with the services and during both Wars, the club struggled to find people to run the club. Mr. Wayte, who was the club secretary during the Thirties, soon joined the services in late 1939. However, when the war ended, he was controversially not offered his old job back.
Fulham wing half Jim Evans was sent off in a match with Brentford in December 1939, which was a rare event in those days. A report of the match stated that his tackle on Smith of Brentford was no worse than many that had gone before in a tempestuous match but when he used some ill-chosen words to referee Mr. Johnson, he was dismissed from the field. When Fulham lost 5-0 at West Ham on the 9th March 1940, the Hammers recorded four goals in the second half in just five minutes through Foreman, Foxall 2 and Fenton. Another player whose name began with F scored their first goal his name was Foreman.
League War Cup Run
Fulham reached the semi-final of the League War Cup in 1940, the equivalent of the FA Cup. The competition was packed into a short seven weeks period close to the end of the season. In the first round, Brentford were defeated 4-1 at home with goals from David Thomas (from Plymouth Argyle), Johnny Arnold 2 and Ronnie Rooke and Fulham won again 2-1 at Griffin Park in the second leg with goals from Viv Woodward and Len Jones. Norwich City gave the Cottagers a more problematic time in the second round. After a 1-1 draw at Carrow Road (Rooke for Fulham), the Whites won the second leg 1-0 thanks to Jim McCormick's goal. Nottingham Forest were the opponents in the third round and Fulham won 2-0 at the Cottage with goals from Rooke, who eluded two defenders to shoot through, and an own goal when Rooke's shot was partially saved by the 'keeper and Forest's Pritty helped the ball into his own net. People were becoming more interested in the competition and a crowd of 14,705 was present for the visit of Everton in the quarter final. Fulham were emphatic winners by 5-2. Fulham were two goals up after just 100 seconds when Viv Woodward scored after six seconds then Rooke scored from a pass from Woodward.
A report of the match appeared next day. "It must be years since League champions ran into such a packet of trouble as Everton's semi-international team caught at Fulham. Everton opened with their usual pass back to centre half. He kicked the ball up the field. Keeping headed it back to Rooke. Rooke shot it up through Everton's backs as Woodward, taking it beautifully in his stride, shot it past the advancing Sagar into the net. They took it back to the middle, played around for another seventy-five seconds and there it was, back again in Everton's net. This time, Rooke had done it on his own. For twenty minutes it was Fulham all the way. Whenever a pass went forward, a Fulham forward seemed waiting to streak through with it. Finally Rooke drew the defence out to the left, twisted suddenly, drew Sagar out of his goal and tapped the ball to McCormick, for a sitter. Everton never stopped trying but it was just not their day. However, they kept plugging away and they got their reward when Lawton scored a grand goal. He took a swift, low pass facing the wrong way, whipped round and banged the ball low into the net all in one move. Only the very best of them can do that. No sooner had the second half opened than Arnold went bustling along the Fulham wing again. He bored into the centre and from a general mix-up the ball hit- an Everton back. Woodward shot and Sagar reached out too late to save. (4-1) Gillick who played a fine game with limited chances, banged in a tremendous drive from close range and still there was a feeling that Everton might pull it out of the fire. Lawton hit a post with a beauty, but then a flawless manoeuvre by Rooke and Arnold ended in Arnold giving Fulham a fifth."
The semi-final was played at nearby Stamford Bridge and East Londoners West Ham United were our opponents. The game kicked off at 6.40pm to accommodate the many war workers who wished to attend. Fulham lost a seven-goal thriller before a crowd of 32,799. The Hammers went on to beat Blackburn Rovers 1-0 in the final at Wembley with future Fulham player Archie Macaulay at right half.
A match report by the famous sportsman C.B. Fry for the West Ham/Fulham match stated: "At twelve minutes, from a tussle. Macaulay did the usual push through to Foreman, who shook off tacklers and shot. Brown helped the ball over. Twenty-two minutes. A fine wing pass; Rooke to outside right; lovely centre by McCormick and a brilliant shot by Rooke, brilliantly saved by Conway. At thirty minutes a tough, struggling dribble by Macaulay ended in a pass to Goulden, who made a keen opening and shot like a bijou catapult. Hammers two up, Walker, from back, sent a long pass to Foxall. That variable monkeyed past the back and swept across a long left-rooted beauty that was a winner for the Hammers' third goal. In the fourth minute of the second half Foreman executed a solo effort ending in an easy goal. The Hammers four up the match seemed to be won but Fulham had other ideas. Ten minutes later, Woodward headed in for Fulham. Another seven minutes and Rooke had another with McCormick laying an amazingly clever trap. 4-2. Incredible! Fulham scored again 4-3. At twenty-five minutes a penalty was awarded to Fulham for foul on Evans. Rooke scored. The Hammers had faded, but they came again. Then the end. Well, this Cup-tie was worthwhile. I went away admiring both teams and convinced that, even in the severest times, football played all out by tine young men is a tonic and an encouragement."
It was officially announced that the maximum attendance at the Fulham v. Brentford Cup-tie at Craven Cottage on the 20th April 1940 had been fixed at 15,000. The Home Office agreed that attendances at future matches should be permitted up to half the capacity of the ground, with the police to impose any restrictions considered necessary. The soccer season was extended to the 8th of June, to help war-hit clubs, but a month earlier. Chelsea were told to clear out of their rented headquarters at Stamford Bridge, to make way for the Saturday afternoon greyhound racing season. Fulham invited Chelsea to make Craven Cottage their headquarters. Learning that Chelsea may not be able to finish out the season at Stamford Bridge, Fulham Chairman John Dean and Director Chappie D'Amato immediately invited Chelsea to play at Fulham and the offer would be discussed at a Chelsea board meeting. "Chelsea have always been our friends in West London, football," says Mr. Dean. "We share much the same public, so why not the same ground if it will help?" As far as is known Chelsea never had to play at Craven Cottage.
Regular first team players from season 1938-39 again appeared in the Fulham first team. Joe Bacuzzi, Sam Malpass, Harry Freeman, Jim Evans, Ernie Hiles, Jim Tompkins, Jack Finch, Ronnie Rooke, Viv Woodward and Johnny Arnold often appeared. Future England international centre half, Jim Taylor, signed in 1938, had not yet played a league game, but was a key performer in this first war season. Rooke continued with his amazing scoring, bagging 33 goals in 35 appearances, ably assisted by Woodward with 23. Between them they scored over half of Fulham's goals that season. Arnold also made double figures with 13 goals.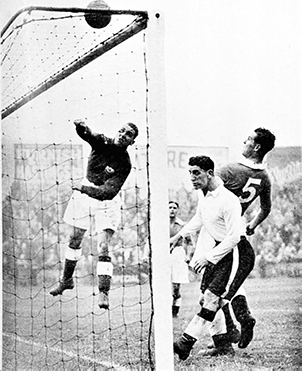 When Fulham visited the Valley on a Monday evening in April just 776 attended the match. The missing fans missed an exciting match that the Addicks won 7-5. The headline said "12 Goals for Shilling," a shilling (5p) being the entrance fee. Fulham goalkeeper R. Stuart was a 16-year-old amateur from Woking who made some fine fans despite letting in seven goals. Viv Woodward hit a hat-trick for Fulham and Rooke notched the other two.
Jim Tompkins, long-service Fulham half-back, serving with the Royal Fusiliers, was wistfully wondering what is to happen about his £500 benefit. He said it fell due last year, and he expected it at the start of this season. The reporter Stanley Halsey stated that, "When clubs were being urged last year to make their players Territorial, Tompkins was one of the first to join, and the first to go when war broke up the Soccer scene. He has just got married. As one of the khaki-clad, he is not certain where or what his future will be, so his feeling about his benefit is very human and understandable. But Fulham are in the position of many clubs who have to hold over benefits because war has so drastically cut revenue." "One cannot pay money out of the wind." Chairman John Dean said to me yesterday."
Fulham's record in the various Leagues was very average and this is their record for each season.
War League Record
| Year | P | W | D | L | F | A | Pts | Posn |
| --- | --- | --- | --- | --- | --- | --- | --- | --- |
| 1939-40 'B' | 18 | 7 | 4 | 7 | 50 | 51 | 18 | 4th |
| 1939-40 'C' | 18 | 8 | 1 | 9 | 38 | 42 | 17 | 7th |
| 1940-41 | 30 | 10 | 7 | 13 | 62 | 73 | 27 | 23rd |
| 1941-42 | 30 | 10 | 4 | 16 | 79 | 99 | 24 | 11th |
| 1942-43 | 28 | 10 | 2 | 16 | 69 | 80 | 22 | 14th |
| 1943-44 | 30 | 11 | 9 | 10 | 80 | 73 | 31 | 9th |
| 1944-45 | 30 | 11 | 4 | 15 | 79 | 83 | 26 | 11th |
| 1945-46 | 42 | 20 | 10 | 12 | 93 | 73 | 50 | 8th |
Biography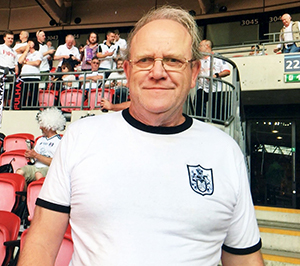 Born in Lambeth in 1952 and brought up in Wandsworth, Alex saw his first Fulham match in December 1962 and became a regular at the Cottage from 1965 and is Fulham FC's official historian. He wrote for the Fulham programme for most of the 1980s, 1998-2002 and in recent years, including many historical articles on the club plus contributions to the Footballer magazine.
Alex completed his first book with Dennis Turner – Fulham the Complete Record (1987) plus updates Fulham Facts & Figures (1998) and the second Fulham Complete Record in 2007 when the publishers managed to leave his name off the cover! Other Fulham books include: A Century of Memorable Fulham Matches (1997), The Men Who Made Fulham FC (2002), a Who's Who of Fulham players and managers, Fulham 1879-1979 (2007), a Photographic History, The Fulham Miscellany (2012), Fulham, The Early Years 1879-1907(2014) and Fulham-The Team - Seasons 1903 to 2019.
He has also made contributions to Fulham's Golden Years (1992) and Fulham the Team (1995). Other books have been Football Managers (1993) which included a Who's Who of every Football League manager from 1888-1993 and Football Grounds of London (2005) with Bob Lilliman. Alex has a BA (Hons) degree in Social Science from Kingston University and worked for over 35 years for Social Services and the London Probation Service but is now retired.
Fulham-The Team – Seasons 1903 to 2019 (ISBN 978-1-9160656-0-4) was published in August 2019 by Ashwater Press - www.ashwaterpress.co.uk