Fulham and The First World War
24/01/2020 - 3.27
Alex White
The League and FA Cup competi­tions were suspended from 1915 and replaced with regional leagues. Fulham played mainly against clubs in the London area, often four times a season. Players and supporters alike went to the front in ever increasing numbers as it became apparent that the war was no seven-day wonder. The authorities were concerned that football was impairing the war ef­fort, while clubs found it harder to cope finan­cially. In the four sea­sons between 1915 and 1919, Fulham's record was as follows:
LONDON COMBINATION
| Competition year | P | W | D | L | F | A | Pts | Pos |
| --- | --- | --- | --- | --- | --- | --- | --- | --- |
| 1915/16 Principal Competition | 22 | 10 | 4 | 8 | 45 | 37 | 24 | 5th |
| 1915/16 Subsidiary Section B | 14 | 9 | 0 | 5 | 38 | 19 | 18 | 4th |
| 1916/17 | 40 | 21 | 3 | 16 | 102 | 63 | 45 | 6th |
| 1917/18 | 36 | 20 | 7 | 9 | 74 | 60 | 47 | 3rd |
| 1918/19 | 36 | 17 | 6 | 13 | 70 | 55 | 40 | 4th |
The whole face of football changed in the season 1915/16. Manager Phil Kelso had the constant problem of putting together a team each week and he called on a variety of players to achieve this goal. Walter Tull appeared in the first three games of 1915-16. He has become more well-known in recent years with the input of historians. Walter was the British Army's first black combat officer and a casualty of the Great War. He played football for amateurs Clapton before playing professionally for Tottenham Hotspur and Northampton Town. He received his commission in May 1917, a remarkable achievement to rise from Private to Second Lieutenant in the space of two years, especially in a period when racism was common-place. He was killed in action in France in March 1918.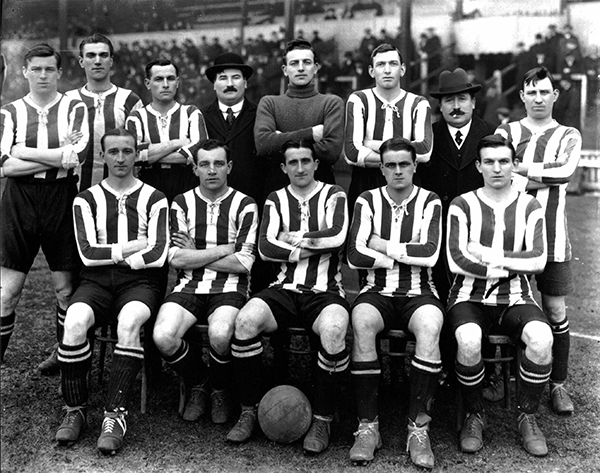 When Fulham played Brentford in October 1915, only 2,900 people paid a paltry £68.55p to see the game. This was good compared with the 1,500 who turned up at the Cottage to see Croydon Common, a pre-war Southern League club. They went into liquida­tion at the end of that season, and Crystal Palace took over their ground at the Nest near Selhurst Station. It was frosty and foggy, and the match was played in cheerless conditions. Private Paddy Allen, making his debut from Clyde, scored both goals in a 2-0 Fulham victory. A number of players failed to turn up for the game due to Army or Munitions commitments and Fulham's Scottish International inside-forward 'Wattie' White managed to persuade his old friend Scottish International Jimmy Galt to turn out for Fulham in this match. Galt was a sergeant in charge of a military encampment for motor machine guns in Surrey. Things got even worse by November 1915 for a game at Chelsea when manager Phil Kelso had to scurry around for players when seven that he had chosen failed to turn up. There was a crowd of only 2,500 when Clapton Orient were the visitors on Christmas Day 1915 which Fulham won 4-0.
On the 8th January 1916, Fulham played Crystal Palace at the Herne Hill cycle track and only 800 spectators attended. Two brothers faced each in this game, Ralph with Fulham and his younger brother Tom with Palace. Fulham's biggest win of the season came at Millwall when they won by 7-1 on a bitterly cold day with four inches of snow on the pitch. Will Taylor opened the scoring for the Whites after a few minutes from a rebound. David equalised for Millwall in the seventh minute but Fulham took complete command afterwards and Walter White hit a hat-trick, Ralph Shields a brace and one goal from James Smith.
A significant alteration of the rules was the intro­duction of the 'guest' system. With so many players in the forces and scattered all over the country (and Europe), clubs had to rely on whoever they could persuade to play on the day. Teams changed constantly from week to week and the majority were guest players, making an occasional appearance. Not surpris­ingly, there was a huge turnover of players: in fact 142 were used in these four seasons. In 1916-17 alone, 66 different players turned out for Fulham in 40 matches, 7 goalkeepers, 8 full-­backs, 16 half-backs, 22 inside/centre-forwards and 13 wingers.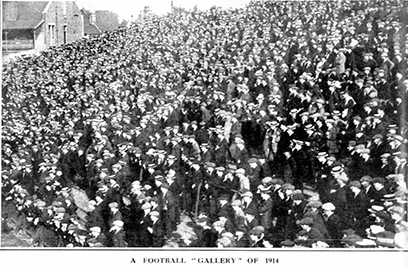 Gordon Hoare opened the 1916/17 season for Fulham in sensational style, scoring nine goals in the first three games of the season. The Cottagers won the opening game against Reading 9-0 and Hoare was on target five times including the first four goals of the match. Watford were beaten 7-0 in the next home match and Hoare hit a hat-trick. Fulham didn't open the scoring until the 35th minute. Watford were defeated 7-2 at the Cottage when the two teams met again in March 1917 with Jimmy Martin scoring hat-trick. The Lilywhites also defeated Watford 8-2 at Cassio Road on the 9th December 1916. Fred Nidd, who was a full-back for Fulham way back in 1903/04 season, was forced to play in goal in an emergency and could do little to stop the rampant Fulham forwards. George Martin scored a hat-trick, Will Taylor and Jackie Mordue each hit a brace and Gibson scored the other goal. The following week The Lilywhites beat Southampton 8-1 at Craven Cottage with hat-tricks from Harry Hampton and Hugh Tufnell and two from Jackie Mordue. The goals kept on coming and Fulham defeated Queens Park Rangers 7-1 at their Kensal Rise in late December. The score was 1-1 after 70 minutes but Fulham hit six goals in just fifteen minutes in an incredible spell.
Fulham opened the 1917/18 season in great style with a 7-1 hammering of Crystal Palace at the Cottage. Guest players Ernie Simms and Fred Morris both hit hat-tricks in what proved to be their biggest victory of the season. Fulham were top of the League by December but a poor end to the season let in West London rivals Chelsea for the title. With three games to go the two sides clashed at Stamford Bridge. However, Chelsea had assembled a very strong side and Fulham's lacked experience and were soundly beaten 7-0. Fulham's goalkeeper Frank Drabble had a magnificent game, despite letting in seven goals, as Chelsea completely dominated proceedings. Chelsea were five up after 30 minutes and never looked back. Fulham needed a good result in their next match at home to Brentford but lost 4-6 in a very entertaining match and thus their chances of the title came to an end. The Bees forward, Donald Cock, who signed for Fulham after the war, gave them a two-goal lead after 17 minutes. Another future Fulham signing, Bert White, scored two of the Bees goals. Danny Shea hit a hat-trick for Fulham, including a penalty, but it was not enough as Brentford mainly maintained a two-goal advantage throughout the match.
Attendances greatly improved after the War came to an end in November 1918, especially in the London Victory Cup in which Fulham found much success and reached the final. However, manager Phil Kelso was rather unfairly criticised for enhancing his team with some star players of the time. Fulham beat the London Munitions League representative side 3-0 in the first round before an attendance of 3,000. Play was fast and even in the first half, and scoring was confined to the last half-hour, when Fulham netted three times. Jimmy Torrance (with two excellent shots) and Frank Penn, from a corner that went in off the 'keeper, scored Fulham's goals. Arsenal were beaten in the next round at Highbury 4-1 before a crowd of 22,000. Fulham played several internationals, and with a forward line that included George Elliott, Bob Whittingham, and Jackie Carr, it was not surprising that the Cottagers gave a sparkling display. Former Fulham director and now Arsenal chairman, Henry Norris, accused Fulham of cheating. Fulham scored after four minutes. Williamson had stopped Elliott's shot, but failed to hold the ball and McIntyre netted. A good centre from Carr enabled Elliott to score the second goal after seventeen minutes, and eight minutes from half-time Whittingham added the third. Arsenal did better in the second half and reduced the lead in two minutes through Graham who scored from a penalty given against Hunter for handling the ball. Twelve minutes from the end Elliott added the final goal with a splendid left foot shot.
Fulham qualified for the final by beating Tottenham Hotspur 2-0. There was a huge holiday crowd at Stamford Bridge, estimated at 45,000, and as in the previous rounds, Fulham again fielded borrowed talent. Harry Hampton, of Aston Villa, led the forward line, with Bob Whittingham, of Chelsea, and Neil Harris on his right. The Fulham attack improved considerably after the resumption and Whittingham, beat the defence and shot a fine goal. Less than a quarter of an hour from the end, McIntyre started a movement on the left that ended in Whittingham adding the second goal with another good shot.
Despite the rain 36,000 people saw Chelsea beat Fulham 3-0 in the final of the London Victory Cup at Highbury on the 26th April 1919. Chelsea thoroughly deserved their success, but it was not until twenty minutes from the end that they scored their first goal. Jock Rutherford, of the Arsenal, shot two goals and won the game for Chelsea. After 70 minutes Rutherford opened the scoring for Chelsea. Wilding put in a centre from the right, and Whitehouse placed the ball for Rutherford to touch it into the net. Chelsea were now irresistible, and within ten minutes Whitehouse beat McNeal, and sent over a great centre for Rutherford to again dash the ball through. The Fulham defence was somewhat shaky, and just before the finish Wilding added the final goal. Whittingham had the strange experience of playing for Fulham in the Victory Cup semi-final victory over Spurs in 1919, in which he scored both goals, then, playing in the Final for Chelsea. In the Fulham line-up for this prestigious game were interna­tional guests Neil Harris, Bobby McNeal, George Elliott and Jack Carr.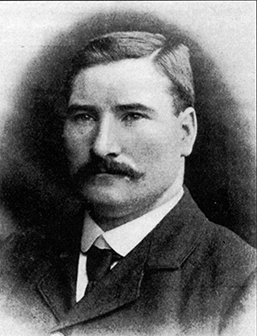 In the 1918/19 League competition, manager Phil Kelso had to change the team most weeks as players remained on Army or Government service. He used 69 different players during the season and had his work cut out finding last minute replacements when members of his chosen team failed to arrive due to other commitments. Results fluctuated wildly throughout the season but Fulham eventually finished in fourth place. They lost three times against champions Brentford but on the other hand Fulham gained 7 points out of 8 against Queens Park Rangers. Most of the line-ups were dominated by guest players. A player called Kelso played at right half against at Tottenham in early November but this was not the manager Phil Kelso. The biggest crowd in the League came against Chelsea on the 1st March 1919 when Chelsea visited the Cottage and were beaten 6-2 before 26,000 people. The first goal scored by Fulham was netted by the Chelsea centre-half, Middleboe, who, dashing up to stop Taylor, deflected the ball into his own goal after nineteen minutes. Within a minute, however, Halse put the visitors on terms. After twenty-seven minutes Jimmy Croal got away cleverly and put Chelsea ahead. Jimmy Torrance equalised for Fulham from a penalty and fifteen minutes from the interval Johnny McIntyre found the net again for Fulham. After this Fulham dominated the match and Neil Harris did all the actual scoring, putting in three beautiful goals.
There was an unfortunate accident, in the last fifteen minutes, to the Fulham forward, Bert Pearce, who came down in collision with Cracknell and broke his left leg. This marred what had been a splendid game at Craven Cottage against Crystal Palace on the 15th March. When Fulham beat Clapton Orient 2-0 at home on the 9th April, Fulham could not score until nearly forty minutes had gone by and then it was by means of a great shot by Eric Farnfield, at inside left. The press reporter stated that, "Farnfield had not been impressive hitherto, but possibly, if the spectators had realised that he has won the D.S.O. and the M.C., and is entitled to wear two wound stripes, besides having been badly smashed up when flying, they would not have indulged in quite so much derisive comments…A man who has gone through what Farnfield has cannot be expected to be quite so nippy in his movement as some of us." Three of his brothers had played one game against West Ham for Fulham in April 1904. Fulham's second goal was scored by Harris with a fine shot after McIntyre had dribbled nearly half the length of the field.
Biography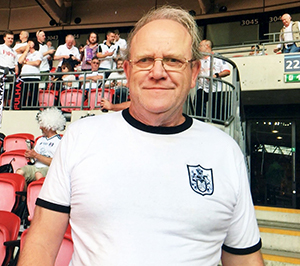 Born in Lambeth in 1952 and brought up in Wandsworth, Alex saw his first Fulham match in December 1962 and became a regular at the Cottage from 1965 and is Fulham FC's official historian. He wrote for the Fulham programme for most of the 1980s, 1998-2002 and in recent years, including many historical articles on the club plus contributions to the Footballer magazine.
Alex completed his first book with Dennis Turner – Fulham the Complete Record (1987) plus updates Fulham Facts & Figures (1998) and the second Fulham Complete Record in 2007 when the publishers managed to leave his name off the cover! Other Fulham books include: A Century of Memorable Fulham Matches (1997), The Men Who Made Fulham FC (2002), a Who's Who of Fulham players and managers, Fulham 1879-1979 (2007), a Photographic History, The Fulham Miscellany (2012), Fulham, The Early Years 1879-1907(2014) and Fulham-The Team - Seasons 1903 to 2019.
He has also made contributions to Fulham's Golden Years (1992) and Fulham the Team (1995). Other books have been Football Managers (1993) which included a Who's Who of every Football League manager from 1888-1993 and Football Grounds of London (2005) with Bob Lilliman. Alex has a BA (Hons) degree in Social Science from Kingston University and worked for over 35 years for Social Services and the London Probation Service but is now retired.
Fulham-The Team – Seasons 1903 to 2019 (ISBN 978-1-9160656-0-4) was published in August 2019 by Ashwater Press - www.ashwaterpress.co.uk