Spurs – A Family Affair
20/12/2017 - 3.19
Colin Bennett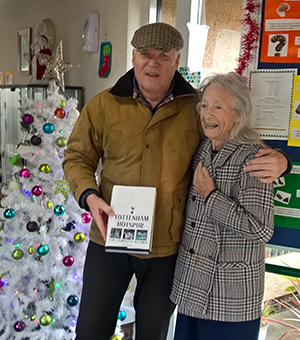 Pictured: Colin Bennett with his mother Kathleen
My father Les Bennett was born during the First World War on the 10th January 1918 in Wood Green, North London. He was one of 12. His father, George was a powder hall sprinter, meaning he ran for money as well as winning medals. George was also a scout for Charlton Athletic. His brother Len was a boxer and his brother George's mother-in-law's father, represented Great Britain in the 1908 and 1912 Olympic marathons. So, football and sport were in the Bennett family's blood.
Les attended the local Alexandra Primary School, whose modern-day motto is Aspire, Achieve, Enjoy, which he certainly did in footballing terms. Les played for the school team in what would prove to be the first step in a glorious playing career. He then went on to play representative football for Wood Green, London Schools and Middlesex Boys.
As a youngster, he was an Arsenal fan and in 1932, was a ball boy at Wembley for the Arsenal v Newcastle United FA Cup Final. 1935, would prove to be a pivotal year in Les Bennett's association with Spurs, when the club signed him as an amateur and was sent out to the club's nursery team, Northfleet based in Kent to begin his senior football education. This would prove to be the start of Les' long and ongoing connection with Spurs and football but not the Bennett family's. As on my mother's side (nee Brady), my second cousin Kenny McKay played for Sheffield United and won a Division 1 championship medal in 1899. He then moved to Spurs in 1900 then on to Fulham. But it was not just the menfolk who had a connection with the club. My grandmother's sister, Maud Bell took in Spurs washing during the early years of the 20th Century.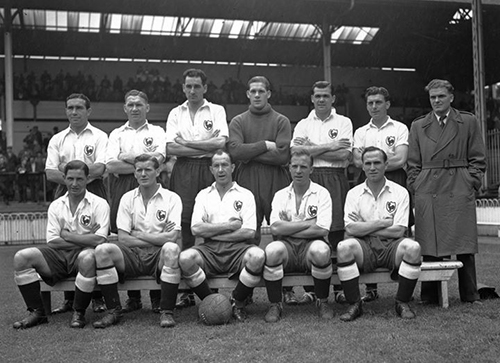 Pictured: Les Bennett 1st row, 2nd left
Les signed professional forms for Tottenham Hotspur in 1939 and was promptly called up to serve King and Country. He joined the Devon Regiment and was posted to Northern Ireland as well as seeing action in Burma, Egypt and India. Les played for the Army XI, in Burma with the Compton brothers, Dennis and Leslie who played for Arsenal. During the war, Les played for Spurs, in what was then termed the Football League South. He made 11 appearances, making his debut against Watford and scoring a hat-trick in an 8-2 victory. Les also guested for Torquay United, Millwall, Distillery (Northern Ireland) and for the Northern Ireland League. He also played for the FA against Diablo Rouge of Belgium, as well as being first reserve for England but never won a full cap. Les was a Corporal and was an Acting Sergeant on occasion. Being an Acting Sergeant as the story goes led to Les being captain once for Spurs during wartime football.
On his return to England after demobilisation, Les resumed his playing career with Spurs. As an Inside Forward, under the guidance of Arthur Rowe, the former Spurs and England player, who managed Spurs between 1949-1955, he won a Division 2 championship medal in the 1948-1949 season then a Division 1 championship medal in the 1950-1951 season with the famous push and run team. He was in the Spurs team that were runners up to Matt Busby's emerging football force, Manchester United in the 1951-1952 season. In the summer of 1952, he went on tour with Spurs to North America and was the highest scorer. On that tour, Spurs played and beat Manchester United twice 5-0 and 7-1 in the Yankee Bowl Stadium.
Les turned his talents to acting, when he had a cameo role in the 1947 James Mason film, Odd Man Out, where as a pedestrian he shows off his footballing skills!
He played in two F.A. Cup semi-finals, versus Blackpool, in 1948, when Spurs lost 3-1, then in 1953 again, against Blackpool, losing 2-1 on this occasion. Coincidently, both semi-finals were played at Villa Park, home of Aston Villa. Les made more history on the 16th April 1953 when he played for Spurs in the first floodlit match at the Boleyn Ground where West Ham United ran out 2-1 winners.
The Bennett family connection with Spurs and football continued during this period with his brother Ken, who played for Spurs, then went on to have a solid career with Southend, Bournemouth, Brighton and Crystal Palace. Also, my mother, Kathleen was born in Tottenham and I was born in Palmers Green in 1951 and lived in a club-owned house in the area.
Les played for Tottenham Hotspur from 1946-1954, making 272 appearances, scoring 104 goals.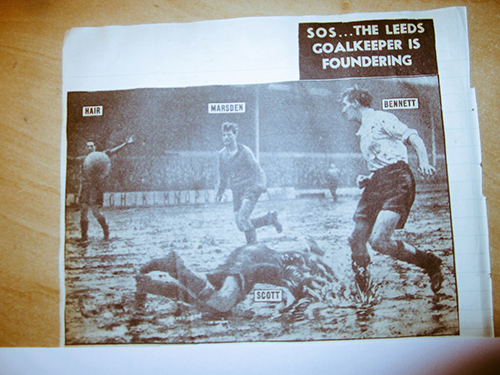 Pictured: Les Bennett in action
In December 1954, Les was sold to West Ham United for £5,000, playing for the Hammers between 1954-1955. He made 26 appearances scoring 3 times as well as captaining the side on a couple of occasions. He would have been the first player to sign live on television but was unable to attend the signing session due to me being ill and he wanted to be at home with me and my mother.
Les then began to wind down his footballing career. In 1956, he joined Clacton Town as a player-coach where he won further honours including the East Anglia Trophy. Then in 1959, he joined Romford as a manger for a season. Les continued in football acting as a scout for West Ham United for a number of years.
In 1964, Les came out of retirement to play in the John White Memorial Find match for the "Push and Run" XI against a Scotland XI.
Family connections with the club continue to this day. In the 1970s, my cousin Mark Fernaux had a trial with the club. I am of course a life-long Spurs fan and have designed some merchandising for the club.
Sadly, my father passed away in April 1999, aged 81 but there is a final twist or two to this story. At the final match to be played at the old White Hart Lane against Manchester United in the 2016-17 season, Les was pictured in the match programme and Spurs merchandising has been produced from this image.
This season at the 5th November match against Crystal Palace at the club's temporary stadium, Wembley, the Parade Commander leading the troops in a guard of honour at the match was Warrant Officer 1st Class Mark Quickfall, Regimental Corporal Major of the Household Cavalry Mounted Regiment, a Spurs fan and a distant relative of one Les Bennett
Colin Bennett
Colin Bennett is the son of Les Bennett. He is allegedly retired but still runs his own taxi business, which has been going for 33 years. Colin is multi-talented as he is an Artist, (encaustic wax art), Musician (guitarist) and a Lyric Writer signed to Red Bus Music with a Number 1 hit to his credit. He is also designer of football merchandising and a life-long Spurs fan – of course!