Examining the Far Right in the Midlands
One-day Conference - 1 June 2017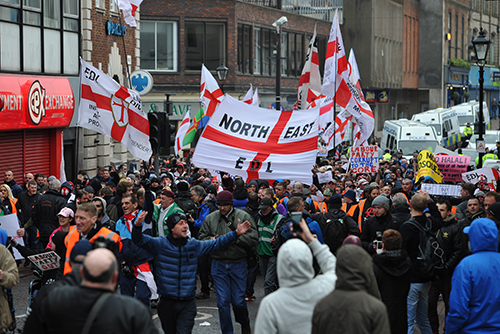 Time: 9.30am to 5pm
Venue: Room MU307, Lord Swraj Paul Building (MU), Molineux Street, Wolverhampton WV1 1SG
‌The University of Wolverhampton is organising a one-day conference on Thursday 1 June 2017 to consider the Far Right in the Midlands.
The event seeks to address questions such as:
why has the region proved so attractive to such groups
how significant a threat is such activity to the region
what has been the response by the community and the authorities and is a different approach required?
The event aims to bring together academics, journalists, representatives from the policing and criminal justice system, NGOs, charities and community activists.
(Photo courtesy of the Express and Star)
Presentations and contributions
There will be presentations and contributions from:
Bob Spencer (Walsall Council)
Paul Betts (West Midlands Police)
Nigel Bromage (Small Steps)
Razia Butt ( Birmingham City Council)
Jonathan Peepall (West Midlands Police)
Paul Jackson (University of Northampton)
Mark Littler (University of Hull)
Leonie Jackson (University of Huddersfield)
Further details
Please contact Prof George Kassimeris (g.kassimeris@wlv.ac.uk) and/or Dr Eamonn O'Kane (e.okane@wlv.ac.uk).