'The End of the War & the Reshaping of a Century'
D‌‌ate: 6 to 8 September 2018‌
Venue
The conference will take place in the Millennium City Building, City Campus, University of Wolverhampton.
The registration desk will be on the ground floor, outside lecture theatre MC001. All keynote lectures, and some panel sessions, will take place in lecture theatre MC001. All other panel sessions will take place in seminar rooms on the 4th Floor of the MC Building, room numbers MC418, MC419 and MC437. The building is fully accessible; fourth floor is accessible via lifts.
Maps and directions are available here.
‌Speakers and their topics
Keynote speakers: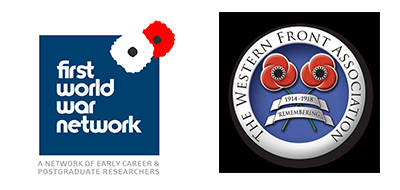 Professor Alison Fell (University of Leeds), 'Women as Veterans of the First World War in France & Britain'
Professor Peter Frankopan (University of Oxford), 'The Legacy of the First World War in Asia'
Professor John Horne (Trinity College Dublin), 'When Did The First World War Actually End?'
Professor Gary Sheffield (University of Wolverhampton), 'The Place of 1918 in Military History'
Professor Sir Hew Strachan (University of St. Andrews), 'How the War Shaped Understanding of Strategy in the Twentieth Century'
Professor Laura Ugolini (University of Wolverhampton), 'What next? British men and masculinities after the war'
Professor Jay Winter (Yale University), 'War and Revolution, 1918'
Description
‌This international conference will be hosted by the Centre for Historical Research at the University of Wolverhampton in collaboration with the Western Front Association and the FWW Network for Early Career & Postgraduate Researchers. It is further supported and sponsored by: the Arts & Humanities Research Council's First World War Public Engagement Centres; Helion & Company; Battle Honours and the Royal Historical Society.
The event will spotlight the latest research on the events of 1918 as well as the global significances, consequences, and legacy of this watershed year.
It brings international perspectives and encompasses a wide range of historical approaches as well as cross-disciplinary insights. To do so it will include seven keynote addresses from some of the leading academic authorities on the First World War and its aftermath, along with over sixty speakers in themed panel sessions. It will also include a roundtable discussion based on the theme of: 'A Hundred Years of Teaching, Learning & Understanding the First World War: Where are we now?'
The event has been developed collaboratively with heritage agencies, museums, art galleries, funders, schools and community groups involved in First World War research, remembrance and events.
View the programme: 1918-2018 Conference Final Programme (PDF) (PDF)
Watch Live & Join the Conversation
As well as live-tweeting during the event we are hoping to live-steam some sessions (including selected keynote lectures and selected panel sessions).
Just follow the links below at the date and time indicated to watch and don't forgot to then join in with the conversion @1918to2018 using the hashtag #WW1wolves2018
DAY 1: Thursday 6 September 2018

12:00 - 14:00

Panel 1: New Technologies & New Communications

CHAIR: Colin Wagstaff

Brian Hall, 'Reliability through redundancy? The BEF's communications system, 1914-1918'
Jim Beach, 'Caught out and catching up: Enforcing security upon the BEF's telephones in 1916'
James Bruce, 'Rather Heterogenous drafts: specialised SIGINT personnel'
Stuart Hadaway, 'A triumph of air offensive action: The Battle of Megiddo, September 1918, and the birth of modern air power'

15:00 - 16:30

Panel 5: Command, Cohesion & Strategy
Sponsored by Battle Honours

CHAIR: John Buckley

Howard Fuller, '"The necessity for a definite and coherent policy": Anti-Bolshevism and the Course of British Naval Operations in the Baltic Provinces, 1918-1919'
Tom Thorpe, 'Unit cohesion in 1918: a forgotten factor in the BEF's victory?'
David Zabecki, 'Reputations 100 Years On'

17:00 – 18:15

Keynote Lecture
Professor Alison Fell (University of Leeds):
''Women as Veterans of the First World War in France & Britain'
Chair: Oliver Wilkinson

DAY 2: Friday 7 September 2018

10:00 – 11:15

Keynote Lecture
Professor Peter Frankopan (Oxford University):
'The Legacy of the First World War in Asia'
Chair: Gary Sheffield

11:45 – 13:15

Panel 9: 1918: Kaiserschlacht & Aftermath
Sponsored by Helion & Company

CHAIR: Tom Thorpe

William Stewart, '"The Most Vivifying Influence": Operation 'Delta' in Preparing the Canadian Corps for the Hundred Days'
Miguel Freire, 'Portuguese in Flanders, 1918: a defeat abroad amongst revolutions on homeland'
Brendan O Shea, 'The Last Days of the 16th (Irish) Division'

14:15 – 15:45

Panel 13: 1918: The Hundred Days, Military Operations & the Closing of the War
Sponsored by Helion & Company

CHAIR: John Horne

Alistair McCluskey, 'Haig's forgotten triumph: The Battle of the Hindenburg Line 1918'
Richard Stobo, 'The Australian Victories in France in 1918? An Examination of Australian Corps Operations during the Hundred Days'
Glyn Harper, '"A topsy-turvey old world": from fighting to dancing with the enemy. The New Zealand Division's war, November 1918 to March 1919'

16:15 – 17:30

Keynote Lecture
Professor Laura Ugolini (University of Wolverhampton):
'What next? British Men and Masculinities after the war'
Chair: Stephen Badsey

DAY 3: Saturday 8 September 2018

11:45 – 13:15

Panel 17: Commemoration and the Construction of Memory

CHAIR: Glyn Harper

Sofya Anisimova, 'Remembering the Russian Expeditionary Force in Russia and France in the interwar years'
Mark Connelly, 'Ypres: Transforming a Belgian City into and outpost of the British Empire, 1919-1939'
Stephen Badsey, '1918 & The Invention of Propaganda'

14:15 – 15:30

Keynote Lecture
Professor Jay Winter (Yale University):
'War and Revolution, 1918'
Chair: Laura Ugolini
Organising Committee
The conference is organised by the following members of the CHR in conjunction with the WFA: Professor Stephen Badsey, Professor John Buckley, Dr Simon Constantine, Dr Spencer Jones, Professor Gary Sheffield, Professor Laura Ugolini and Dr Oliver Wilkinson.
Who to contact for more information
For all enquiries please contact Dr Oliver Wilkinson - email to O.Wilkinson@wlv.ac.uk
You can keep up to date with the latest event news on these webpages and by following us on twitter @1918to2018
Follow conference tweets during the event using #WW1wolves2018
Conference fees and how to book
Conference Booking has now closed
Conference dinner(s)
Optional conference evening meals will be held on Thursday 6th September 2018 (at Novotel Wolverhampton) and on Friday 7th September 2018 (in the Chancellor's Hall, University of Wolverhampton). The latter will be a three-course dinner to include an after-dinner keynote address by Professor Gary Sheffield (please see programme for details).
There is no dress code for the conference dinners.
The conference dinners are not included in the conference fee; pre-booking for the evening meals is essential.
Booking for the evening meals has now closed.
Accommodation
Delegates requiring overnight accommodation during the conference must make their own arrangements. Regrettably no university accommodation is available.
We are using Novotel Wolverhampton as the hotel of preference for the event.
Delegates are under no obligation to use Novotel and there are a wide range of accommodation options across the city.
Other options include:
Redwings Lodge, Wolverhampton
Premier Inn, Wolverhampton City Centre
Photo credit: A British patriotic postcard captioned 'Victory in sight', The Army Children Archive, reproduced under a Creative Commons License layered over photograph of amassed German prisoners, France, World War One, National Library of Scotland, reproduced under a Creative Commons License.