Back
Back
All rise as student satisfaction remains on the up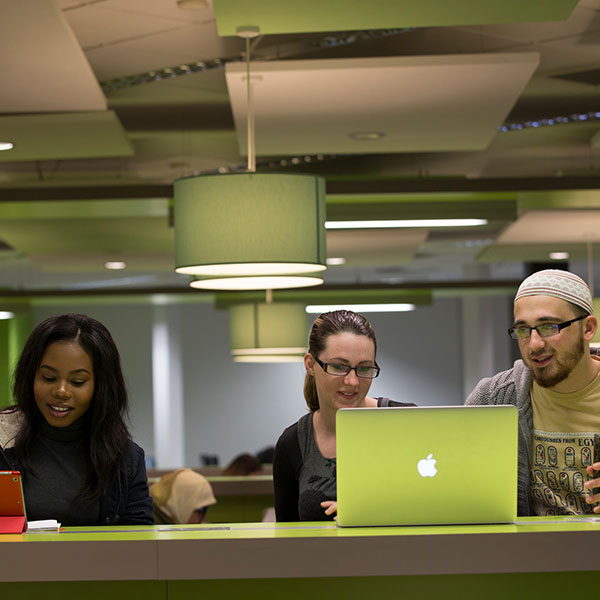 Students at the University of Wolverhampton are more satisfied than they have ever been, according to a national survey.
The National Student Survey (NSS) asks students from all over the country how satisfied they are with their university, course, teaching, support, resources and students' union.
Overall satisfaction among students at the University of Wolverhampton rose again to 83.44 per cent from 82.5 per cent last year.
Satisfaction with teaching rose at the University to 85 per cent and the quality of academic support provided to 80 per cent.
Students were particularly happy with the learning resources they had access to, with 87 per cent reporting they were satisfied and satisfaction with the learning opportunities available was up to 85 per cent.
There were also notable rises in how the University listens to its students and how it manages assessment and feedback.
Dr Anthea Gregory, Deputy Vice-Chancellor Academic at the University of Wolverhampton, said: "We are very proud with the results of this year's National Student Survey as they reflect our success at putting students at the very heart of all that we do.

"It is really pleasing to see a rise in overall student satisfaction but even more so in key areas such as our teaching, which is above the national average for satisfaction levels.

"As the University of Opportunity, we are committed to enhancing students' learning opportunities, scoring consistently higher than the national average recognises our achievements in this area.
"We have also seen rises in important areas such as the student voice, academic support and assessment and feedback.
"Getting such feedback from our students is invaluable and demonstrates we are listening to them and providing them with the support and experience they need to succeed.
"The results of the NSS 2019 show that the University of Wolverhampton is a great place to study and our excellent graduate employability record is evidence of the success of our students."
The University's Clearing website is now live and a number of courses still have spaces available for September 2019 start. Clearing offers an alternative route for enrolling on a University course.
BTEC and Access students who already have their results can start the application process now while A Level students can apply for a place when they receive results on Thursday 15 August 2019.
Applicants can register for a phone call from an advisor on A Level Results day through our website or call the Clearing Hotline on 01902 518585. The next Open Day takes place on Saturday 17 August 2019.
The NSS 2019 follows on from strong employability results, which show that 96 per cent of University of Wolverhampton students have a job or are in further study six months after they graduate, with 72 per cent in a graduate-level role.
The University also holds a Silver award in the Teaching Excellence Framework (TEF), recognising the quality of the learning and teaching.
For more details on what courses are available through Clearing visit: www.wlv.ac.uk/clearing
Further information
For more information please contact the Media Relations Office on 01902 32 2736 or 01902 518647.
Date Issued: Thursday, 04 July 2019