Back
Back
University celebrates graduates at historic honorary event
A celebration lunch was hosted for honorary graduates by the University's Chancellor, the Rt Hon Lord Paul of Marylebone PC.
The University also outlined plans to celebrate almost 200 years of providing education in the City of Wolverhampton when it reaches its milestone anniversary in 2027.
More than 50 guests from sectors covering health, media, construction, engineering, education and faith attended the event which was held in the Chancellor's Hall.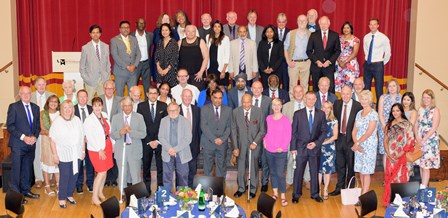 Honorary graduates receive awards from the University for making an outstanding contribution to the local area or their professional field.
Guests included cycling legend Hugh Porter MBE, herpetologist Mark O'Shea, singer/songwriter and Pro-Chancellor at the University, Jaki Graham, endurance marathon runner 'Blind Dave' Heeley and diversity consultant for ITV News, Vidar Hjardeng MBE.
High-profile special guests included His Excellency Yashvardhan Kumar Sinha, Indian High Commissioner, Dr Aman Puri, Consul General of India and University Governors, Ninder Johal and Tony Collins, former Chief Executive of Virgin Trains, Angela Spence and Parminder Dosanjh.
University Chancellor, the Rt Hon Lord Paul of Marylebone, said: "We were delighted to host this special occasion to recognise the significant contribution our honorary graduates make to their fields and the life of the students who study at the University. Without a doubt, people here have the opportunity to change people's lives for the better and, as always, we acknowledge the level of support you offer the University."
Vice-Chancellor, Professor Geoff Layer, said: "Our honorary graduates provide significant inspiration to our students, either through presenting guest lectures or providing work experience opportunities as well as acting as mentors or offering scholarships.

"It was a privilege to be in a room with so many people who have contributed so much in many different ways and to outline our ambitious fundraising plans for celebrating 200 years of providing education in the region."
Tony Collins, Director at Tribe Consulting, a member of the University's Business School Advisor & Development Board and an Independent Governor, said: "Without a doubt, being an Honorary Graduate at the University has given me confidence and challenged me to stretch myself. As the Head of Virgin Trains, we ran joint initiatives with the Business School and it was all about providing opportunities.
"When I was starting out on my career, finding someone to believe in me was the most important thing and as Honorary Graduates, this is what we want to continue to achieve, providing students with a safe and onward journey."
ENDS
For more information please contact the Media Relations Office on 01902 32 2736 or 01902 518647.