Back
Back
New degree provides pathways to careers in demolition
The University of Wolverhampton has signed an agreement with the Institute of Demolition Engineers (IDE) to provide a new qualification in Demolition Management.
The Undergraduate Bachelor of Science (Honours) Degree will be partly delivered by IDE up to Foundation level and then topped up by the University.
The University of Wolverhampton launched the first Demolition Management Master's degree in Europe last year. Accredited by the Institute of Demolition Engineers (IDE), the course has been designed in conjunction with industry specialists and is being delivered by both academics and demolition sector experts.
This follows the signing of the Memorandum of Understanding (MOU) between the University of Wolverhampton and IDE, providing significant opportunities for students and existing practitioners. IDE practitioners have been involved in the development and delivery of the new degree which will provide a pathway for people interested in working in the industry.
The new qualification was announced at the EnTRESS 'This is Demolition' Event held at the Springfield Campus recently. The event brought together academics, industry and practitioners from the demolition industry as well as businesses and employers to share ideas and consider knowledge transfer to feed into the degree curriculum.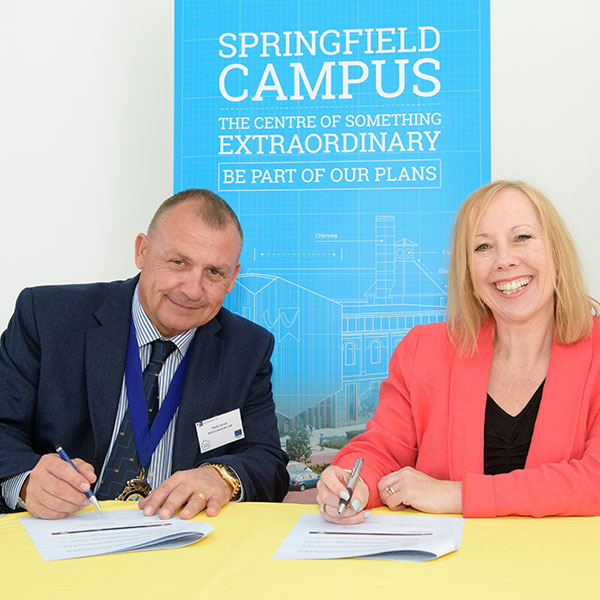 IDE President, David Darsey, said: "Today has been a long time in the making and it's very exciting. I feel very privileged to be at the helm of the IDE whilst signing the official document today.

"This is a huge milestone for the industry and, having started at the bottom of the ladder it's very encouraging to see how things are progressing in the construction sector. This new degree will provide a vital stepping-stone to encourage people to join the demolition industry whilst also offering them pathways to progression."
Jackie Dunne, Deputy Vice-Chancellor at the University, said: "This important partnership with the IDE will ensure that there is a ladder of education for young people which links back to the construction industry.
"We are very proud that we are the only University in the world that offers a programme for the entire lifetime of a building from design right through to demolition and it is thanks to the tireless efforts of partners like IDE that we are able to develop programmes which are both relevant to industry and vital to supporting local, national and international economies."
Anyone interested in studying Demolition at the University should register for the next Open Day on 18th August 2018.
Our Clearing website is now up and running and courses still have spaces available. Clearing offers an alternative route for enrolling on a University course. BTEC and Access students who already have their results can start the application process now while A Level students can apply for a place when they receive results on Thursday 16th August 2018.
Applicants can register for a phone call from an advisor on A Level Results day or call the Clearing Hotline on 01902 518585.
ENDS