Back
Back
University sponsors Walsall FC Academy
The University of Wolverhampton and Walsall Football Club have further strengthened their partnership after announcing sponsorship of the club's academy.
The University, which already sponsors the away supporters stand at the Banks's Stadium, will now have its name and logo on the front of the club's youth team shirts for the 2018/19 season as part of an initial one-year sponsorship.
Walsall Chief Executive Officer, Stefan Gamble, said: "We have enjoyed a very good relationship with the University for some time now and I am delighted that they have decided to sponsor our academy for the forthcoming season. I look forward to working with Chris and his team moving forward."
Speaking after the deal was agreed Academy Manager, Graham Biggs, said he was delighted that the club has been able to extend their ties with the University.
‌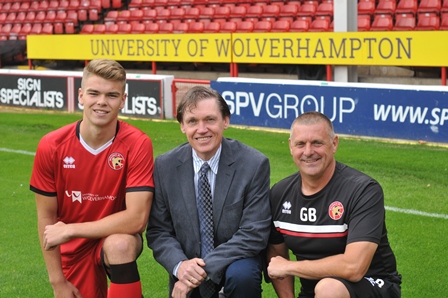 He said: "We have always had a very good relationship with the University of Wolverhampton and we have had an ongoing partnership with them having interns here, supporting the curriculum and using their facilities over the last few years.

"This year we have also been lucky enough to have the University sponsor the youth team which is a great deal for us both.

"Chris Sellars has become a close friend, he comes in and delivers sport psychology talks to our boys and parents and he has been at a few of our parent's evenings.

"I had the privilege of going to the University last year to give out an award which further strengthened our relationship with them."
Dr Chris Sellars, who is Deputy Director of the Institute of Sport and Human Science and Head of Outreach and Development, said: "It is really exciting for us. We have been working with the football club for a few years but this is a chance for us to extend that relationship for the benefit of both parties.
"We have got plenty of students who want to learn within a performance environment and we have now got opportunities to both support the players but also create opportunities for our students.
"It means that we will be able to strengthen our curriculum, provide access to applied practice and deliver components here at the club, so it works well for both sides.
"We are glad we have been able to extend our ties with the club."
Under 18's captain Tom Leak believes that being able to learn from people who are also learning at the same time will mean that they are both able to help each other and he is looking forward to partnering up with the University students.
He said: "Being able to learn from people who want to come into the industry and being able to help them learn is good for both sides involved because being able to train footballers in a gym is different to helping someone who just wants to bulk up.
"We are doing it because we have to strengthen ourselves in our specific sport.
"I am really looking forward to starting the partnership with the University and learning from the students who come in."
Picture caption from left to right: Tom Leak, Under 18's Captain, Dr Chris Sellars, University of Wolverhampton and Graham Biggs (Academy Manager).
ENDS
For more information please contact the Media Relations Office on 01902 32 2736 or 01902 518647.