Back
Back
Top Banana nurtures creative talent with Design Academy Initiative
Leading creative communications agency, Top Banana, welcomed University of Wolverhampton design students throughout July, advancing on their already successful Design Academy programme, now in its third year.
The three students from the University of Wolverhampton and University of Birmingham each spent three days at Top Bananas' Midlands headquarters, learning the ins and outs of the industry and each supporting on real life client briefs.
Driven by Top Bananas Art Director, Dave Pinches, the Design Academy's goal is to help nurture new, creative talent and help young people progress into the industry with experience and guidance from Top Banana's practised creative department. By allowing real life studio experience and the opportunity to work on live, time sensitive projects, the students all get a true insight into creative design processes and a view into working life post university.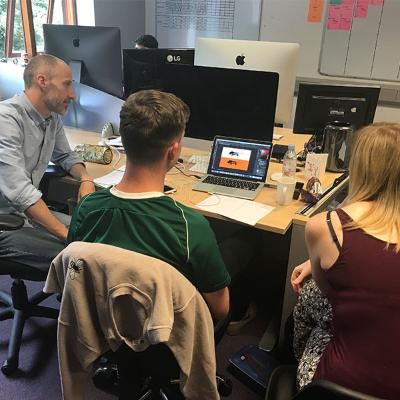 Dave Pinches said: "At Top Banana we're really passionate about getting new and fresh blood through the studio, and as I have previous experience as a lecturer we decided to marry the two worlds. The programme gives young people a chance to hear professional feedback on their work, helping them understand how to use their portfolios to showcase their skills when talking to prospective employers. Our aim is for students to come away excited about the industry and passionate about design."
When asked about her experience at Top Banana, Rosie, a Design Academy student from the University of Wolverhampton, said: "I have really enjoyed my few days spent at Top Banana, the experience has been really useful, and it has given me more work and experience for my portfolio. The talented creative team here have been great to work with and have made my time at Top Banana really enjoyable. Moreover, I have really enjoyed working on a brief that is completely different to the usual University projects that I am used to."
For more information please contact the Media Relations Office on 01902 32 2736 or 01902 518647.