Back
Back
Drama graduates get hands-on in creative museum internship
Three graduates from the University of Wolverhampton benefited from hands-on experience of working with a creative touring company recently.
Jon Rogers, Kayleigh Talbot and Sabrina Nabi, School of Performing Arts Drama degree graduates, worked with four core artists in residence from the Black Country Touring Company, supported by the Black Country Living Museum, on a six week paid internship which provided them with opportunities to develop their skills, expand their CVs and create valuable networking contacts.
Black Country Touring is both a producing company and a touring network working across the whole of the Black Country. The company has a reputation for creating high quality work for non-traditional spaces drawing on the stories of local communities.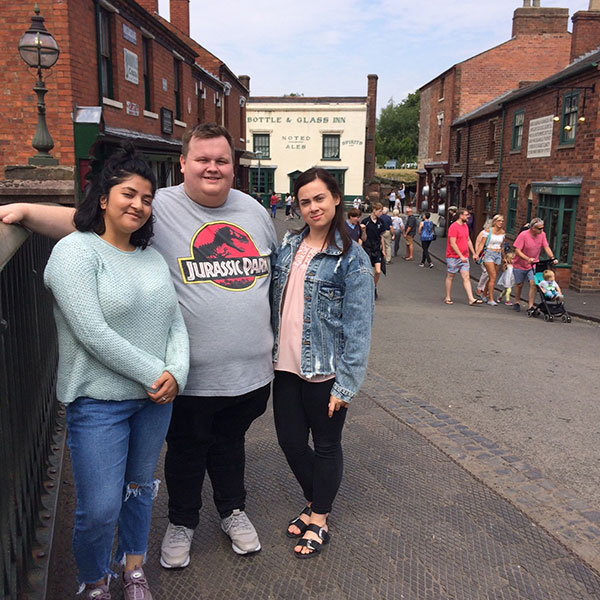 The Drama graduates led the research phase of the project and the company created new multi-artform performances, in three separate spaces at the Black Country Living Museum, in response to the research about the historical shops in the museum.
The production company created vivid experiences for audiences throughout August using different performance styles in each of the locations. The performances were designed to reflect the spaces and their history, and also individual connections to the Black Country today.
The performances drew on a range of performance styles and techniques to create educational entertainment that respond to Black Country heritage and engages both past and present identification with the region.
Claire Hampton, Course Leader and Senior Lecturer in Drama at the University, said: "The School of Performing Arts prides itself on high rates of employability and this was an ideal project to retain and nurture talented graduates here in the Black Country. As graduates, the students displayed the necessary skills and provided professionalism, initiative, creativity and confidence in a high-profile, successful project."
Jon Rogers, 31 from Wednesbury, said: "I really enjoy the research side of creating a new piece and it's very satisfying to sit back and watch something I have created. This was my first time working with Black Country Touring and it was great to work with other researchers to compile stories and memories sourced from people visiting the Black Country Museum."
The final performance of BCLM's Summer Evenings programme is on Friday 24th August from 5.00 pm onwards at The Trap Works, J.Wiltshire Pawnbrokers and Gripton's Radio at the Black Country Living Museum. Bookings: 0121 557 9643.
ENDS
For more information please contact the Media Relations Office on 01902 32 2736 or 01902 518647.