Back
Back
Cultural symposium offers fashion debate at local art gallery
The University of Wolverhampton has collaborated with Creative Black Country to offer a symposium with a cultural fashion theme.
The event, being held at the Wolverhampton Art Gallery on Saturday 18th August, brings together artists, art historians, activists, curators and consumer industry experts to respond to, expand on and debate contemporary themes emerging from the Slaves of Fashion exhibition being held at the gallery by internationally renowned artists The Singh Twins until 16th September.
The FREE event, which starts at 10.00 am and runs until 4.00 pm, includes an introduction by The Singh Twins, refreshments and a buffet lunch. Book tickets here.
Slaves of Fashion combines traditional hand-painting with digitally created art to rethink the history of Empire and Colonialism through Indian textiles, exploring themes of trade, slavery, luxury and conflict, and connecting with contemporary issues of ethical trade, sustainability, and identity, in a globalised world today.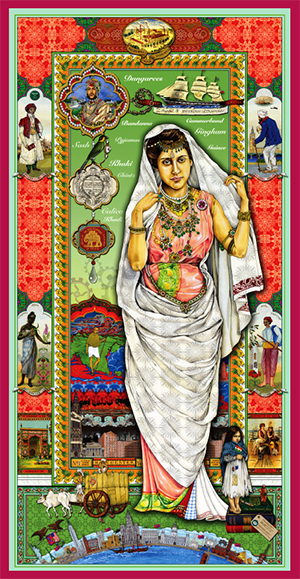 Dr Fiona Hackney, Professor Fashion Theory at the University of Wolverhampton, said: "The symposium is an opportunity to explore the wider social, historical and political issues underpinning this important exhibition. It invites staff and students at the University to come together with the wider community to consider how together art, material culture, and activism can make a real difference in how we think about questions of identity, imperialism, sustainability, globalisation and trade.

"We hope that this will be the start of a longer collaboration with the Singh Twins whose distinctive work makes a significant and unique contribution to the art world today."
Parminder Dosanjh, Creative Director of Creative Black Country, said: "We're delighted to be working with the University of Wolverhampton to promote this one-off event in the Black Country. The Singh Twins latest series of works are filled with so many stories of global fashion and textiles it demands a closer look."
Key speakers include Anand Chhabra, Black Visual Arts CIC & Apna Archive Black Country Visual Archive (BCVA), Dr Kate Marsh, Professor of French Studies at the University of Liverpool, Kajal Nisha Patel, Visual Artist, Ruth Strange, Ethical Consumer Research Association Ltd, Suki Dusanj-Lenz, Fashion Revolution Representative India and Sustainable Fashion Activism and Dr Megha Rajguru, University of Brighton.
Creative Black Country is a Creative People Places project funded by Arts Council England.
Our Clearing website is now up and running and courses still have spaces available. Clearing offers an alternative route for enrolling on a University course. BTEC and Access students who already have their results can start the application process now while A Level students can apply for a place when they receive results on Thursday 16th August 2018.
Applicants can register for a phone call from an advisor on A Level Results day or call the Clearing Hotline on 01902 518585. The next Open Day takes place on Saturday 18th August 2018.
For more information please contact the Media Relations Office on 01902 32 2736 or 01902 518647.