Back
Back
CASE STUDY: Start here through Clearing: Kellie Foster
"When I was offered a place at the University of Wolverhampton, I felt like I could breathe again because I hadn't let myself down completely which is how I felt."
Kellie Foster, 21 from Southend in Essex, studied A Levels at South Essex College in 2015 but didn't quite make the grade for her first choice universities.
Her aim had been to study drama at a London based university but when she didn't get the results she needed for the particular course she had chosen, she went through the Clearing process and was offered a place at the University of Wolverhampton studying Drama and Musical Theatre.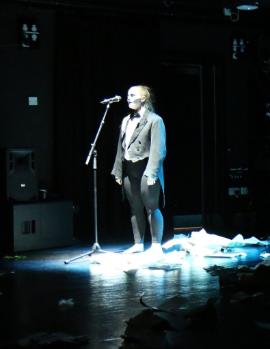 She said: "I went into complete panic mode when I realised I hadn't got the grades I needed. It can be a really scary process but I began to search for drama courses elsewhere.

"The course at the University of Wolverhampton was intriguing and, although it was a little further than I wanted to go - it's quite far away from Essex - when I was offered a place I felt like I could breathe again because I hadn't let myself down completely which is how I ultimately felt."
Kellie is graduating in September with a First Class Honours Degree in Drama and Musical Theatre.
For more information please contact the Media Relations Office on 01902 32 2736 or 01902 518647.