Back
Back
New hub offers one-stop destination for apprenticeships
The University of Wolverhampton's Apprenticeship Hub was officially opened in the presence of local guests and dignitaries.
The £500,000 investment, which includes a funding contribution of over £150,000 from the Black Country Local Enterprise Partnership (LEP), is part of the University's ambitious Our Vision: Your Opportunity strategy which will see a £250 million investment over five years in support of economic growth.
The Apprenticeship Hub, the former Feathers Public House on Molineux Street, will provide a one-stop destination for employers, parents and apprentices, providing access to valuable resources and support, including details on available apprenticeship programmes covering a wide variety of trades and professions.
Geoff Layer, Vice-Chancellor at the University of Wolverhampton, said: "The government is committed to providing three million apprenticeships during this parliament – the majority of which will be higher level skills with a requirement that courses meet the skills needs identified within each region.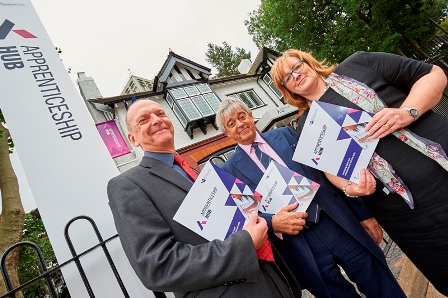 "We've worked very closely with the LEP Board and local employers to identify regional skills gaps and are working towards providing a range of technical and professional higher and degree apprenticeship pathways that are both relevant to industry and which offer apprentices real progression in their chosen careers."
George Andrews, Chair of the Black Country LEP Employment and Skills Board, said: "All across the UK businesses are finding it increasingly difficult to secure the highly skilled people needed to support their needs. Apprenticeships are a critical part of the strategy to provide the pipeline of talent required to meet industries requirements.
"Substantial effort and resource is being deployed by the Black Country LEP to help revitalise and regenerate the Black Country – an area which has a rich history of high value manufacturing across a number of different business sectors. The new Apprenticeship Hub will be a key enabler helping bring this strategy to life and is welcomed by business across the region."
The University's first Higher Apprenticeship is already underway, delivered through a Foundation Degree (Science) in Built Environment by the Faculty of Science and Engineering leading to a Higher Apprenticeship in Construction Management. Wolverhampton Homes, Wakes Construction and United Living are the first employers to benefit from working in partnership with the University of Wolverhampton to deliver the apprenticeship training programme.
Anthony Pennant, United Living, currently studying for the higher apprenticeship, said: "When I was offered the chance to study for a higher level qualification, it was an opportunity that I couldn't turn down. It's important for people to realise it's not all just about books, it's about getting people back into learning and education and making it relevant to their working life."
Picture Caption from left to right: Professor Geoff Layer, Vice-Chancellor at the University of Wolverhampton, Tom Westley, Black Country Local Enterprise Partnership Board Member and Michele Roberts, Apprenticeship Hub Manager.
ENDS
For more information please contact the Media Relations Office on 01902 322736 or 01902 518647.
Date Issued: 27th September 2016
For more information please contact the Media Relations Office on 01902 32 2736 or 01902 518647.