Back
Back
BEYOND THE SEA
"I'm back used to living on dry land and don't want to go anywhere near open water for a while."
You can't blame University of Wolverhampton alumnus Lee Felton for his new aversion to the big blue; it comes after he and friend Sean Lannon completed the Talisker Whisky Atlantic Challenge in February 2016, having crossed the sea from the Canary Islands to Antigua in just 65 days.
Since graduating in 2007 in BSc (Hons) Sport and Exercise Science, Lee has travelled the world seeking new thrills but the so-called 'world's toughest row' was a challenge all of its own. In a boat about the size of a Range Rover, the two-man team set off in December with 26 other teams to embark on the 4,800km transatlantic race.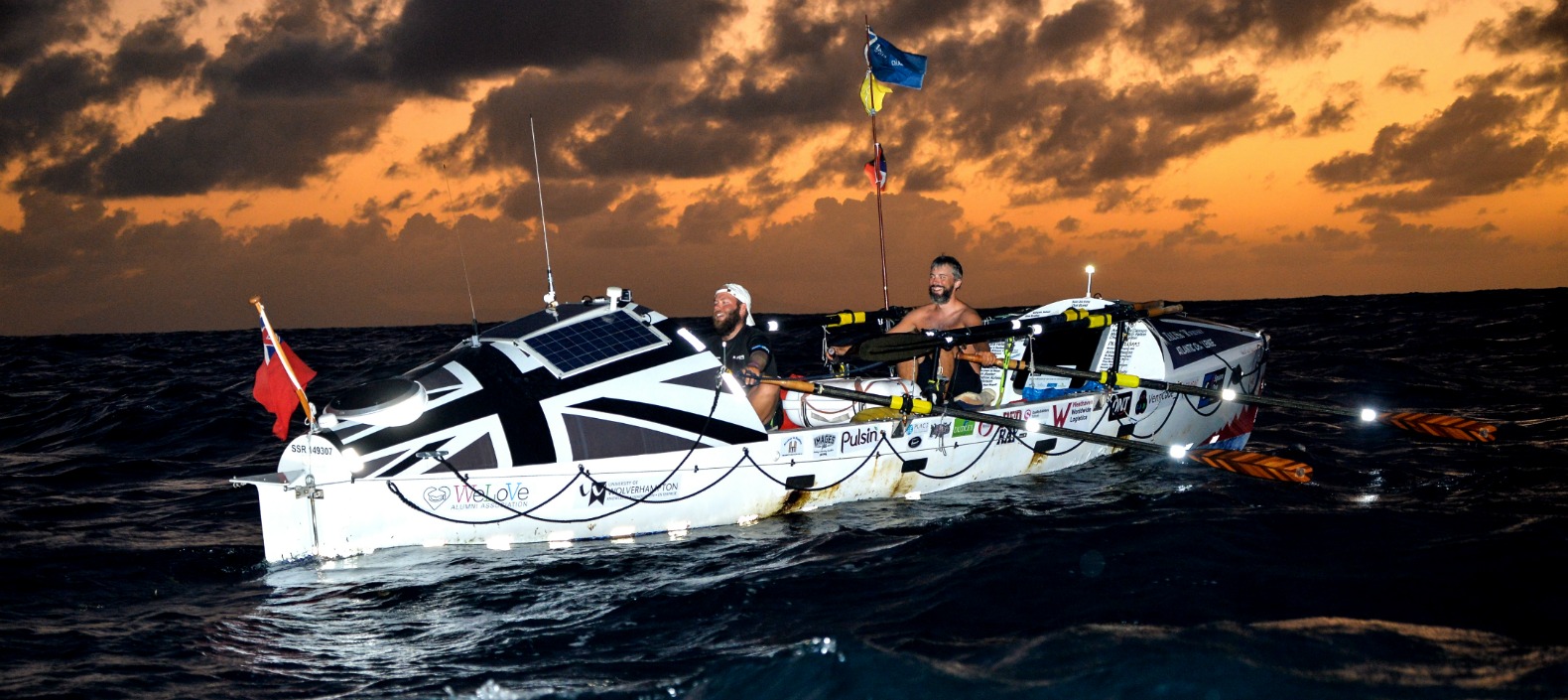 Lee credits his degree with informing the experiences that led him to the start line. After graduation, he taught human biology at a school in Tipton, where he also acted as the outdoor activities coordinator with a focus on "getting children involved in sports and activities but throwing science in there as well." He took his students to Africa to help build a school in a small village and for "back-to-basics" adventures through the National Parks, tracking game animals.
His world travels took him to South Africa, where he landed a job educating tourists about conservation and taking them diving with great white sharks ("That gave me a feel for the sea," he says), before moving on to Dubai three years ago for a teaching post.
A once-in-a-lifetime opportunity
When his friend came to him with the idea of crossing the Atlantic, after three of his four-man rowing team dropped out, Lee overcame his initial reservations (he thought it was "possibly the worst idea in the world") and joined Sean as the self-professed "underdogs" of the competition. "I fancied a bit of a change and thought this is a once-in-a-lifetime opportunity – so it was all go from there."
With only 10 months of preparation (most teams had at least two years), including garnering sponsorship from the University weeks before, Lee and Sean set off on the high seas. From an out-of-season hurricane to 50 foot waves, the voyage presented various trials – some of them unexpected. "Probably one of the hardest things, and I didn't think at the start it would be, was the psychological side. It was mind-blowing how boring it was – you'd look around a full 360 degrees in every direction, and all you could see was blue. It was surreal."
Despite the isolation, including Christmas away from his beloved girlfriend Anne-Marie, Lee and Sean experienced some unforgettable moments. "I was having a little break on the deck," Lee says, "when Sean started shouting. I thought I was having a dream,shot up and there were six or eight dolphins right next to our boat looking at us."
The dolphins were joined by dorado fish and birds in accompanying the pair on parts of their journey, bringing a smile to their faces in the absence of friends and family – or dry clothes! However, the biggest highlight for Lee was when the end was in sight.
"Just knowing we were only 20 or 30 miles away from dry land at the end was really cool," Lee recalls. "1km before, the photographers came out and we lit flares – that was intense, we were so full of adrenaline. There were probably 250 people there in total, on boats sounding off horns and flashing lights, people cheering and shouting. It really was like something out of a film, it was magical."
The scale of the achievement began to hit home as Lee was met by his mother in Antigua – a long way from his hometown of Dudley. After 65 days, 13 hours and 20 minutes at sea with only Sean and wildlife for company, Lee was back on dry land and those moments where the two of them felt like giving up were far behind them.
"When times got really tough, it spurred us on that we were doing this for other people as well – we'd come so far, we'd be letting people down who've gone through a lot worse than we have, so we just needed to suck it up and get on with it."
Here, the people Lee is referring to are the victims of rape and trafficking that Rape Crisis and Sport for Freedom seek to help; for the duration of the extreme rowing challenge, he and Sean chose to raise funds for these specific UK-based charities partly because, he says, "We knew even a little bit of money would be a real big help to them."
‌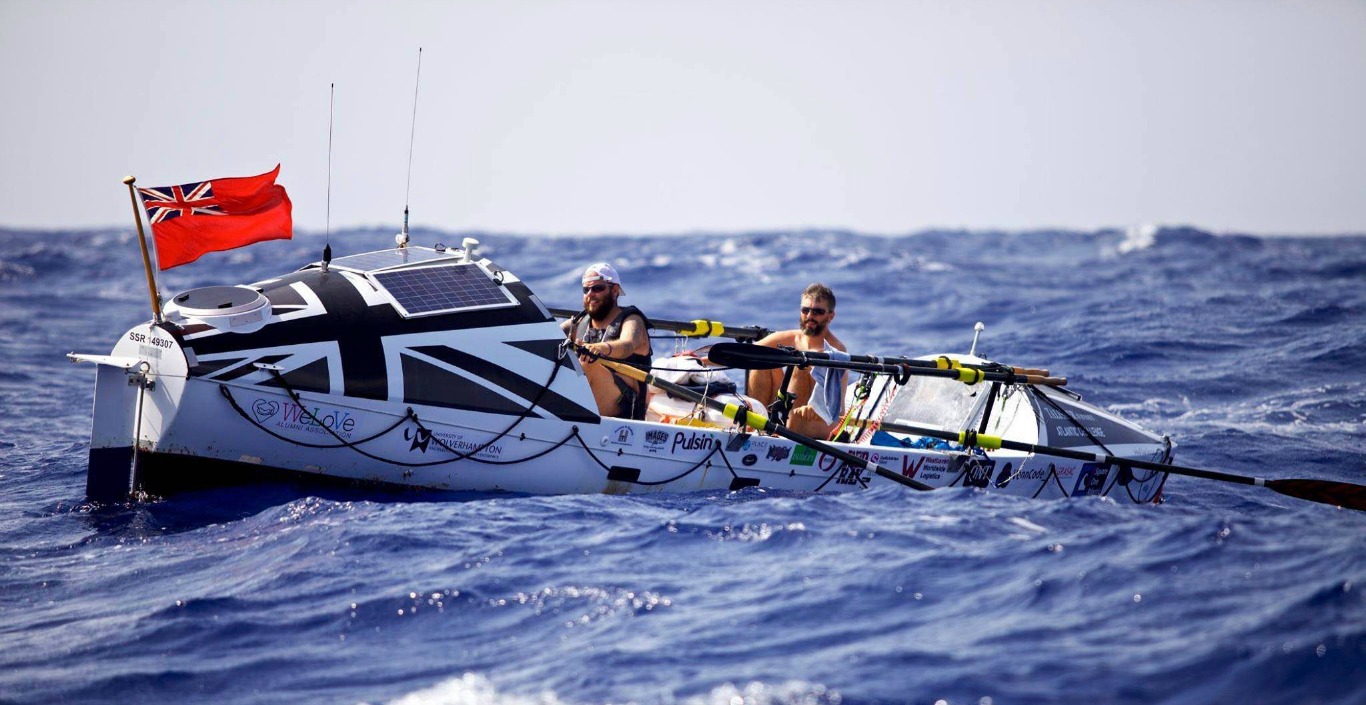 "Go for it!"
Now that it's all over, what advice would Lee give to any WLV students or graduates looking to embark on the next Atlantic Challenge or a similar odds-defying pursuit? "My first piece of advice would be: don't do it! No, I'm only joking, my advice would be if you want to do it, go for it – it's life-changing and inspirational but really do some research, make sure it's what you actually want to do and that you're prepared to give 150% so you get it done."
Although it feels like a "lifetime" ago, Lee continues to grasp opportunities that have come his way after the race. As well as acting as ambassador for sports company Sun & Sand Sport and judging the 2016 Daman Corporate Health Awards, he has been inspired by his time at University to establish his own company, LTF Sports, which offers sports coaching and more to kids and adults in Dubai.
The most important thing for Lee though is the chance to carry on raising the profile of his and Sean's selected charities, with the total amount raised to be confirmed following the sale of the boys' boat.
"It's been very worthwhile," Lee concludes. "It was tough and hard, and there were points where I thought it was too much, but looking back it's one of those things that will never be able to be taken away from me."