CITC-11 Conference
When?

09 September 2019 - 11 September 2019 , 09:00 - 17:00

Where?

Westminster, London, UK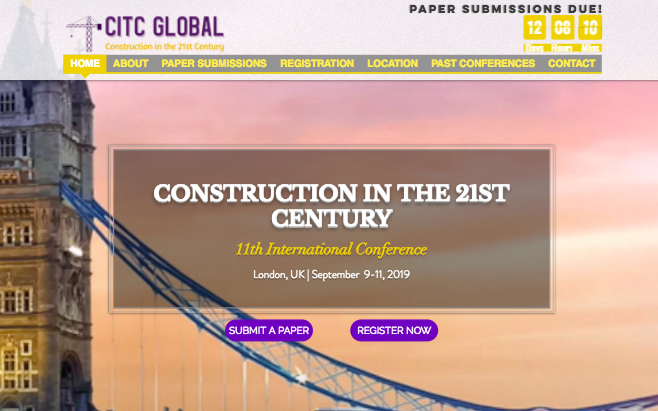 The University of Wolverhampton Is delighted to be co-hosting the Construction into the Twenty first Century (CITC) 11 Conference during September 9th-11th 2019 in Westminster. This is the first year in CITC conference history that the UK has hosted the event with the CITC main hosts East Carolina University and Dr Syed of East Carolina said "We were really excited by Dr Hampton's presentation four years ago to host the event in London/Westminster and are delighted to be bringing the CITC team and attendees from across the world to the UK in September. The conference provides an excellent forum for discussing diverse issues facing the construction industry at the beginning of this century. In particular CITC has a broad scope of construction sector matters and covers wide ranging topics, including: Construction Project Management, Cost Engineering and Financial strategic management, Information Technology and Information Systems in Construction and innovation across the built environment. Importantly we see the UK as the test bed for innovation and look forward to meeting previous and new academics and industry practitioners".
The CITC Conference have previously been held in various locations: CITC-10: Colombo, Sri Lanka, CITC-9: Dubai, United Arab Emirates, CITC-8: Thessaloniki, Greece, CITC-VII: Bangkok, Thailand, CITC-VI: Kuala Lumpur, Malaysia, CITC-V: Istanbul Turkey, CITC-IV: Gold Coast, Australia, CITC-III: Athens, Greece, CITC-II: Hong Kong, China, CITC-I: Miami, Florida, USA and for the first year ever industry practitioners will be submitting industry case studies showcasing the best in class surrounding excellence in project management and innovation across the UK. The CITC 11 conference will commence at the CIOB headquarters for a welcome afternoon tea and conclude in the House of Commons with a key note speech from the Vice-Chancellor of the University of Wolverhampton Professor Geoff Layer.
For further information on the Conference please contact Dr Paul Hampton on 07977200116 email p.hampton@wlv.ac.uk or Aneeta Hazir A.Hazir@wlv.ac.uk .