Back
Back
Welcome back to a new academic year at the library
Welcome!
It has been great to see so many of you visiting the library this academic year, from our early starters at Walsall campus and now this week at City and Telford Campus. Welcome to you all!
If you are a new student, make sure to visit our Library Welcome page which will help to get you started with all things library, and next time that you visit the library, be sure to jump on one of our drop-in tours or ask a member of the team on the helpdesk if they can give you an induction.
For those of you returning, here are just some of the changes we have been working on over the summer:
Harrison Library 1st floor Quiet Study refresh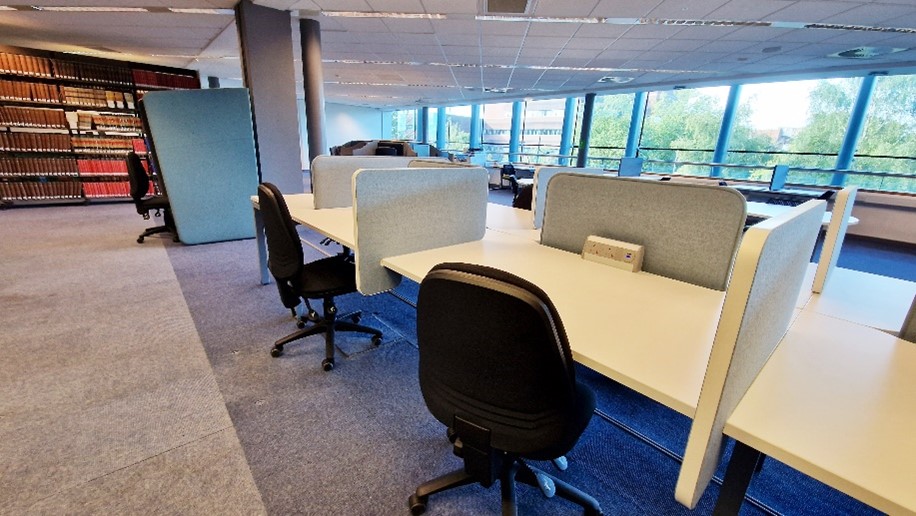 Following a light refresh on the atrium side of the library last summer, this summer we have continued the theme onto the other side of the floor and into the Quiet Study Zone. You told us that you needed more access to power sockets so we have introduced more furniture that has built-in power modules into the desk so you can now charge your devices much more easily. We have also created more study spaces over by the window to make the most of the fantastic views and natural light. On top of that, we have added some individual study booths for those of you who prefer to be slightly more closed off when you are studying so along with the existing bookable study spaces and study carrells on the first floor, we hope there is now something for everyone in this quiet study zone.
Updated PCs and laptops
Digital Services have been hard at work updating and replacing a large number of PCs in the library over the summer with the Harrison Library 3rd floor IT suite receiving all new PCs. The FSE PCs have been moved to a new position on the floor to help make more space so each FSE PC can have dual monitors.
In addition to updated PCs, all of the laptops in the Lapsafe lockers have been refreshed so these are snappier than ever and the overall number of laptops available to borrow has increased thanks to our colleagues in Digital Services.
We also have plans to make updates to the Lapsafe lockers during the next semester which will bring a number of user experience improvements when borrowing a laptop from the library.
For more info on borrowing laptops from the library please visit our Laptop loan information Page
Family Study Room
Whilst not quite ready to go live, with a few final touches needed, we will be piloting a Family Study Room in Harrison Library this semester. The space will have a small number of study spaces that students with children can use in a safe environment. Keep an eye on our Library news for updates to this over the coming months.
Website updates

The library team has been carrying out a detailed review of all of our web pages this summer and one of the changes we have brought forward to have ready for the start of term was a new search widget on our homepage.
The search widget should make it easier to carry out either a quick search of our library resources or a search of our FAQ and help articles straight from the home page.
Resources
Our library collections continue to grow to support you with newly published material available in print and online. Some new online purchases for this year include an additional 15,000 new ebooks from key academic publishers across all subject areas, access to DETAIL Inspiration which provides access to 4000 architectural projects, access to British National Formulary (BNF) for Children via the Medicine Complete platform and improved access to CINHAL expanding our range of resources for Nursing and Allied Health. Alongside these new purchases, we continue to work with your Schools to purchase essential items on your reading list. Remember to keep an eye on our Trials page for access to wider resources that we are evaluating - Trials - University of Wolverhampton (wlv.ac.uk)
ILL
Our ILL service is available for items outside our collection, and we have recently invested in a new tool to increase the speed of delivery of online journal articles, where available. You can request journal articles using the online ILL form or via LibrarySearch and where available they will be delivered to your library account. - Inter-Library Loans - University of Wolverhampton (wlv.ac.uk)
Get in touch
As always, you can contact the library team via Library Assist where you can chat live or send us a message.
Also, don't forget to follow the library on social media for more library updates: @WLVUniLibrary & @WLV_Skills