Back
Back
Library Services over Christmas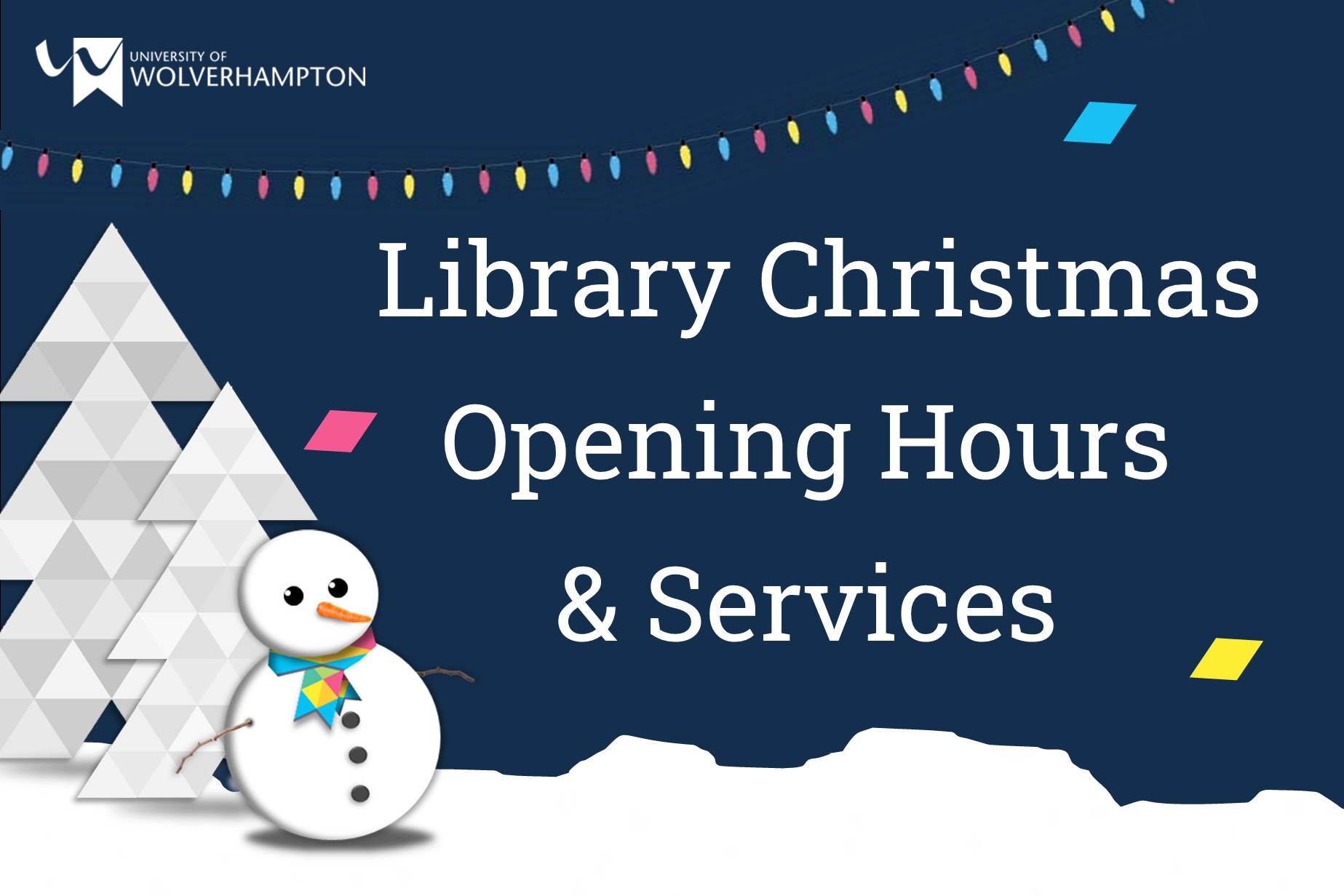 As we get closer to the end of semester 1 teaching we wanted to let you know what the library has to offer over the upcoming festive period!
24/7 opening
A reminder that 24/7 opening at Harrison Library, City Campus and Walsall campus library, will pause on Sunday 18th December for the Christmas period but will then start up again in the new year, running from Tuesday 3rd January through until Saturday 14th January.
More information about 24/7 can be found on our Library 24/7 Opening article.
If you have been making use of 24/7 (or even if you haven't) we would love to get your thoughts on the extended availability by completing a quick online feedback form
Library Availability over Christmas
Our libraries will be open across a number of days over the festive period where you will be able to make use of the study spaces and PCs, borrow and return books or find a quiet and warm place to study. The on-site support will be limited and ID cards will be required to enter the library.
Students who wish to use the Hutchison library at Telford Campus will need to ensure that they have registered for Extended Access in advance, otherwise, they will not be able to access the library. For more information about using Hutchison Library during any of our Extended Access periods, please visit or Hutchison Library webpage.
| Date | Opening Hours |
| --- | --- |
| Fri 23rd Dec | 10.00 am – 4.00 pm |
| Sat 24th – Tue 27th Dec | Closed |
| Wed 28th | 10.00 am – 4.00 pm |
| Thu 29th | 10.00 am – 4.00 pm |
| Fri 30th | 10.00 am – 4.00 pm |
| Sat 31st | 10.00 am – 4.00 pm |
| Sun 1st Jan – Mon 2nd Jan | Closed |
Please see our opening hours page for further updates.
Help and Support
With Semester 1 assessment period looming, don't forget that you can still access a wealth of library support and guidance over the festive period. Support is available online through Library Assist, where you can browse hundreds of knowledge articles and also speak with a member of the library team or an international librarian 24/7, 365 days a year!
Skills for Learning – Christmas break updates
The Skills for Learning service will be closed for the holidays from Friday, 23rd December until Tuesday, 3rd January but you can still access all of our study guides and Academic Study Skills videos on Canvas
Please note that from 12th – 19th December, and 3rd – 6th January our drop-in schedule will be slightly reduced from term time. You can find the latest schedule here: https://www.wlv.ac.uk/lib/skills-for-learning/one-to-one-support/
From 9th – 27th January, we will have increased staffing at the Harrison Library drop-in, as we understand many of you will have assignment submissions around this time.
If you can't attend one of our drop-in sessions, please contact us to discuss our availability for an appointment at a different time. To access our other support, including online workshops, head to www.wlv.ac.uk/skills