Wireless Network Certificates
The current set of certificates used on the University wireless networks for wlvstaff and eduroam will expire on 4th April 2015.
On 30th March 2015, IT Services will replace the expiring certificates for both the wlvstaff and eduroam wireless networks. If you are connecting to one of these networks, you will need to re-connect or accept the new certificate before getting online.
Information about accepting the certificate is available below for Windows 7 and iOS devices.
If you have any questions or need help, please contact the IT Service desk on ext. 2000 or externally on 01902 32 2000.
Windows 7
Windows 7 will display the following Windows Security Alert the next time you connect to wlvstaff or eduroam.
For security purposes, you may want to choose Details to ensure you are connecting to either NAP1 or NAP2.unv.wlv.ac.uk as shown in the screenshot below.
Once you have verified you are connecting to NAP1 or NAP2.unv.wlv.ac.uk, click Connect to proceed.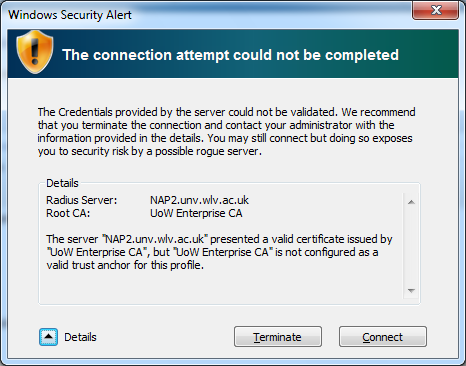 iOS devices
iOS will display the following Certificate window next time you connect to either wlvstaff or eduroam. The message will let you know that you are authenicating to the server NAP1 or NAP2.unv.wlv.ac.uk. Even though it states "Not Verified", it is safe to Accept the certificate.